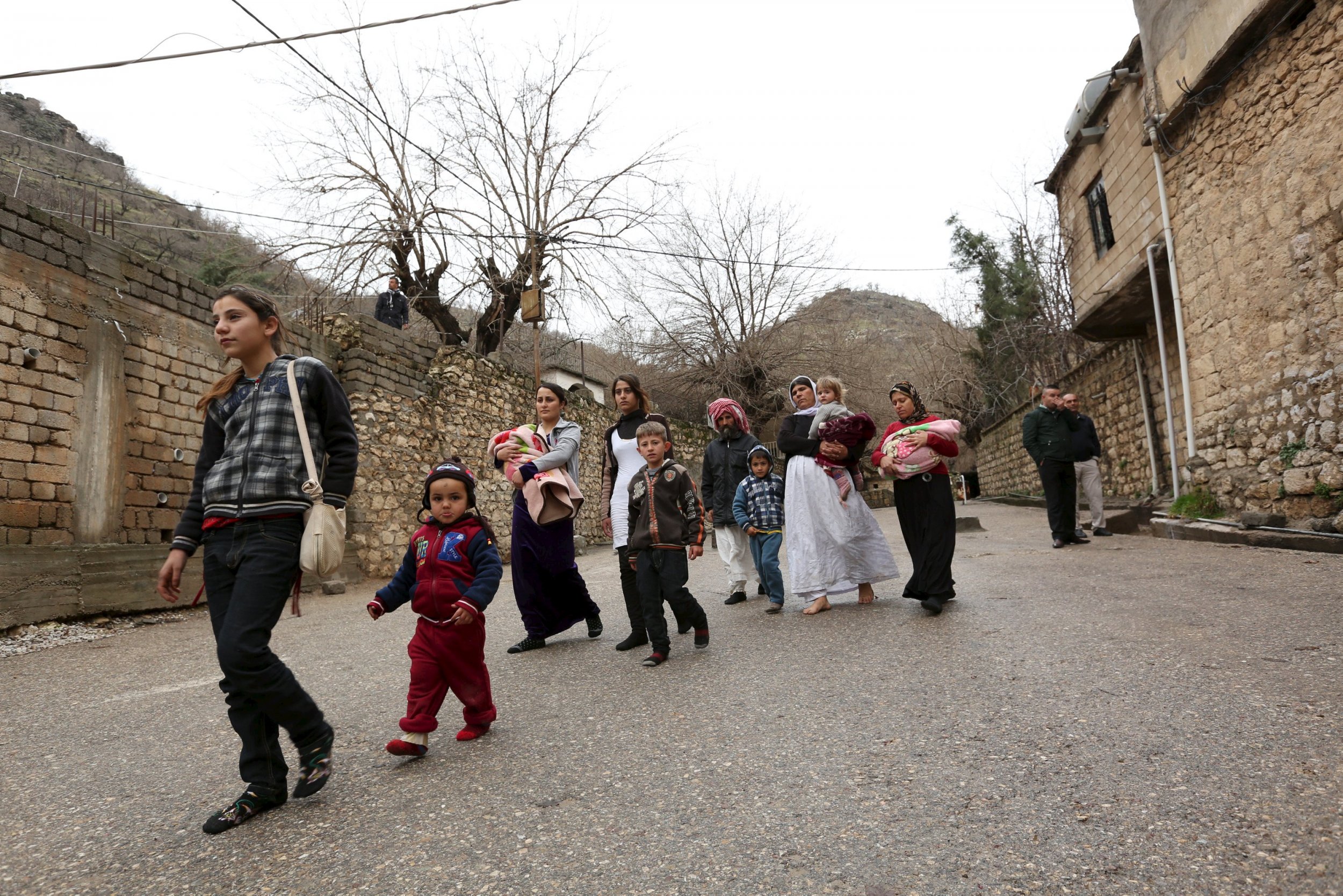 Updated | After months of reluctance by the U.S. State Department to use the term, Secretary of State John Kerry declared on Thursday that the Islamic State militant group (ISIS) is committing genocide in Iraq and Syria,
"My purpose here today is to assert, in my judgment, [ISIS] is responsible for genocide against groups in areas under its control including Yazidis, Christians and Shiite Muslims," he said at a news conference at the State Department.
Kerry added that ISIS, which he referred to as Daesh, the Arabic acronym for the group, is "genocidal by self-proclamation, by ideology and by actions." He added that the group has committed crimes against humanity and is responsible for ethnic cleansing against those groups, in addition to some Sunni Muslims and Kurds.
"The fact is Daesh kills Christians because they are Christians, Yazidis because they're Yazidis, Shiite because they are Shiite," Kerry said.
ISIS's campaign against the Yazidis has seen around 3,500 members of the religious minority, mainly women and children, held as slaves by the militant group. In August 2014, ISIS members stormed Sinjar, in northern Iraq, murdering around 3,000 men and older women and taking thousands women and girls into sexual slavery, repeatedly raping them and selling them between fighters in public marketplaces. Yazidis were forced to hide on Mount Sinjar without food or water, and were given the choice between converting to Islam or being killed.
"To date, dozens of women have been killed in captivity while many others have committed suicide," according to the Yazidi organization Yazda.
A 2015 United Nations report said Yazidi boys between the ages of 8 and 15 were subjected to military and religious training by ISIS members, were taught how to shoot a gun and made to watch beheadings.
In 2015, ISIS published a video showing the beheading and shooting of 30 Ethiopian Christians in Libya. The group has also kidnapped hundreds of Assyrian Christians and overrun a number of Christian towns in Syria.
There have been growing calls for the U.S. to declare ISIS's actions in Iraq and Syria a genocide. A number of other international groups have already called the group's actions a genocide, including the European Parliament and the U.S. Commission on International Religious Freedom.
Earlier this week, the U.S. House voted unanimously, 393 to 0, to declare that ISIS is committing genocide against religious groups in Syria and Iraq. The first time the U.S. House declared a genocide was in 2004 in Darfur, Sudan. However, that label did not change the policy of the administration of President George W. Bush in Sudan.
The Associated Press reported that Kerry made the announcement in order to meet a congressional deadline. Kerry's announcement comes two days after the fifth anniversary of the start of the war in Syria.
Florida Representative Vern Buchanan, a Republican, said he welcomes Kerry's decision. "The administration made the right decision to recognize the magnitude of ISIS's horrific acts," Buchanan said in a statement. "ISIS is the face of evil, and there is no room for equivocation. Their actions clearly constitute genocide."
"Secretary Kerry's announcement today represents an essential first step in what must be a broader effort to investigate the full extent of the crimes committed against all populations, hold perpetrators accountable, and protect remaining at-risk populations," Cameron Hudson, director of the United States Holocaust Memorial Museum's Simon-Skjodt Center for the Prevention of Genocide, said in a statement.
Between January 2014 and October 2015, nearly 19,000 civilians were killed in Iraq, according to a February report from the U.N.