NYC Attack: ISIS and Islamic Extremists Have Threatened New York for Years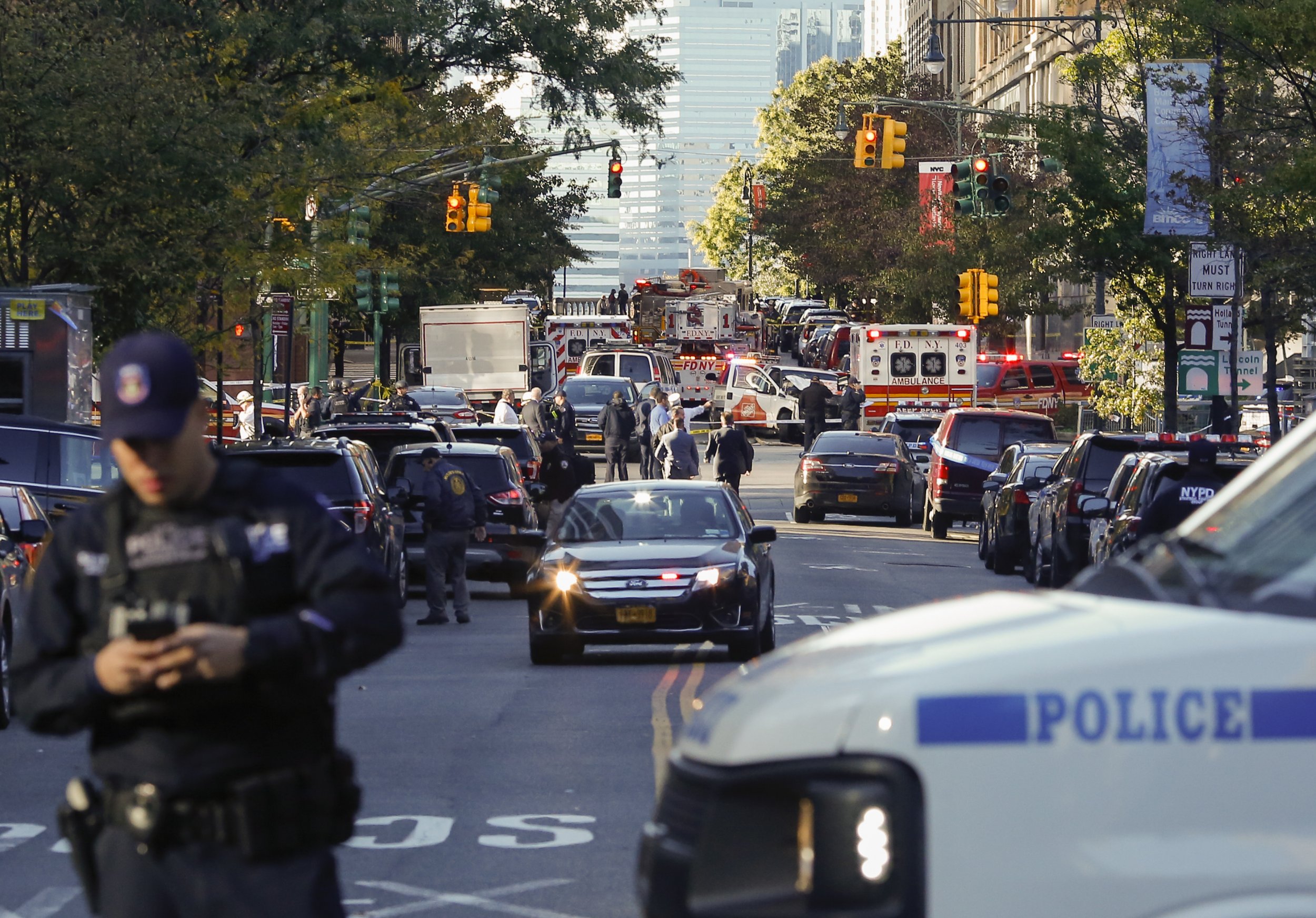 The Islamic State militant group has threatened an attack on New York City for years and its supporters are now reveling over the deadliest terror attack since 9/11 that killed eight people in lower Manhattan Tuesday.
According to NBC News, the terror suspect in Tuesday's vehicular attack is Sayfullo Habibullaevic Saipov, who came to the U.S. in 2010 from Uzbekistan. Saipov was shot by police during the New York City attack and was transported to an area hospital. ISIS typically does not claim attacks if the attacker is taken into police custody, New York Times correspondent and ISIS expert Rukmini Callimachi tweeted.
It was the deadliest terror attack in New York City since the Al Qaeda plot that saw two planes enter into the twin towers of the World Trade Center, killing almost 3,000 people in 2001. In subsequent years, New York City has remained a terror target and Tuesday might have marked terrorists' latest victory in nearly two decades against the sprawling urban hub considered an epicenter of U.S. finance, fashion, theater and architecture.
ISIS published videos and posts online about a possible attack on the city but did not claim responsibility Tuesday night as its supporters rejoiced online over the incident where a driver plowed through pedestrians before shouting "Allah Akbar."
In May, the group released a 44-minute propaganda video showing pictures of New York City and Washington D.C. while asking supporters to perform terrorist attacks with vehicles and knives. An ISIS fighter told supporters to run over non-believers in the video. "Liberate yourself from hellfire by killing a kafi (non-believer)," he said, according to NBC News.
The Justice Department announced in October that it had charged a man from the Philippines for funding a proposed ISIS attack in New York City. The department said Russell Salic, 37, had planned on executing a 9/11 like attack during Ramadan on Times Square and the New York subway system.
Following a massacre in Paris in 2015, ISIS released a video that pictured suicide bombers and bombs alongside photos of Herald Square and Times Square in New York City. ISIS claimed responsibility for the Paris extremist attacks that killed 129 people and started with gunmen entering the Bataclan concert hall and killing 90 people.
Since the attack, ISIS has claimed responsibility for several other attacks, including a suicide bombing attack in Manchester at an Ariana Grande concert in the United Kingdom, where more than 30 people including children were killed.
President Donald Trump appeared to link the Tuesday attack to ISIS in a tweet. He wrote: "We must not allow ISIS to return, or enter, our country after defeating them in the Middle East and elsewhere. Enough!"
Officials said the deadliest vehicular attack took place in Nice, France, in July when a terrorist killed 86 people on Bastille Day with a rental car.