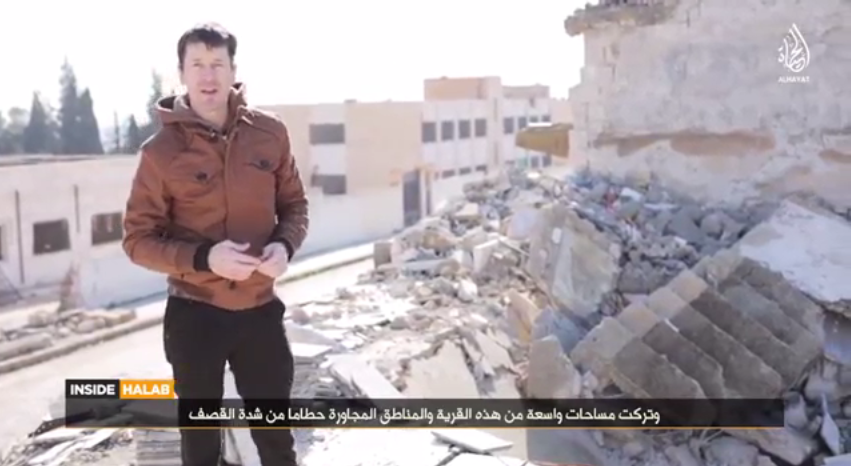 John Cantlie, a British reporter held hostage by the Islamic State (ISIS), appears in a new video released by the terrorist organization on Monday. In the propaganda video titled "From Inside Halab," Cantlie is shown walking through Aleppo, Syria, which he refers to by the ancient name of Halab.
Cantlie has become a de facto "host" for the terrorist organization, having been forced to participate in the videos since he was taken hostage by ISIS. He previously worked as a journalist for a number of British publications.
In the newest video, Cantlie is seen interviewing a member of the mujahideen, touring a school for children and running from a building that purportedly had just been hit by an airstrike. He also shows an ISIS newsstand in Aleppo--"the idea is that it counters the news that comes out from the West"--that is little more than a hut on a sidewalk passing out propaganda pamphlets.
The exact date the video was filmed is unknown; it was likely after the holiday season, as Cantlie refers to a Christmas message delivered by Prime Minister David Cameron.
Some of the ISIS videos Cantlie has appeared in are part of a series called "Lend Me Your Ears." In earlier videos, he was dressed in an orange robe--similar to the robes ISIS forces all hostages to wear before they are killed--and filmed indoors. In later videos, Cantlie is seen walking through cities, such as Kobani and Mosul.
Cantlie refers to the latest video as "the last film in this series." He does not discuss his fate as a hostage, though he has previously commented on threats to his life. The videos he is forced to make are well liked in the jihadist community, considering that a number of accounts on social media have advocated for ISIS to keep Cantlie alive so he could continue creating the propaganda films.