ISIS Is Increasingly Trying to Attract Women Fighters In Iraq And Syria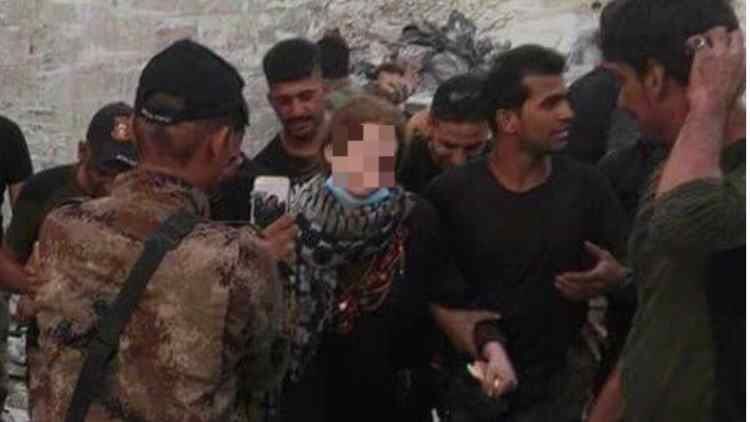 The Islamic State militant group (ISIS) is shifting its narrative to focus on boosting its ranks with women, calling upon them to take up arms in its propaganda output, according to new analysis.
The group has traditionally railed against women taking up arms on the same level as men, despite women taking a leading role in the suicide operations of many other insurgent groups. But, on the backfoot in Iraq and Syria, the organization is changing tack and exploiting other options, London-based defense consultancy IHS Markit said in a new release.
In issue 11 of ISIS's online magazine Rumiyah, released on July 13, the group included an article entitled 'Our Journey to Allah' that stresses the importance of women's roles in upcoming "times of intense trials and extreme hardships, and times of severe battles."
ISIS has traditionally not welcomed the active combat role of women, referring to them only as "supporters" in its claims of responsibility, despite them committing attacks for the group's cause. It does not recognize women as an equal participant in battle. Tashfeen Malik, who led the San Bernardino shooting attack in December 2015, remains the only woman named as one of the group's "soldiers."
The earlier incarnation of ISIS, the Islamic State of Iraq, said in 2008 that women should only commit attacks "in circumstances where men cannot." The western media has often painted female jihadis as primarily acting as wives and mothers.
But, in Europe, women have become increasingly involved in plots inspired or directed by the group. In Paris, police arrested three women in September 2016 over a plot that saw gas canisters left in an abandoned car near the famous Notre-Dame cathedral. In London, police have arrested several women in the past year for alleged extremist offenses. Authorities have started to take notice of the increasing willingness of women to take part in operations, with the Paris prosecutor Francois Molins saying in September 2016 that security services would increasingly monitor women returning from Iraq and Syria.
The new recruitment drive for ISIS in Iraq and Syria is a result of losses on the battlefield in the two countries, and the death of thousands of its militants at the hands of ground forces allied to the U.S.-led coalition and strikes conducted by the coalition, IHS says.
"Despite Islamic State's claims to the contrary, urging women to seek an active role in combat is most likely an attempt to reduce the impact of severe manpower shortages caused by the decimation of male fighters, and a recruitment crisis," said Ludovico Carlino, senior analyst, Middle East and North Africa at IHS Conflict Monitor.
"This rhetoric marks a stark contrast to previous propaganda that had highlighted women's primary function as wives and mothers of mujahidin," Carlino said. "Historically, women have been absent from Caliphate institutions, with the single exception of an all-female brigade responsible for policing women in Raqqa."
In one case, a teenage German girl travelled to join the group and, in July, Iraqi forces captured her alongside other female fighters in Mosul's Old City. She remains in custody in Baghdad, and is suspected of acting as a sniper for the radical Islamist group as it battled to hold on to the northern Iraqi city.
Other militant groups have sought to take on the same strategy as ISIS in looking to add more women to its ranks. Last month, the Pakistani Taliban, the most dangerous militant group in the country, launched a new magazine aimed at attracting potential female recruits.
The magazine, named Sunnat-e-Khaula, or the Way of Khaula, is named after a female Muslim fighter from the 7th century. It calls on "women of Islam" to "come forward and join the ranks of mujahideen," or holy warriors. It also includes an interview with the wife of the group's leader, Fazlullah Khorasani.
The call may be working. In the southern Philippine city of Marawi, ISIS-linked militants have been battling the Philippine military for more than three months. The military said on Monday that because of the mostly male fighters' dwindling numbers, they have noticed an increase in women taking up arms in gun battles raging amid the urban sprawl of mosques and damaged buildings, some connected by tunnels.