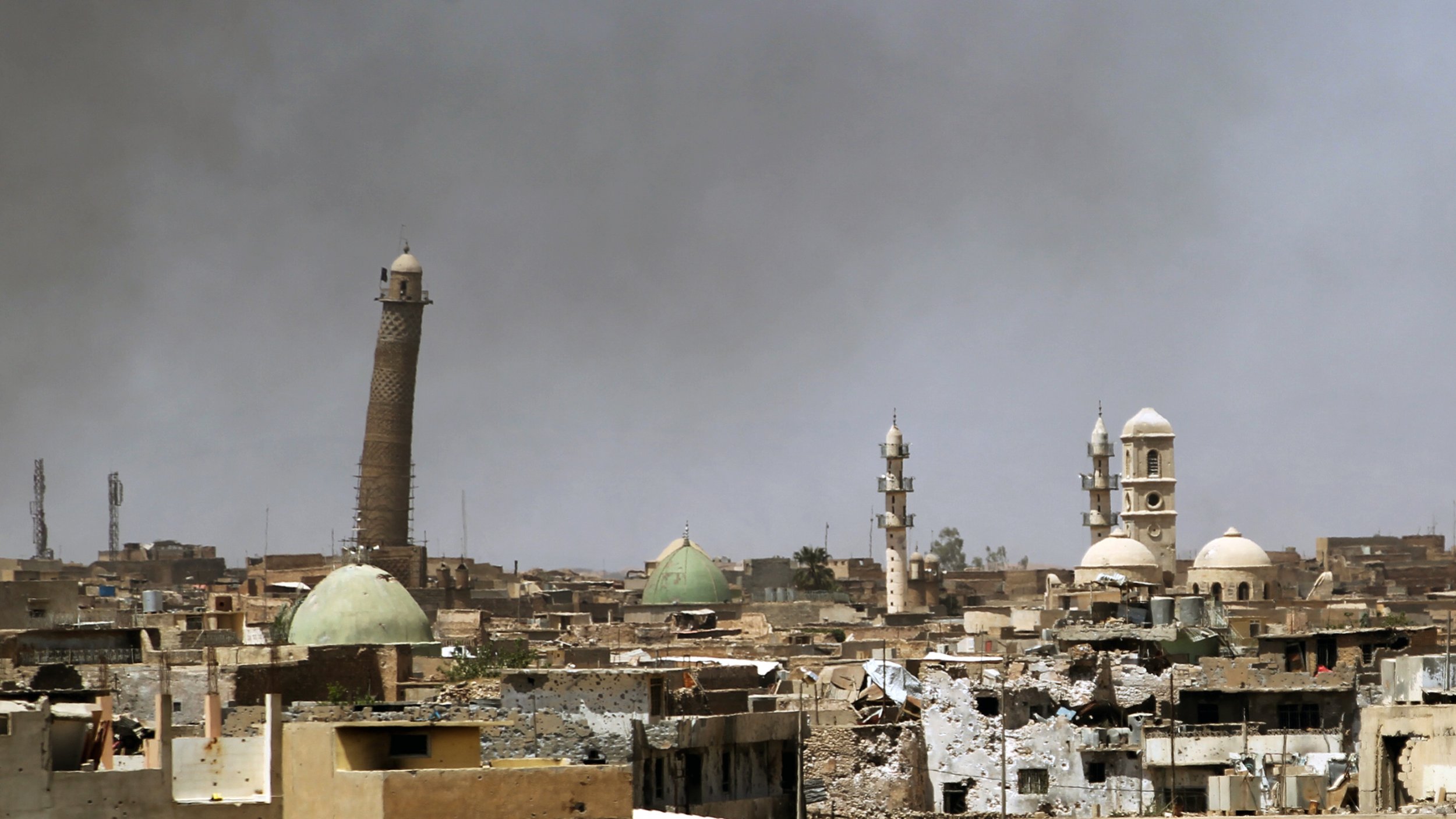 Iraqi special forces on Thursday captured the severely-damaged Al-Nuri mosque in Mosul, almost three years to the day that the Islamic State militant group (ISIS) leader Abu Bakr al-Baghdadi stood at its pulpit and declared the foundation of the caliphate.
Iraqi commander Lt. Gen. Abdul Wahab al-Saadi confirmed the capture to the Associated Press, saying that the liberation of the mosque complex came after a dawn offensive that allowed special forces to secure the building and its surrounding streets.
The capture of the complex has been expected for some time but it still represents a symbolic and major coup for Iraqi forces, which have been fighting in Mosul since last year. The 12th-century mosque, known for its leaning al-Hadba minaret, is in central Mosul's Old City and has been adorned with ISIS's black flag since June 2014.
Footage emerged last week of the moment the building was destroyed in what appeared to be a controlled explosion by ISIS. The leaning al-Hadba minaret can be seen in the distance, before the building explodes and black smoke and debris rise into the air. The footage contradicted ISIS's earlier claim that a U.S. airstrike was responsible for its destruction.
It is just one of many instances that ISIS has committed what cultural agencies say are historical war crimes, destroying ancient facades, statues and artefacts that it considers to be idolatrous across its territory in Iraq and Syria.
The al-Nuri mosque, completed in 1172, is one of the oldest in Islamic history and ISIS likely destroyed it to prevent Iraqi forces claiming a symbolic victory by seizing the structure intact.
Iraqi leaders say the military's elite troops are just days away from liberating the final Old City neighborhoods from ISIS control after eight months of protracted battle. The Iraqi military estimates that around 300 ISIS fighters remain in the last pockets of control in the city, but are surrounded on all sides.
The group has used sniper fire, suicide car bombs, booby traps and even unmanned drones to slow the advancing forces backed by U.S.-led coalition airstrikes.
More than 50,000 civilians remain under ISIS control in the city, making the last stretches of the battle precarious for the Iraqi forces.