ISIS in Iraq: Teenage Girl 'From Germany' Captured in Ruins of Mosul Old City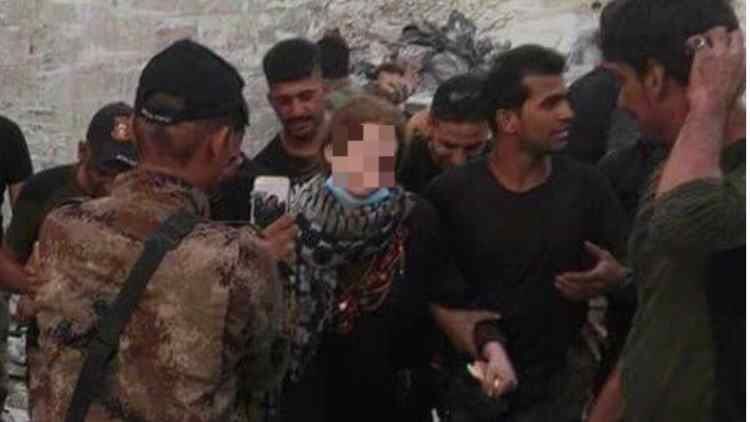 Iraqi security forces have detained a 16-year-old German teenager in Mosul's Old City who is under investigation in her home country for support of the Islamic State militant group (ISIS), German newspaper Bild reported Tuesday.
German authorities have yet to confirm the nationality of the teenage girl, identified only as Linda W., in accordance with German privacy laws, but from images of her, shared widely on social media, it is evident that she is a foreign national in the majority-Sunni city. Newsweek has chosen to conceal her identity because of her age.
She was discovered alongside four other women arrested in Mosul's Old City, according to the report. The girl has been transferred to a hospital for treatment of the burns she received during the Iraqi forces recovery operation.
It is unclear whether she cooperated fully with the militant group, or was held against her will.
Lorenz Haase, chief prosecutor for the state of Saxony, told Reuters that authorities were investigating whether the girl is the same person who went missing last summer in the eastern German town of Pulsnitz, near the city of Dresden.
German newspaper Die Welt said the teenager was a convert to Islam and had been in contact with ISIS members via the Internet, most likely on chat rooms, Reuters reported. ISIS has used social media to interact with vulnerable people they view as potential jihadis in Europe and the U.S in a bid to spread the group's message.
German authorities estimate between 900 and 1,000 of its nationals have traveled to Iraq and Syria to fight for ISIS. Of those, around a fifth are women. The country suffered three ISIS-inspired or directed attacks last year, two in Bavaria—a suicide bombing and an ax attack—and one in Berlin—a vehicle attack that killed 12 people.
Iraqi Prime Minister Haider Al-Abadi proclaimed victory in Mosul on July 10, just over three years to the date that ISIS's leader Abu Bakr al-Baghdadi declared the creation of the jihadi group's caliphate straddling the Iraqi-Syrian border.
After nine months of battle, thousands of dead and tales of horror from inside Mosul, ISIS no longer controls a major city in Iraq. The group initially advanced rapidly across the northern and western areas of the country but has lost control of major population centers such as Tikrit, Fallujah and Ramadi.