U.S. Coalition Condemns Amnesty Report On Anti-ISIS Campaign in Mosul As 'Irresponsible'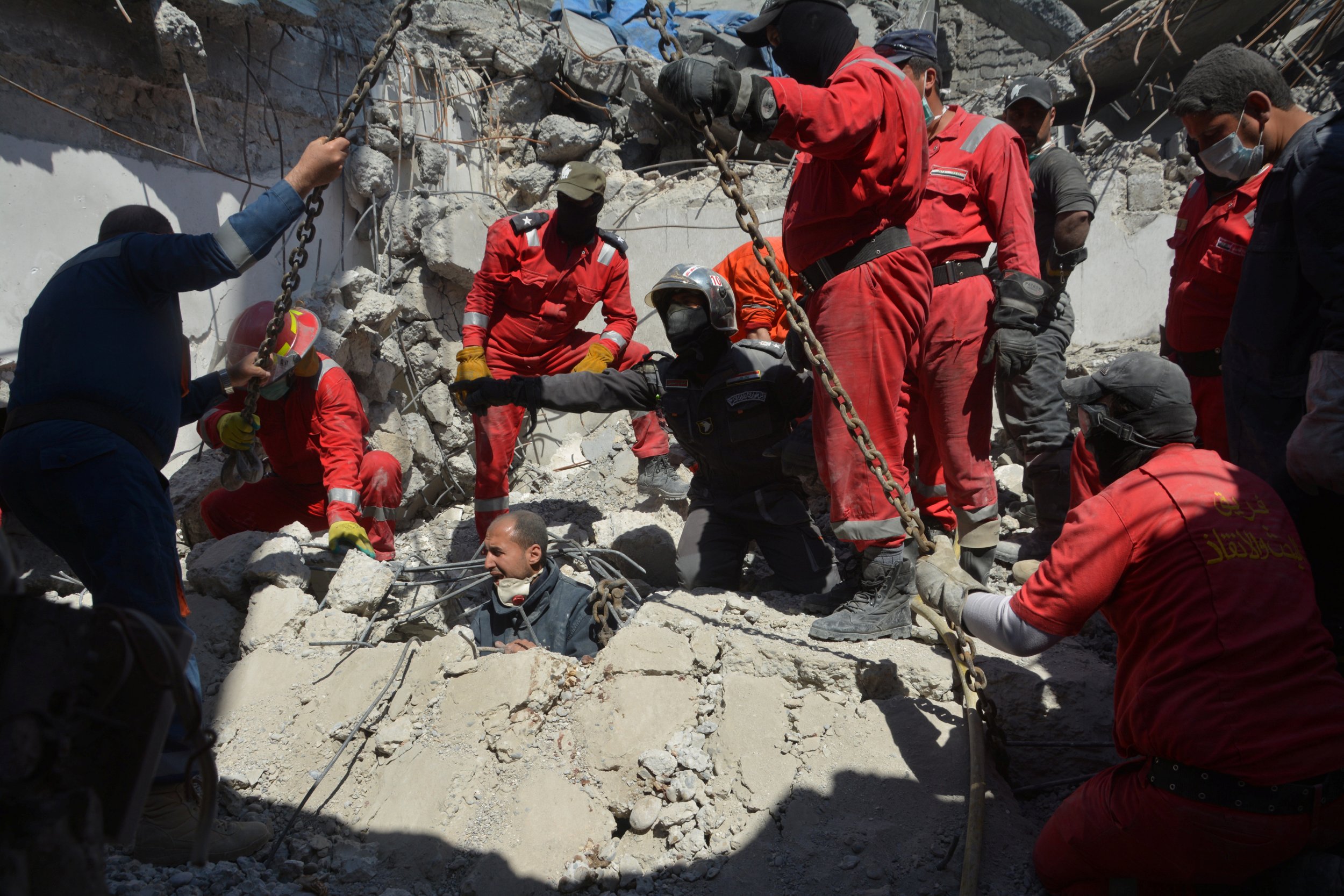 The U.S.-led coalition on Wednesday condemned a new report from human rights group Amnesty International as "irresponsible" after it was accused of breaching international law in the battle against the Islamic State militant group (ISIS).
Coalition and Iraqi ground forces have waged a nine-month offensive on the northern Iraqi city to oust ISIS from the largest population center it captured since declaring a caliphate in June 2014.
The Amnesty report published on Tuesday said the coalition had subjected Iraqi civilians in west Mosul to tactics that deliberately placed them in danger—such as targeted strikes that caused mass damage in packed civilian areas—and did not take the measures required to ensure their safety.
"Even in attacks that seem to have struck their intended military target, the use of unsuitable weapons or failure to take other necessary precautions resulted in needless loss of civilian lives and in some cases appears to have constituted disproportionate attacks," the report said. The rights group said the coalition's strikes may have killed as many as 5,805 civilians in west Mosul alone during its campaign.
But the coalition's top officials hit back. Spokesman Col. Joe Scrocca told the Associated Press the report was "irresponsible" in its findings. "War is not pleasant, and pretending that it should be is foolish and places the lives of civilians and soldiers alike at risk," he said.
Lieutenant General Stephen Townsend, the top U.S. general in Iraq, said the coalition had not violated international law—calling it the "most precise campaign in the history of warfare—and called into question Amnesty's authority on warfare.
"I reject any notion that coalition fires were in any way imprecise, unlawful or excessively targeted civilians," he told a news briefing in Washington on Tuesday.
"I would challenge the people from Amnesty International or anyone else out there who makes these charges to first research their facts and make sure they are speaking from a position of authority," Townsend said.
The U.N. and rights groups have also accused Iraqi forces of committing violations against civilians as they have fled Mosul, suspecting many of being members of ISIS. The Iraqi government is investigating the accusations.
ISIS fighters have had a disregard for civilian life in the city, using them as human shields, holding some in basements and buildings laden with explosives. It has also hung several people from lampposts and conducted summary executions in a bid to stoke fear inside the city as Iraqi ground forces advanced.
Iraqi Prime Minister Haider al-Abadi declared victory in the city on Monday almost three years to the day that ISIS chief Abu Bakr al-Baghdadi declared the creation of the Islamic State from the pulpit of Mosul's famous Al-Nuri Mosque.
Many ISIS fighters have fled Mosul into other areas of Iraq and Syria and fighting continues in several pockets of west Mosul. The coalition and Baghdad's focus will now turn to improving security as fears of asymmetric attacks rise once all the population centers that had been under ISIS control in the country have bene secured.