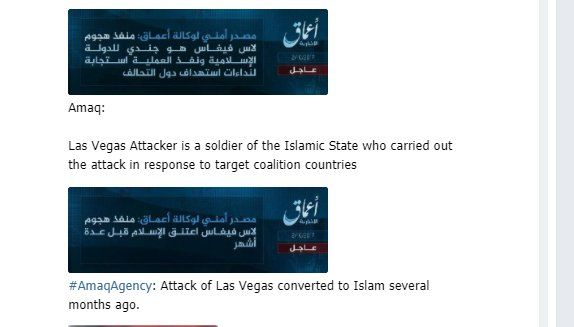 The Islamic State terror group claimed suspected Las Vegas mass shooter Stephen Paddock as one of its own through its news agency Amaq Monday, however, with the investigation into the shooting still in its early stages, it remained unclear if the 64-year-old Nevada resident had any connection to ISIS.
ISIS not only took credit for the attack, it also gave Paddock a rare honor of his own Arab name, Abu Abed al Bir Al-Amriki, while calling him a "soldier of the caliphate" and a "martyr." While the first few words in the name are more basic Arabic, the last part, Al-Amriki, translates to "the American." Giving Paddock a name is rare for the terror group and doing so is a sort of honor or distinction that he had perfectly followed God's plan. The group provided no evidence that it was behind orchestrating the attack or of Paddock's membership.
The terror group, which over the last few months has been driven out of its strongholds in Iraq and Syria by U.S. and Russian coalitions, also claimed Paddock had converted to Islam several months ago, according to CBS News. But a U.S. official told CBS there were no "early signs" of Paddock having any links to radical Islamic groups.
"If Islamic State's claims of responsibility for the attack in Las Vegas are false, this would be the first deliberate false claim for an attack in the West issued by the group," terror analyst and co-founder of Kronos Advisory Michael S. Smith II said in a statement. "Certainly, a false claim would fit with their agenda of doing even the 'smallest thing' to terrorize Americans, as IS's original spokesman Abu Mohamed al-Adnani put it in his 2016 Ramadan address while calling for attacks in Europe and the United States."
From his room on the 32nd floor in the Mandalay Bay Resort and Casino Sunday, Paddock opened fire at the Route 91 Harvest Festival – a three-day country music event - killing 59 people and injuring 527 more. The death and injury toll climbed throughout Monday.
Paddock reportedly committed suicide before Las Vegas police could enter his room. Once inside, law enforcement found at least 20 rifles, including AR-15-style assault rifles. It's believed Paddock used a hammer to smash open the room's window.