ISIS Leader Abu Bakr Al-Baghdadi's Sister Sentenced to Death in Iraq
The sister of Abu Bakr al-Baghdadi, the leader of the Islamic State militant group (ISIS) and the world's most-wanted extremist, has been sentenced to death in Iraq.
The court in the Iraqi capital found Baghdadi's relative, whose identity Iraqi authorities have kept classified, guilty of "offering logistic support and help to [ISIS fighters] in carrying out criminal acts."
The decision was passed down on Thursday, according to a statement from Abdul-Sattar Bayrkdar, the spokesperson of Iraq's Supreme Judicial Council, according to the Associated Press.
It said she had been married to an ISIS fighter who had also been sentenced to death for his membership in the jihadi group.
According to the court, she had spent time in the northern Iraqi city of Mosul, the largest city that was once under the group's control. She was found guilty of giving money to ISIS fighters in the city.
The group's militants overran that city in July 2014, holding on to the population center for more than three years. Iraqi forces, backed by the airpower of the U.S.-led coalition, wrested the city from the group's control.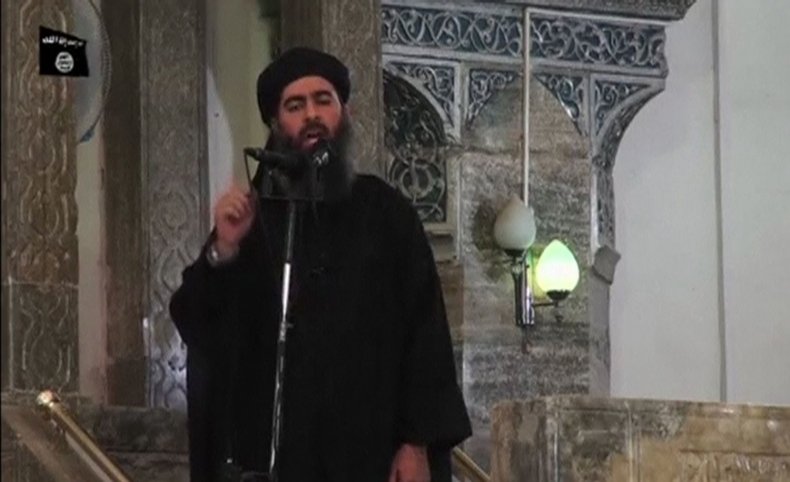 No evidence has surfaced to convince U.S. officials that Baghdadi is anything but alive. Last June, the Russian military said it believed he had been killed in an airstrike near the eastern Syria city of Raqqa, but the hit remains unconfirmed.
In September, the group released a 46-minute-long audio recording claimed to be the voice of Baghdadi. It appeared to be an attempt by the jihadi group to quell the rumors of his demise. The previous recording that purported to feature his voice was released in November 2016.
The group has lost both Mosul and Raqqa, which it had controlled for years, and its caliphate has been effectively defeated. But Baghdadi remains at large. In previous years, Iraqi sources have said his whereabouts were most likely in the Sunni heartlands of the western Iraqi desert. Some say that he was crossing between Iraq and Syria when ISIS controlled that stretch of the shared border.
After ISIS's defeat in every city it controlled in Iraq, the government in Baghdad has taken a strong position on the fighters it has captured. It has sentenced to death dozens, some of them foreign nationals, for membership in the group. Last month, it sentenced 16 Turkish women to death after finding them guilty of terrorism.
"The convicted women had confessed during the investigation they joined ISIS, marrying ISIS members and providing logistical aid to the group," Bayrkdar said in a statement after the verdict.
Iraqi authorities have said the death sentences can be appealed. It's unclear if that applies to Baghdadi's sister.