ISIS Leader Al-Baghdadi's Legacy of Genocide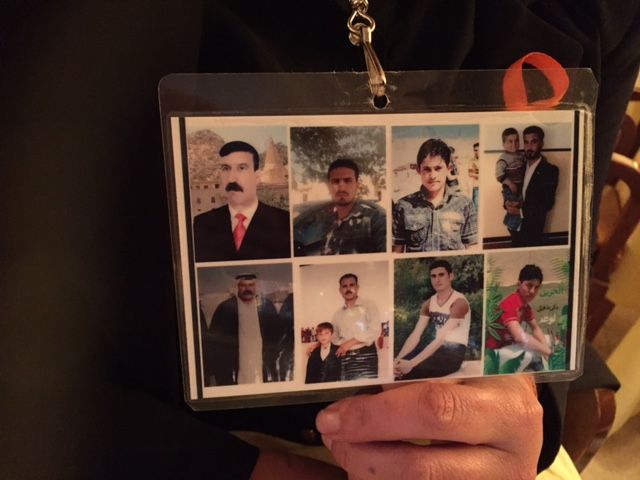 Russian reports that Islamic State group (ISIS) leader Abu Bakr al-Baghdadi has been killed have not yet been verified—and his death has been prematurely reported in the past—but his demise will never erase his cult's legacy of genocide, nor begin to bring justice to the survivors.
Among them is Sherin Jardo, one of thousands of Yezidi women captured and sold as slaves by ISIS in Iraq and Syria over the last three years. Al-Baghdadi and the ISIS cult treat the Yezidi people—indigenous minorities in northern Iraq—as subhuman because their religion predates not only Islam but also the two other main monotheistic faiths. But their religion is connected to the most ancient spiritual practices in the world, and the ISIS assault on the tiny Yezidi homeland destroyed living history—in addition to hundreds of thousands of lives.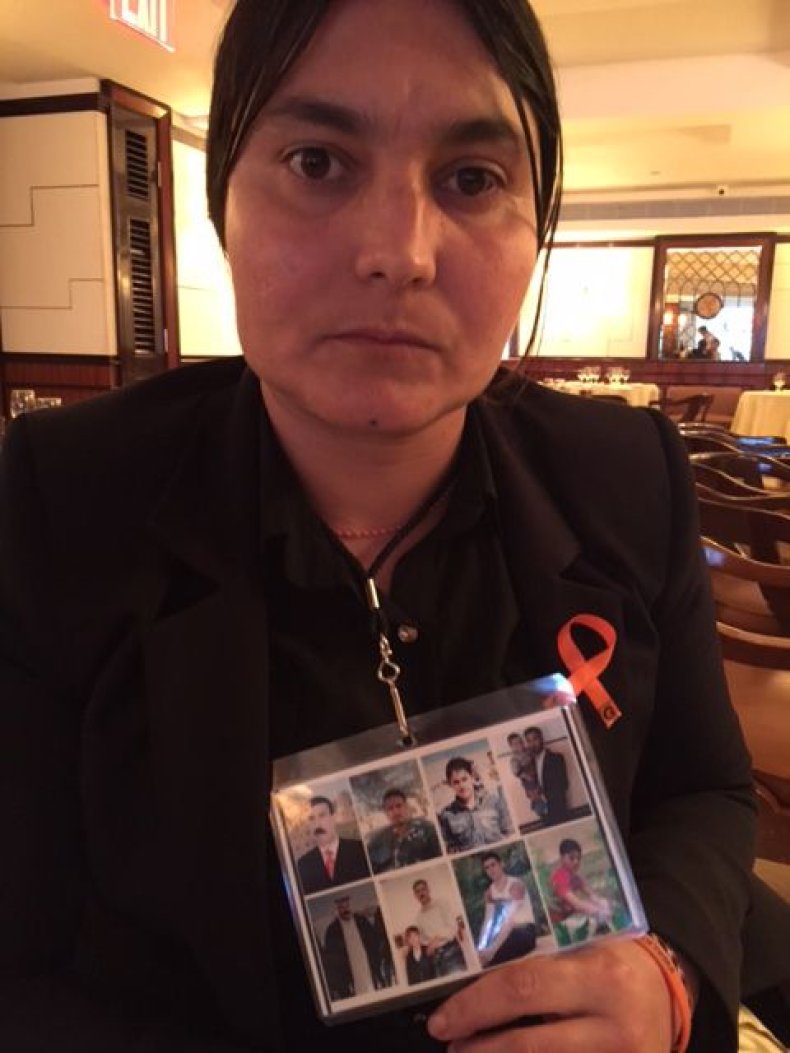 Last month, Newsweek interviewed Jardo, who was freed after nine months of captivity (and five separate buyers) because she managed to maintain the position that she was deaf and paralyzed, making her useless because the cult's superstition holds that touching a handicapped girl brings curses to a man.
Jardo, 25, was the eldest of 12 siblings and the de facto mother in a Yezidi sheep-herding family (her own mother is dead) when ISIS came for her and her family in August 2014. First, the ISIS fighters separated the men from the women, then they separated the older and younger women. All were put on buses and crammed into houses in Syrian and Iraqi ISIS strongholds. After female ISIS members examined them for signs of virginity, the women and girls were further divided, then sold or given as gifts.
The insane sickness of al-Baghdadi and the ISIS cult's attitude toward women—especially non-Muslim captive females—can hardly be overstated. Human Rights Watch has published excerpts from a list of instructions al-Baghdadi and his lieutenants released regarding the supposedly Allah-approved way to treat captive slave women and girls.
Question 6: Is it permissible to sell a female captive?
Answer: It is permissible to buy, sell or give as a gift female captives and slaves, for they are merely property, which can be disposed of as long as that doesn't cause [the Muslim ummah] any harm or damage.
Question 8: If two or more [men] buy a female captive together, does she then become [sexually] permissible to each of them?
Answer: It is forbidden to have intercourse with a female captive if [the master] does not own her exclusively. One who owns [a captive] in partnership [with others] may not have sexual intercourse with her until the other [owners] sell or give him [the captive].
Question 13: Is it permissible to have intercourse with a female slave who has not reached puberty?
Answer: It is permissible to have intercourse with the female slave who hasn't reached puberty if she is fit for intercourse; however if she is not fit for intercourse, then it is enough to enjoy her without intercourse.
Question 19: Is it permissible to beat a female slave?
Answer: It is permissible to beat the female slave as a [form of] darb ta'deeb [disciplinary beating], [but] it is forbidden to [use] darb al-takseer [literally, breaking beating], [darb] al-tashaffi [beating for the purpose of achieving gratification], or [darb] al-ta'dheeb [torture beating]. Further, it is forbidden to hit the face.
Sherin Jardo escaped systematic rape by pretending she was paralyzed, remaining motionless and silent even when sadistic "owners" tried to prove she was not by shooting near her head or beating her. She maintained her stillness for so long that she became literally sick and unable to walk. Jardo was released along with almost 400 elderly and sick people after nine months. Several younger sisters were held for longer periods of time but also have since been bought back or released. According to the former slaves, their buyers ranged from ISIS fighters to Iraqi citizens; some women and girls were sold to Saudis and Turks and transported back to those countries.
Three harrowing years after the nightmarish ordeal began, Jardo came to Washington and New York last month. She met with Vice President Mike Pence and NGO officials, always wearing around her neck a laminated card that bears small photographs of eight of her male relatives, men and boys she has not seen since August 2014.
Jardo currently lives in a a displaced persons camp in northern Iraq called Bajat Kendal. The ramshackle, hastily constructed camp was intended as a temporary refuge. Three years later, it is home to 7,000 people, mostly women and children. They live two to three families to a tent on land that floods during rains, with limited medicine and medical care. All are dependent on NGOs for basic survival needs, and many are scarred and traumatized beyond psychological recognition by their experiences in captivity.
Their deprivations and trauma are compounded by the loss of their men. When asked what she needs most in the camps, Jardo says, "More than anything, I want to get my family back. But after Mosul, we have lost hope."
Many Yezidis believed their men and boys would come home after the fall of Mosul. But as Iraqi forces routed ISIS this spring, no Yezidi men have come. Dr. Nemam Ghafouri, a Kurdish heart surgeon raised in Sweden who has been working at the camps and who traveled to the U.S. with Jardo, says thousands of men and boys are now believed dead and unaccounted for. "There are at least 80 mass graves," Ghafouri says. "The graves have been discovered, but no one has yet identified who is in them."
Ghafouri and an American nurse named Katrina Kraemer founded Joint Help for Kurdistan. They donate their medical services at the camp and have been spearheading an effort to build a school at one of the Yezidi's holy sites, called Sharfadin. ISIS tried but failed to destroy the site, and the women hope that building a school there will bring a sense of unity back to a community that has been blasted apart. They recently bought several washing machines for the camp with donated funds.
To date, there is no complete, reliable list of how many women and girls remain in captivity or are otherwise missing, but the number is believed to be in the high hundreds, says Donatella Rovera, senior crisis response adviser with Amnesty International, who is working on the ground in the area. Rovera confirmed that "barring very few exceptions, Yezidi men who were captured by ISIS have not returned, and there are no credible reports that they are alive somewhere, though some could be."
Rovera pointed out that al-Baghdadi has already been announced dead several times, and said his death is more of a media phenomenon than an event that holds any meaning for the Yezidi people, or others who have been harmed by ISIS. "Pending evidence, no one is paying much attention," she says. "Even if confirmed, it is unlikely to significantly change the equation in the battles in places like Mosul or Raqqa—as he is not believed to be playing any significant military role anyway."
Although there are efforts under way in Germany and elsewhere to gather evidence on the genocidal campaign ISIS carried out against indigenous minorities and Christians in Iraq and Syria, the prospect of justice is very far away. "Justice seems a distant prospect—not just for the Yezidis, but in general, given the inherently dysfunctional justice system in both Iraq and [Kurdistan]," Rovera says. "And since Iraq is not party to the ICC, [there is] not much hope either for justice beyond Iraq's borders."