Is ISIS Leader Baghdadi Alive or Dead? New Video Shows Dead U.S. Soldiers, Honors Mysterious Leader
Footage of Islamic State militant group (ISIS) leader Abu Bakr al-Baghdadi was included in a recent video depicting the graphic deaths of U.S. soldiers ambushed by jihadis last October in Niger, but the whereabouts and fate of the elusive cleric remained a mystery.
The recently released ISIS video, titled "Assault of the Brave on the Army of the Americans," featured dramatic scenes of U.S. Special Forces attempting to fend off a surprise attack of up to 50 militants believed to be associated with ISIS near the Nigerien village of Tongo Tongo in Western Africa. The combat footage was captured with U.S. soldiers' own equipment and features footage of Baghdadi's first and only known public appearance in June 2014.
Related: U.S. Soldiers Killed in Niger Seen Battling ISIS In New Video Of Their Last Moments Alive
On June 29, 2014, Baghdadi declared himself the ruler of a global caliphate in a speech delivered at the Grand al-Nuri mosque in Iraq's second city of Mosul, which was seized by ISIS earlier that month. ISIS managed to capture about half of Iraq and Syria at its height that year. As the group was defeated by various local and international forces, however, Baghdadi remained hidden and competing claims of his location, health and possible death have routinely arisen in his absence.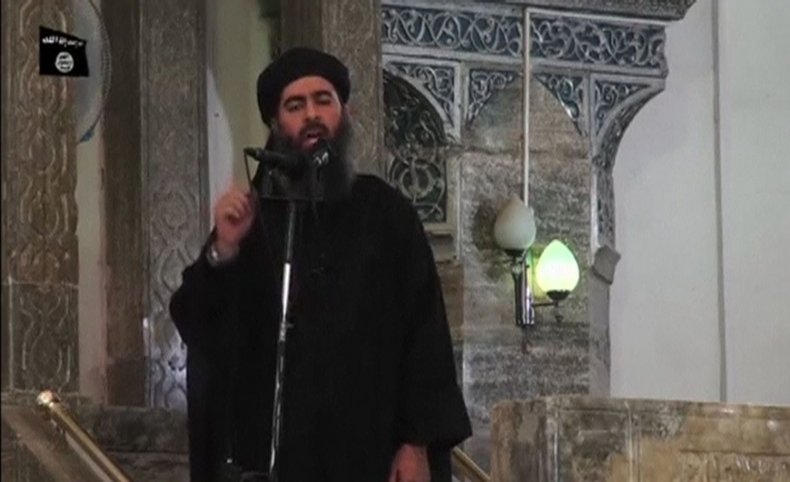 In one of the most recent official updates on Baghdadi, Abu Ali al-Basri, director of intelligence and counterterrorism at the Iraqi Interior Ministry and head of the elite Falcons Intelligence Cell, told state-run newspaper Al-Sabah that he knew exactly where the secretive ISIS head was hiding. Baghdadi "is still present today with the help of his collaborators in the Syrian region of Al-Jazeera," a span of desert flanked by the Euphrates river and Tigris River in Iraq.
Basri also said he had was suffering from severe "physical and psychological deterioration" due to injuries sustained in Iraqi air raids and may have been afflicted with diabetes as well. That same day, CNN cited unnamed U.S. officials who claimed that Baghdadi had been wounded by airstrikes, but said he had been hit in May near the former de facto ISIS capital of Raqqa, which was taken by the U.S.-led coalition and its partnered, mostly Kurdish Syrian Democratic Forces last October.
The Russian Defense Ministry made a similar claim in June as its own allies, the Syrian military, led a cross-country offensive that also saw victories against the jihadis in parts of Raqqa province. The ministry said it believed Russian warplanes had actually killed the ultraconservative Sunni Muslim cleric in a May 28 airstrike targeting a meeting of ISIS officials in a southern Raqqa city suburb.
The U.S. remained skeptical of Russian claims, even as Moscow appeared to grow more certain of the assassination. Iran, which also backed efforts to defeat ISIS in Iraq and Syria, and elite Islamic Revolutionary Guard Corps member Ali Shirazi said in June that "Baghdadi is definitely dead," but provided no details.
Summer 2017 also saw opposing claims by pro-Syrian opposition monitors, the Syrian Observatory for Human Rights and Raqqa is Being Slaughtered Silently. The former, U.K.-based group told Newsweek in July that Baghdadi had been killed in the eastern Syrian ISIS stronghold of Deir Ezzor, but did not know how. The Raqqa-based monitor, however, said that same day that such rumors were "not true," citing ISIS sources in Raqqa.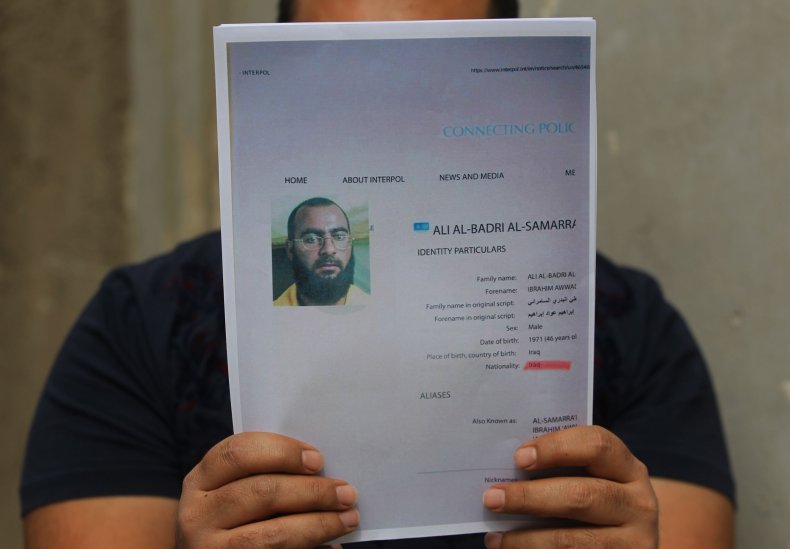 As the U.S.-led coalition advanced in Raqqa city and the Syrian military broke a three-year siege of its forces trapped in Deir Ezzor, ISIS shocked the world with an audio tape purporting it to be a recent sermon by Baghdadi. While the audio could not be independently verified by Newsweek, Baghdadi discussed recent ISIS losses, as well as the increasingly tense nuclear standoff between President Donald Trump and North Korean supreme leader Kim Jong Un.
ISIS lost Raqqa the following month, followed by Deir Ezzor in November. As pro-Syrian goverment forces joined fellow Iraqi forces also battling ISIS on their mutual border, Baghdadi was no where to be seen, even as the Syrian military and its allies retook the final ISIS-held town of Al-Bukamal. Lebanese Shiite Muslim movement Hezbollah, a close partner of the Syrian military, claimed Baghdadi had been spotted in the border town prior to ISIS losing it.
Baghdadi's inclusion in the recent ISIS video depicting the October 4, 2017 ambush that killed four Green Berets and five Nigerien troops did little to answer questions about the missing ISIS leader, who has a $25 million U.S. bounty on his head. The clip, however, was surrounded by footage of members of West African Islamist militant coalition Jama Nusrat ul-Islam wa al-Muslimin swearing allegiance to him, demonstrating the global audience his hardline brand of militant Islam enjoyed.