ISIS Head Hid Out Among Foes in Syria, Will U.S. Allies Now Overcome Their Own Rivalry at Home?
News that the leader of the Islamic State militant group (ISIS) was discovered in the rival militant stronghold of Syria's Idlib shocked a number of observers, but this development comes after years of shifting allegiances and hasty deals made among factions in a protracted conflict that now sees two U.S. partners at war.
The Delta Team that led last week to the death of Abu Bakr al-Baghdadi, first reported by Newsweek, was one of few U.S. operations to take place in the northwestern province of Idlib, as the Pentagon has largely focused on battling ISIS' so-called caliphate stretching across northeastern Syria since 2015. Prior to that, however, the U.S. had another goal in Syria, toppling Syrian President Bashar al-Assad, and offered support to a number of opposition groups, some of whom went on to merge with more radical factions pledging allegiance to Al-Qaeda and ISIS, or even under other Islamist groups backed by NATO ally Turkey.
The Syrian government's own campaign, along with its Russian and Iranian allies, made little distinction between the various factions trying to overthrow it and its ruthlessness has been credited by the U.S. with allowing ISIS to rise in the first place. With rebels offering refuge to Baghdadi and battling U.S.-backed, Kurdish-led forces, however, longstanding concerns resurfaced regarding their designs in Syria.
"The reality is that ISIS was always part of the opposition to Assad, so it is entirely unsurprising that its leader would hide out among other radicals in the opposition," Max Abrahms, a professor of political science at Northeastern University, told Newsweek.
"Idlib is the largest enclave of Al-Qaeda members in the world. At a time when ISIS was crumbling, its leader naturally headed to the spot with the most terrorist sympathizers for him to stay alive, recruit, and ultimately rebuilt the Caliphate," he added. "Who mourned Baghdadi's death? Radical rebels⁠—not Assad."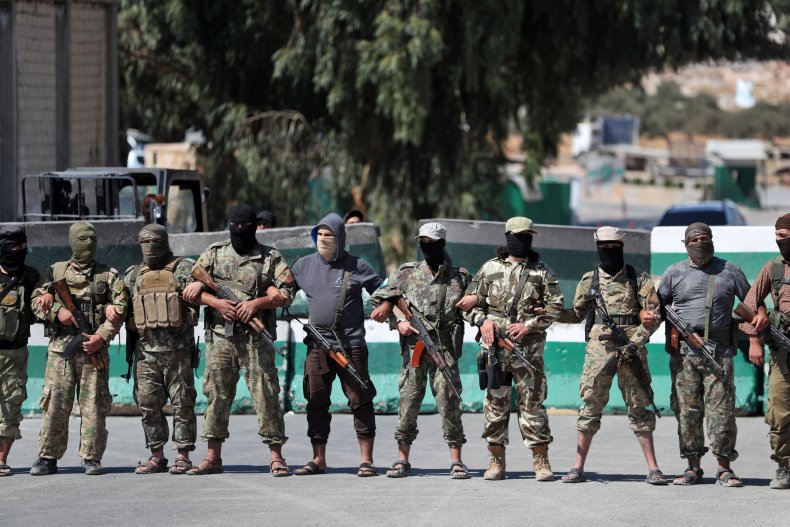 The origins of ISIS begin not in Syria, but in neighboring Iraq, where a number of ultraconservative, violent insurgent groups rose up in the wake of the 2003 U.S. invasion that ousted Iraqi President Saddam Hussein, who—like Assad—was frequently accused of human rights abuses. Baghdadi was among a number of future jihadi figures to be detained by U.S. forces in notorious centers such as Abu Ghraib and Camp Bucca.
Also held in Camp Bucca was Abu Mohammad al-Julani, a Syrian national who went on to support Baghdadi in expanding Al-Qaeda in Iraq into the Islamic State of Iraq. By 2011, two men sought to take advantage of a U.S. pullout from Iraq and the outbreak of a civil war in Syria to further grow their militant project, with Julani setting up the Nusra Front the following year to join the ranks of those fighting to depose Assad.
When Baghdadi sought to merge the two in 2012, however, Julani refused and remained loyal to Al-Qaeda, led by Ayman al-Zawahiri since Osama bin Laden's death at the hands of the Navy's SEAL Team Six in Pakistan. The Nusra Front remained among an increasingly fractured opposition, backed in part by the U.S. and its regional allies such as Israel, Qatar, Saudi Arabia and Turkey, as Iran mobilized foreign militias to support Assad, who lost ground nationwide.
This changed in 2015 when Moscow intervened on behalf of Damascus and the Pentagon officially partnered with the Syrian Democratic forces, whose leading Kurdish People's Protection Units (YPG) alternatively fought with and against the government but prioritized defeating ISIS. Both sides managed to separately defeat ISIS in cross-country campaigns, the U.S.-led side of which was launched by President Barack Obama and largely finished by President Donald Trump.
"Obama and Trump like to present themselves as totally different types of presidents. In reality, they share more in common on Syria than either would like to admit," Abrahms told Newsweek. "Both Obama and Trump have struggled to sort out whether the U.S. should restrict its involvement to combating ISIS or also try to weaken the Assad government."
The U.S. and Western allies have repeatedly derided the Syrian government's efforts to reclaim formerly rebel-held pockets, of which only Idlib remains due to a deal between Russia and Turkey. While Russian and Syrian forces bombarded the renegade province and even the U.S. occasionally targeted this territory, it was here that Baghdadi at some point found a home.
Elizabeth Tsurkov, a fellow at the Foreign Policy Research Institute focusing on the Levant, told Newsweek that "Idlib is incredibly hostile to ISIS members," who "are constantly being hunted down and killed by Hayat Tahrir al-Sham, the merger containing the latest incarnation of Julani's former Nusra Front. She described the group as "jihadist, but pragmatist."
"There are some factors that make Idlib hospitable to foreigners, however. Half of the area's inhabitants are displaced from other parts of Syria, making it easier for foreigners to blend in," she added. "In addition, because the area's airspace is controlled by Russia and the regime, and not the U.S., it is easier to avoid detection by U.S. drones when hiding in Idlib."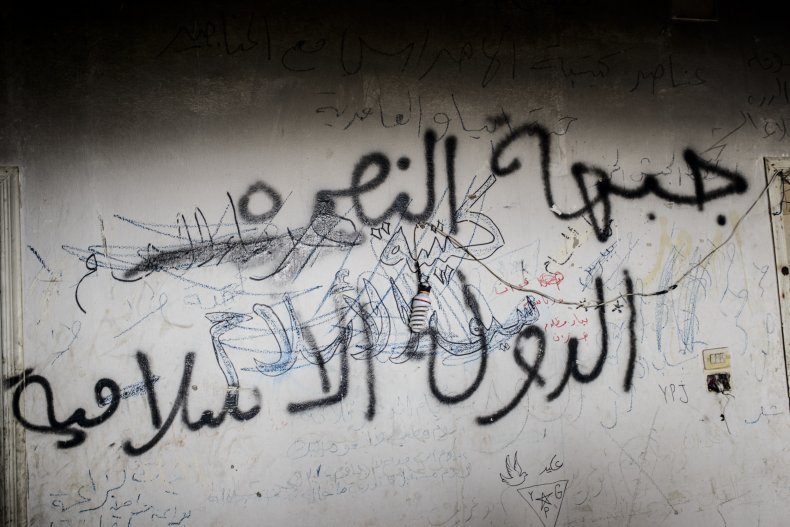 In announcing Baghdadi's death last week, Trump thanked Russia for allowing U.S. military helicopters passage through airspace it controlled in Syria in order to make the operation possible. Moscow operates advanced S-400 surface-to-air missile systems and various equipment capable of detecting planes across the Middle Eastern country and beyond its borders.
While Russia has not fully endorsed the U.S. claim of the ISIS leader's demise, which ISIS has since confirmed, Kremlin spokesperson Dmitry Peskov said last week that, "if this information about al-Baghdadi's death is indeed confirmed, in general we could speak about the U.S. president's serious contribution to the fight against international terrorism," according to the state-run Tass Russian News Agency.
Assad himself, who made a rare visit to Idlib days before the U.S. raid, expressed more overt skepticism in a lengthy interview Thursday with state-run media in which he gave militants unable to flee to Turkey "two options—either return to the Syrian state and resolve their issues or face war. There is no other choice, neither for us nor for them." The Syrian leader considered only Russian and Iranian intervention to be legitimate in the conflict.
"You can take American politics and see it in Hollywood or else you can bring Hollywood and see it through American politics," Assad said. "I believe the whole thing regarding this operation is a trick. Baghdadi will be recreated under a different name, a different individual, or ISIS in its entirety might be reproduced as needed under a different name but with the same thought and the same purpose. The director of the whole scenario is the same, the Americans."
Asked if Baghdadi's location in Idlib was unexpected, U.S. Central Command said that "surprise was not part of the equation."
"Following a collective effort to gather actionable intelligence on Baghdadi's whereabouts, the commander of U.S. Central Command ordered the kill or capture mission to commence," the Pentagon command said in a statement sent to Newsweek.
ISIS' current capabilities were doubted by both Abrahms and Tsurkov. He told Newsweek that "the reason why we won't see a wave of retaliatory attacks by ISIS is not because it lacks the intent, but due to its weak capability" and she noted that, "because the group has been so significantly degraded, we have not seen a significant rise in the number of attacks."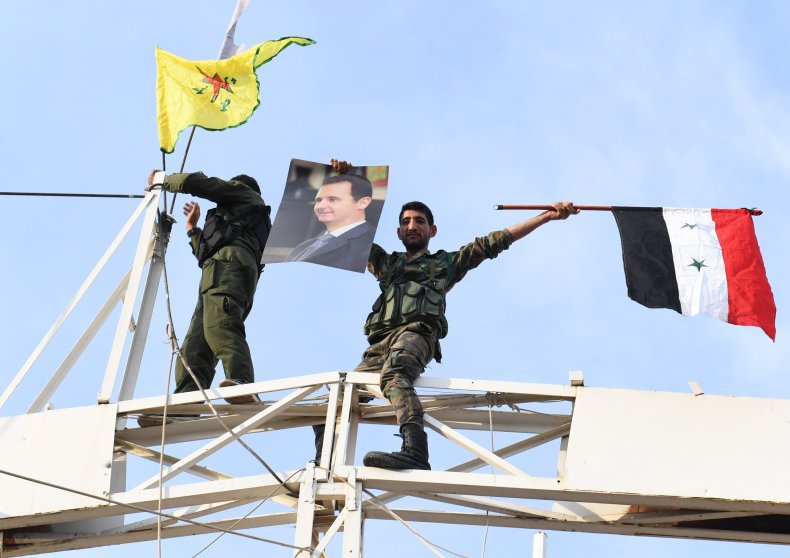 Empowered, however, were scores of other insurgents operating across northern Syria as part of a Turkish-led operation to clear out YPG fighters considered terrorists by Ankara due to alleged links to the banned Kurdistan Workers' Party (PKK). A number of these fighters have shared footage of themselves committing what appeared to be violent criminal acts and expressing a hard-line ideology not unlike that of ISIS and Al-Qaeda.
"Jihadists are stealing homes of the Kurds they expelled and showing off with it," Syrian Democratic Forces spokesperson Mustafa Bali tweeted Monday, alongside alleged photographic evidence of such acts. "Home of politician Khaled Kota in Tanuza was turned into a mosque after he'd been killed and the rest of the Kurdish villagers expelled. Thanking God for successful cleansing of Kurds?"
Bali days ago accused Turkey-backed rebel figure Mustafa Sejari of eulogizing Baghdadi in a controversial article that discussed the slain cleric's legacy but ultimately criticized him. Sejari, a critic of the Syrian Democratic Forces, has previously lobbied to restart CIA aid for Syrian insurgents even as they clashed with Pentagon-backed Kurdish fighters last year.
As these two sides once again battle, U.S. troops have largely withdrawn from northern Syria, avoiding a fight between two partners and prioritizing control over the country's eastern oil fields. The Syrian Democratic Forces have instead sought the protection of the Syrian government and its Russian ally, though differing views over governance and continued U.S. backing for the Kurdish-led fighters have proven obstacles toward reconciliation and cooperation.
Advances made by a common foe, however, may prove an accelerating factor in their joint attempts to repel the Turkish-led invasion in much the same way rival jihadis were driven together. Syrian Democratic Forces commander Mazloum Abdi, also known as Kobani, recently rejected simultaneous calls from the Syrian Defense Ministry, Interior Ministry and Education Ministry to re-establish services across the largely self-ruling northeast, arguing that such a plan would need to be accompanied by a political solution.
Assad has always maintained that he would reclaim the entirety of the country through diplomacy or force, but appeared to soften his tone in his recent interview, potentially acknowledging somewhat of a new status quo.
"The situation will not return as before. There are facts on the ground which need to be addressed, and this will take time," Assad said. "There are new facts related to people on the ground that took place when the state was absent. There are armed groups, we do not expect them to hand over their weapons immediately. Our policy should be gradual and rational, and should take the facts into account, but the ultimate goal is to return to the situation as it used to be previously which is the full control of the state."