ISIS Mass Grave Death Toll in Iraq and Syria Surpasses 3,000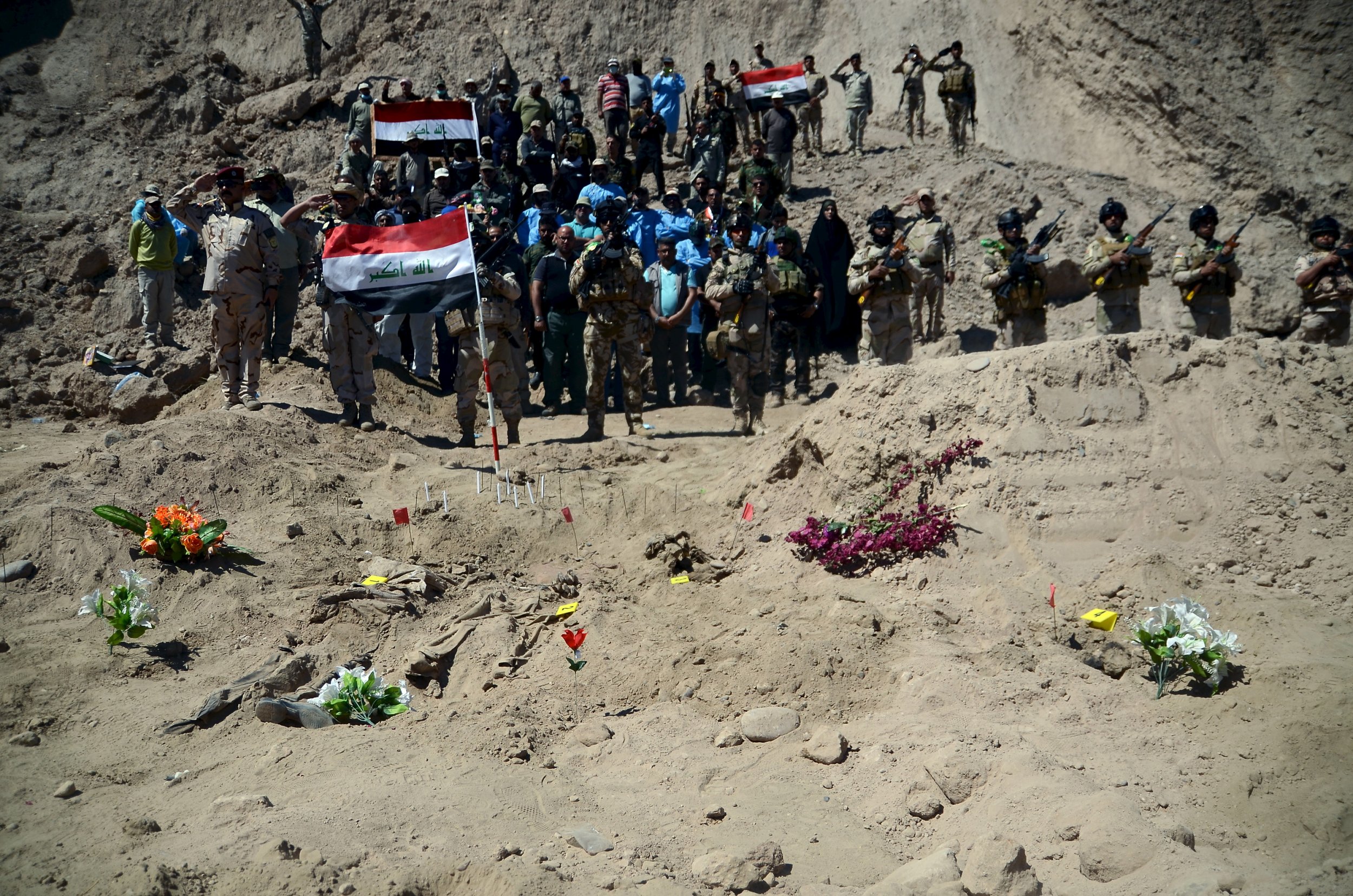 The combined number of bodies discovered in ISIS mass graves has surpassed 3,000 after the gruesome extent of the terror group's mass murder in the Iraqi city of Tikrit was revealed on Tuesday.
A number of mass graves dug by the terror group have been confirmed in both Syria and Iraq, taking the toll from the graves and mass killings to 3,071. The toll does not include individual civilian deaths nor deaths of those killed in clashes with the terror group.
Nine months ago, the radical Islamists claimed to have captured and killed 1,700 at a former U.S. military base in Tikrit, named Camp Speicher, as they swept across northern Iraqi, capturing the key Sunni cities of Tikrit and Mosul, Iraq's second-largest.
A Human Rights Watch (HRW) report initially claimed that approximately 770 captured Iraqi soldiers were killed after ISIS took control of the base but Iraqi forensic teams have now discovered 12 mass graves believed to hold more than this total.
In addition to the Tikrit figure, last August, approximately 500 members of the Yazidi sect were found dead in the northern Iraqi region of Sinjar, with some women and children buried alive, according to Iraqi officials. Last December, a mass grave of 230 bodies was uncovered in the Syrian region of Deir el-Zour, with those killed belonging to the Shaitaat tribe, according to the Syrian Observatory for Human Rights (SOHR).
In October, rights group Human Rights Watch (HRW) released a report which detailed survivor accounts of a mass execution of 600 Shia prisoners last June at Badoush prison on the outskirts of Mosul. The graves of those killed have not yet been discovered as ISIS still maintain control over the city.
In January, 16 were found shot dead in the village Koubashi, in Khanaqin province formerly controlled by ISIS northeast of Baghdad while, in February, a further 25 Yazidis were found in a mass grave by Kurdish peshmerga in the northwest Iraqi village of Sinuni.
Max Abrahms, professor of political science at Northeastern University and member at the Council on Foreign Relations, predicts that the real number of ISIS's mass killings is even higher and will be revealed as the group is rolled back from the areas it controls, such as Mosul, which a U.S. Central Command (Centcom) official revealed would be the target of a spring offensive.
"I think that initially, last summer, the international community was not paying that much attention to Islamic State," he notes. "During that time, under the noses of the international community, they slaughtered thousands of civilians. So, as Islamic State gets beaten back, the extent of these crimes is becoming clearer and clearer."
"One of the ways of maintaining order against an unhappy population is violence," he adds, in reference to reports of dissent in the ISIS-held city of Mosul. "So I think that there has been a lot of undocumented violence by Islamic State against Mosul residents who want to leave."
The overall death toll from ISIS's march across the Middle East, with the aim of building an Islamic caliphate, is much higher than the figures from the discovered mass graves. A United Nations report released by its Iraq mission and Geneva human rights office last October revealed that more than 5,500 people had been killed in Iraq alone since their offensive began last June.
Kamil Amin, a representative of the Iraqi human rights ministry, told the Associated Press that excavation work has begun on eight different locations within Tikrit's presidential palaces - formerly home to Saddam Hussein - where a number of ISIS killings are believed to have been carried out.
The Iraqi offensive on the city, supported by the Shia-majority Popular Mobilisation Units (PMU), had initial success, with a number of towns on the city's outskirts captured quickly and PMU spokesman, Karim al-Nuri, declaring the city would be liberated in "no more than 72 hours" last month.
Iraqi prime minister Haider al-Abadi claimed victory in the city but, despite holding a numerical advantage over ISIS, the assault took longer than expected, drawing to a halt because of 'hundreds' of ISIS improvised explosive devices (IEDs) and the lack of Iraqi engineers to dismantle the explosives.