ISIS Militants Launch Multiple Chemical Weapons Attacks On Iraqi Troops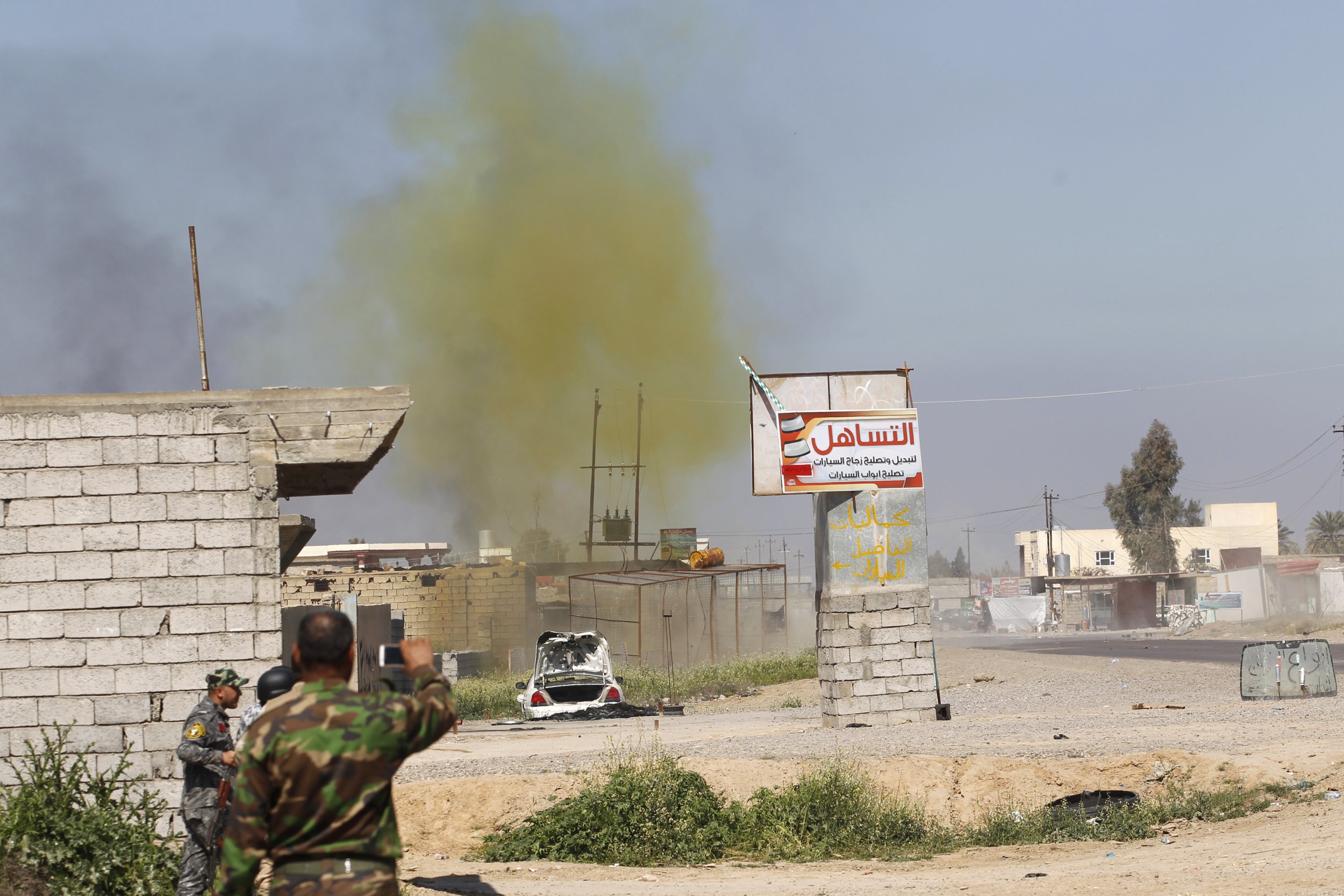 The Islamic State militant group (ISIS) launched Sunday its second chemical weapons attack against Iraqi soldiers in two days, sending pro-government forces to the hospital in an attempt to slow an offensive to oust the jihadists from their final stronghold of Mosul.
Six Iraqi soldiers were treated at a field clinic Sunday after being exposed to some sort of gas believed to be released by militants loyal to ISIS, Brigadier General Yahya Rasool, the Iraqi spokesperson for the U.S.-led coalition against ISIS, told the Associated Press. While the type of poison used was still being investigated, the attack followed another apparent use of weaponized gas on Saturday when ISIS militants launched a rocket filled with what was believed to be chlorine at Iraqi military positions. Saturday's attack, which took place in the western neighborhood of Abar, injured seven soldiers, according to the Associated Press.
Related: Syrian Military Claims 'Hundreds' Killed After U.S. Airstrike Hits ISIS Chemical Weapons Site
Earlier this month, a video emerged showing members of the mostly Shiite Muslim, Iran-backed militias known collectively as the Popular Mobilization Units or Al-Hashd Al-Shaabi claiming they had discovered an ISIS stockpile containing dozens of oxygen and chlorine canisters used for building truck bombs.
ISIS has grown increasingly desperate as the Iraqi military, assisted by Kurdish forces, Iran-backed Shiite Muslim militias and a U.S.-led coalition, advanced on the largest and last major population center held by the ultraconservative Sunni Muslim organization. Mosul was one of many cities in Iraq and Syria that ISIS took by storm in 2013 and 2014, and it was at the city's Great Mosque of al-Nuri that the group's elusive head, Abu Bakr al-Baghdadi, made his first and last major public appearance to declare himself the leader of a worldwide caliphate in July 2014.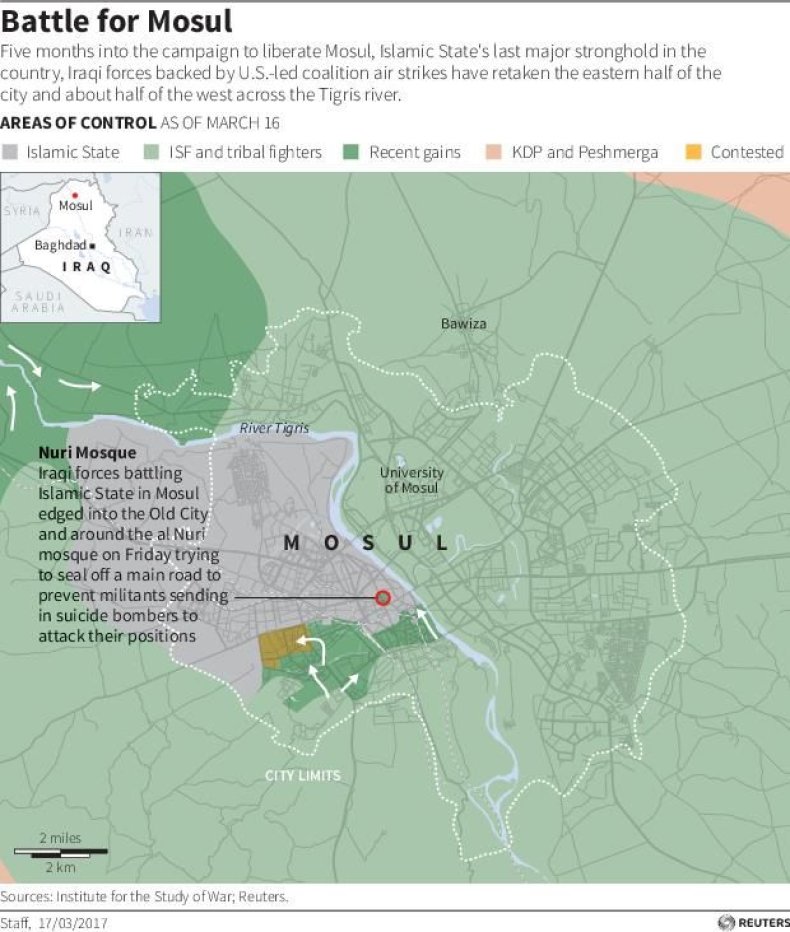 After pro-government forces began to drive ISIS out of Iraq's cities, Prime Minister Haider al-Abadi announced in October the beginning of a campaign by the Iraqi military and allied forces to dislodge the jihadists from Mosul, effectively defeating the group in Iraq. Earlier this year, anti-ISIS forces managed to recapture the eastern half of the city and have since experienced fierce resistance by the militants in the densely populated western neighborhoods where ISIS has utilized snipers, suicide car bombs and human shields. As Iraqi forces and their allies entered the Old City of Mosul, they were forced to leave their tanks and armored vehicles behind and have begun engaging ISIS fighters in high-intensity door-to-door combat nearly within reach of the iconic al-Nuri mosque, Reuters reported Monday.
This weekend's chemical weapons attacks followed an alleged gas attack earlier this month against civilians near the northwestern rebel-held city of Idlib in neighboring Syria. The U.S. and some other Western nations have blamed the incident on Syrian President Bashar al-Assad and, in response, launched a volley of Tomahawk cruise missiles against a Syrian airbase. The Syrian government and its Russian ally denied that the Syrian military was behind the attack and said a Syrian airstrike struck a hidden chemical weapons facility used by rebel groups, resulting in the deadly discharge that killed dozens of civilians. Russian President Vladimir Putin and the nation's defense ministry also accused Syrian rebels and ISIS of staging chemical attacks and framing Assad to draw international support.
Both Iraqi and Syrian officials have previously accused ISIS of using chemical weapons throughout the parallel campaigns to defeat the jihadists in their respective nations. The leadership of the Syrian army said Thursday that a U.S.-led airstrike hit a warehouse used by ISIS to store toxic substances near the eastern city of Deir el-Zour, causing a chemical cloud that killed hundreds of civilians and ISIS fighters. The U.S. dismissed the claim.