ISIS Militants Defeated In Battles with Syrian Army and Kurds Backed by U.S.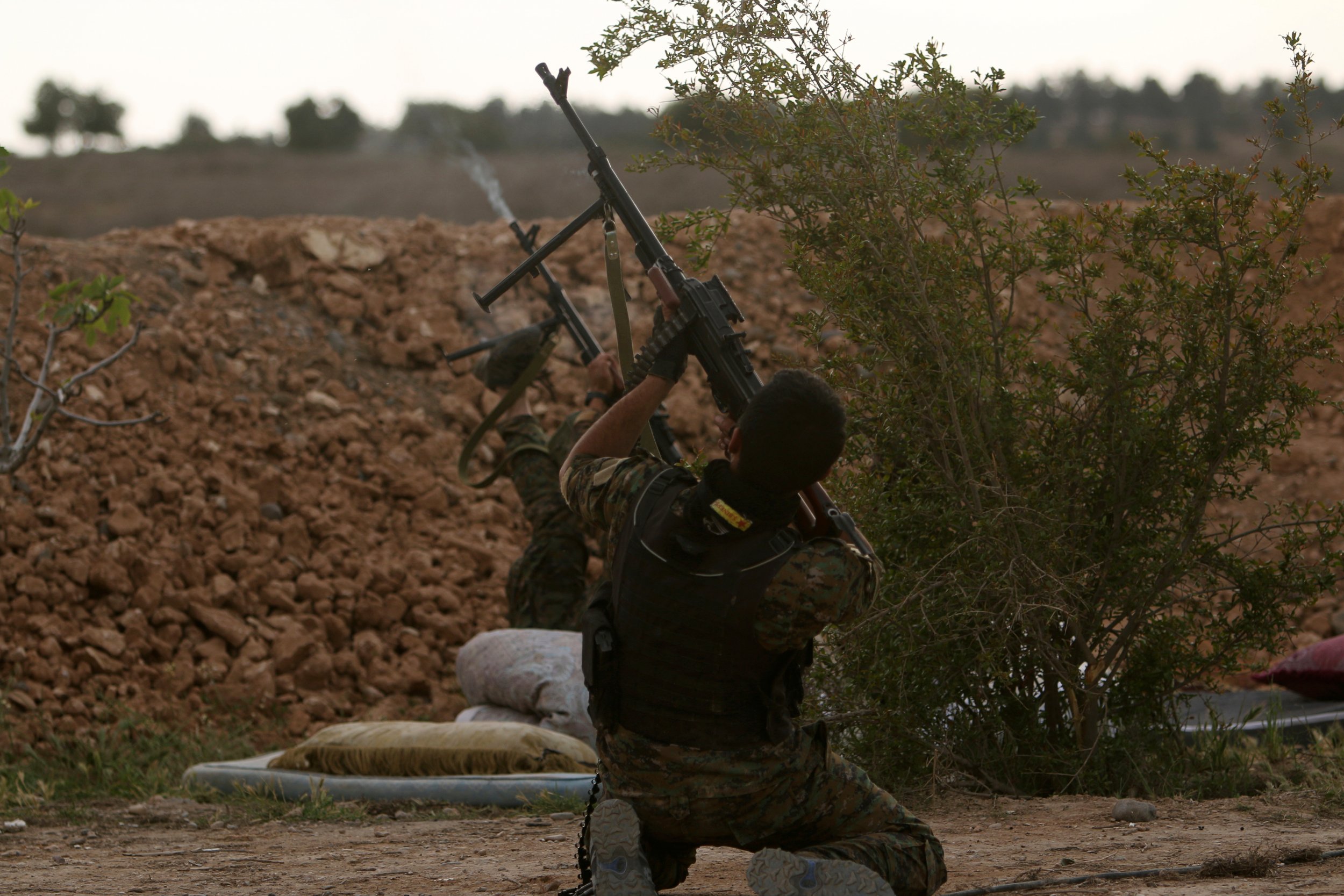 The Islamic State militant group (ISIS) lost ground across Syria this week from separate offensives by forces supported by the U.S. and Russia.
Reports emerged Monday that the U.S.-backed Syrian Democratic Forces (SDF), a Kurd-dominated alliance including ethnic minorities and Arabs, drove ISIS out of the northern town of Tabqa and the nearby dam constructed along the Euphrates River, according to Kurdish media outlet NRT. Ongoing clashes, however, suggested that the SDF operation had not finished and conflicting reports spread about whether the militia struck a deal to evacuate remaining ISIS fighters from the area. The alleged agreement was first referenced by the Syrian Observatory for Human Rights (SOHR), a U.K.-based monitoring group with close ties to the Syrian opposition. Kurdish fighters of the SDF denied Thursday such a deal had taken place and said that its fighters were still battling the jihadists in three districts and a nearby village.
Related: War in Syria: Russia, Iran, Turkey Agree on Safe Zones for Civilians, But Rebels Protest
"All the rumors and circulating news about the liberation of Tabqa and the dam through evacuating the terrorists ... are baseless and far from the reality," the SDF wrote in a statement published by Kurdish news agency Rudaw, which pointed out in a following piece that such deals had taken place before on a strategic basis.
Since beginning its latest U.S.-sponsored offensive in March, the SDF has slowly neared ISIS's de facto capital of Raqqa, about 25 miles away from Tabqa. In a press briefing streamed from Baghdad Wednesday, Operation Inherent Resolve spokesperson Colonel John Dorrian told reporters that Raqqa would be administered by the SDF-affiliated Raqqa Council following the defeat of ISIS in the city. He estimated there to be about 3,000 to 4,000 ISIS fighters in the city, including foreign fighters and "various leadership figures."
Previous U.S. estimates have put ISIS's strength at around 12,000 to 15,000 militants. About 2,000 of them face a separate U.S.-backed offensive by the Iraqi military along with its Iran-backed Shiite-Muslim and Kurdish allies in ISIS's final Iraqi stronghold of Mosul. Most of the remaining 10,000 to 13,000 fighters are in Syria. A loss in the jihadists' heartland of Raqqa would be devastating both symbolically and strategically for ISIS, which has also begun losing territory to another foe—the Syrian army.
With support from Russia, Iran and pro-government militias, the Syrian military has secured most of the country's population centers taken over by insurgents and ISIS earlier throughout the nation's six-year war. After retaking the former rebel bastion of Aleppo in December, Syrian troops and their allies ousted ISIS from the historic city of Palmyra earlier this year. Representing Syrian President Bashar al-Assad, the forces pushed further Thursday, capturing four areas from the jihadists in Palmyra's southeastern countryside, according to pro-government Al Masdar News. The Syrian military is aiming to relieve an enclave of fellow soldiers and tens of thousands of civilians under ISIS siege in the eastern city of Deir al-Zour since 2014.
Russia, Iran and Turkey came together Thursday to sign a memorandum supporting the establishment of safe zones for civilians fleeing the war, which has already killed hundreds of thousands and displaced millions more. The move, which came during the latest round of peace talks between the Syrian government and rebels fighting to overthrow Assad since 2011, was met by protests from the opposition, who criticized Iran's involvement. President Donald Trump and Assad also have expressed approval for the establishment of safe zones.