ISIS Claims Responsibility for Double Bomb at Catholic Church That Killed at Least 20, Injured Over 100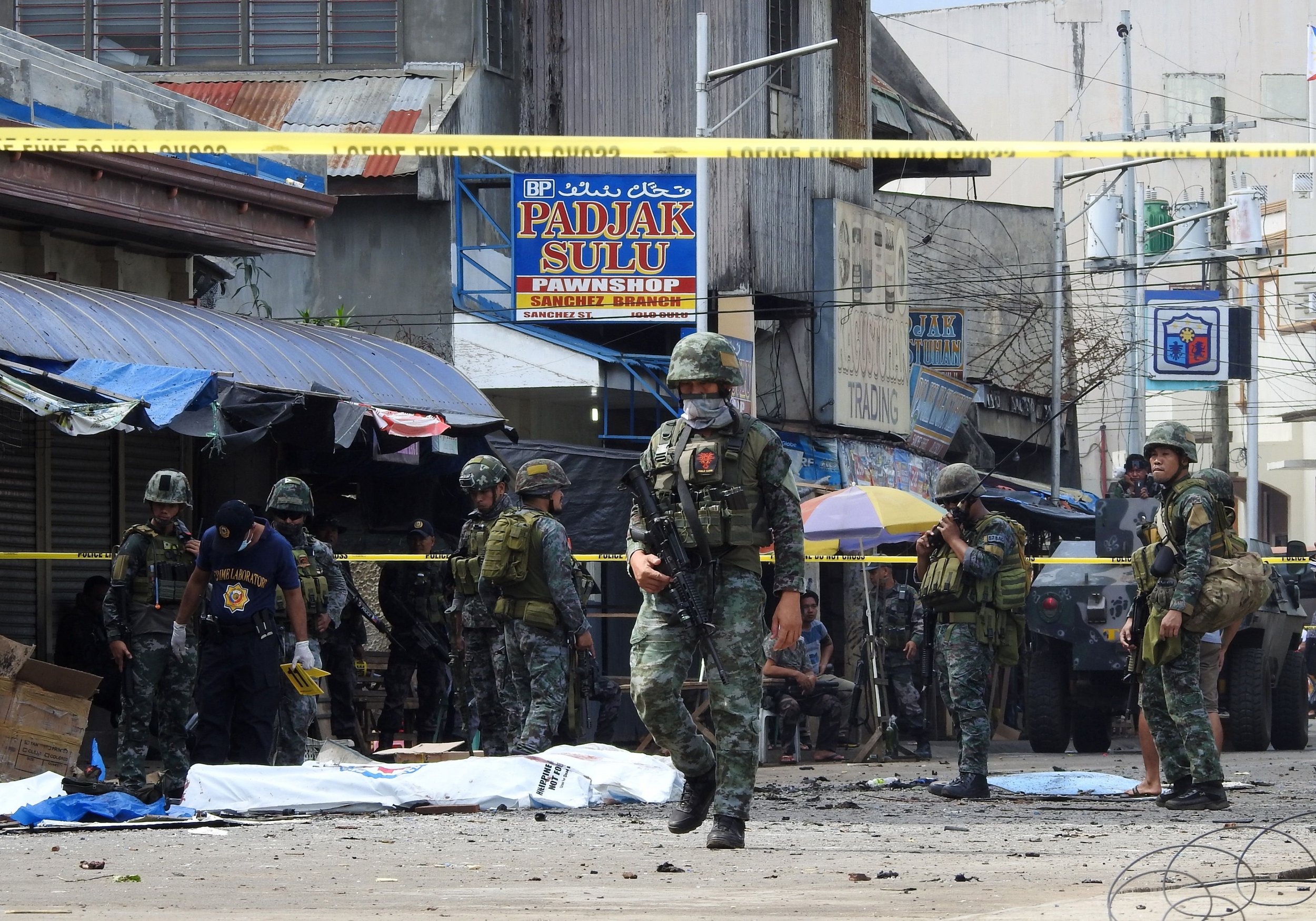 ISIS has claimed responsibility for a bomb attack targeting a Catholic cathedral in the southern Philippines this weekend.
At least 20 people were killed and 111 injured by the double bombing, which rocked the island of Jolo, in Sulu province, on January 27. Fifteen civilians and five soldiers were killed, while other troops, police and coast guard personnel were among the injured, the Associated Press (AP) reported.
The ISIS terror group claimed responsibility for the attack via its Amaq propaganda agency, according to the SITE Intelligence Group, which monitors extremist activity. The statement, issued by the group's "East Asia Province," said the bombings were executed by "two knights of martyrdom" against a "crusader temple," the BBC reported.
The first bomb exploded inside the Cathedral of Our Lady of Mount Carmel, sending survivors fleeing toward the main exit. But as they escaped and emergency personnel arrived on the scene, a second bomb went off close to the main entrance, around a minute after the first blast.
Defense minister Delfin Lorenzana said he had ordered troops to raise their alert level in the aftermath of the bombing, and to "secure all places of worships and public places at once, and initiate proactive security measures to thwart hostile plans."
President Rodrigo Duterte issued a statement vowing to "pursue to the ends of the earth the ruthless perpetrators behind this dastardly crime until every killer is brought to justice and put behind bars. The law will give them no mercy."
"The enemies of the state boldly challenged the government's capability to secure the safety of citizens in that region," continued Duterte. "The [Armed Forces of the Philippines] will rise to the challenge and crush these godless criminals."
Pope Francis also condemned the attack, expressing "the firmest reproach for this episode of violence." He called on all Filipinos to strive for peaceful cohabitation and offered prayers for the dead and wounded.
Jolo and the wider Sulu province has long struggled with violent Islamist extremism. The island is home to the ISIS-affiliated Abu Sayyaf militant organization, which in the past had also been allied with Al-Qaeda. The group, which has carried out bombings, kidnappings and beheadings, is a designated terror organization in the Philippines and the United States.
Much of the southern Philippines has been grappling with violence for decades, pitting a minority of extremist Muslims against the Catholic-dominated government.
Sunday's bomb attack came just a week after Filipino Muslims endorsed a plan to establish a new autonomous region in the south in the hope of ending the violence, which has left at least 150,000 dead, the AP noted.
Voters in Sulu, however, rejected the deal. The province is home to multiple militant groups that have refused to engage in the peace process.