ISIS Recruit 400 Children for 'Cubs of Caliphate'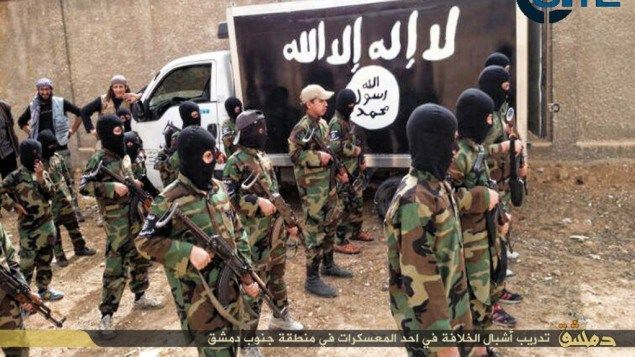 At least 400 children have joined ISIS's ranks in Syria since the start of this year for use in combat roles, espionage and propaganda, according to monitors.
Offices for "Ashbal al-Khilafah" ("Cubs of the Caliphate") were opened in several IS-held Syrian cities, according to London-based monitoring group the Syrian Observatory for Human Rights (SOHR).
Minors are indoctrinated through sharia courses and prepared for combat in military training camps. The SOHR also said that children were encouraged to attend public executions and were offered weapons and cash to join the organisation.
Children form an important part of ISIS propaganda which attempts to portray a fully-functioning state replete with education system, says Charlie Winter, researcher at anti-radicalisation thinktank Quilliam.
"They're central to the ISIS media strategy of trying to garner outrage and shock the world," says Winter. "It's all part of ISIS's attempt to show themselves as a functioning state with a proper education system."
A video released earlier this month showed a French child aged around 12 years old executing Arab-Israeli citizen Muhammad Musallam, whom ISIS accused of being a Mossad spy. The group also invited young boys to watch a screening of the execution of Jordanian pilot Muadh al-Kasasbeh, who was locked in a cage before being burnt alive.
Online tactics used by the group to recruit young girls have been compared to those used by paedophiles grooming young children. Winter says that children cannot be blamed for being forced into the group and the recruitment tactics used by ISIS equate to child grooming.
"I think to speak of children joining ISIS is not a good way to put it. Even if they have the perception of choice, it's not choice. If you're a minor and being indoctrinated from a very young age, you don't have the power to make a serious choice," he says. "I think that it's certainly worth considering more robustly that people are being groomed."
The SOHR also reported that at least 120 new adult jihadis joined the terrorist group between January 1 and March 23 in what it said was the lowest period of recruitment since the group declared a caliphate on June 28, 2014.
The terrorist group are turning to children as the next generation as their appeal to adults wanes, says Melanie Smith, research associate at the Institute for Strategic Dialogue, a counter-extremism thinktank in London.
"I think it's part of children being the next generation. They've invested a lot in training these minors for them to become completely immersed in the ideology. Whereas adults might be more questioning, children are a very easy target," she says. "They are thinking of these children as their legacy."
Smith, whose research focuses on radicalisation of young women, says that while boys are prepared for military combat, young girls are given a domestic education and expected to cook and look after their husbands. She says that the image of whole families contributing to the Islamic State, with men fighting and young men used as "poster boys" for recruitment, is part of the group's nation-building propaganda.
"If you live in a territory controlled by ISIS as a child you may not have much choice but to support their values," she says. "We know that whole families have moved into these areas, so I wouldn't be surprised if parents are responsible for their children joining."
The SOHR's founder, Rami Abdulrahman, told Reuters that ISIS may be turning to children after facing difficulties recruiting adults, partially due tighter controls on the Turkish border where many foreign fighters cross into Syria.