ISIS Release Sign-Language Video in Bid to Recruit Deaf Fighters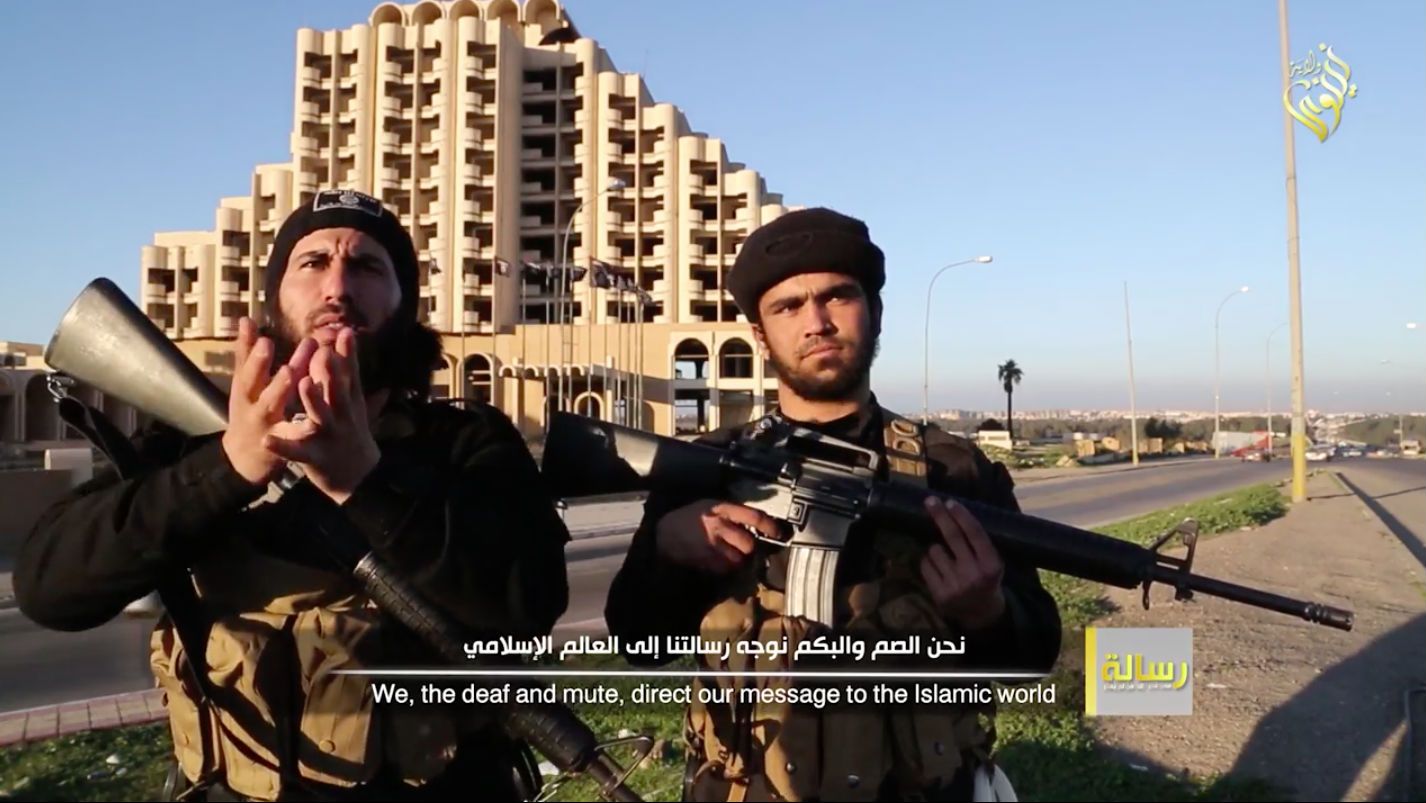 ISIS has released a video in which a pair of disabled sibling militants use sign language in an apparent bid to recruit deaf and mute fighters.
The video which is titled, From Who Excused To Those Not Excused, addresses Muslims in Europe. It features two fighters, one who claims to be deaf-mute and names the other as his brother Abu Abdur-Rahman, who say they are traffic officers in the Islamic State.
American news network NBC reported that it was released on Sunday. The men featured do not say where it was filmed, though the second speaker mentions an assault by the Kurdish Peshmerga forces on Mosul towards the end of the video, suggesting it could be set in the militant-held city.
The video lasts for almost six minutes and includes Arabic and English subtitles and the pair are dressed in black jumpsuits and are armed with assault rifles, ammunition pouches and handcuffs.
"The way is open for you to come to the land of the Khilafah, and the Islamic State is expanding," says the first speaker, addressing European Muslims. The first speaker also sends a message to Western and Arab nations, including the US, UK and Saudi Arabia, saying that slaughter will be brought to those who oppose the group.
The video has been seen as an attempt to broaden the appeal of the militant group by reaching out to those with similar impairments. Alex Kassirer, researcher at global security firm Flashpoint Intelligence, told NBC that the video "represents an attempt by the group to recruit other physically or otherwise impaired individuals, as well as demonstrates the multifaceted responsibilities of those in its ranks".
ISIS has become distinctive for its use of videos and social media to recruit foreign fighters. In June 2014, the group released a video called No Life Without Jihad featuring a British fighter called Abu Muthanna al Yemeni, who urged other Westerners to join the militants. The International Business Times reported that the group has recruited 20,000 foreign fighters using social media platforms such as Twitter, Facebook and Instagram.
The video shows the brothers directing traffic in a busy road. The second speaker also addresses a message to the "apostate Peshmerga", saying: "We will strike you soon, by Allah's permission." The video ends with a scene of the brothers setting up rockets, saying that they will be launched at Peshmerga units.
In the past week, the militant group have demolished sites of archaeological significance across Iraq, including the ancient Assyrian city of Nimrud.