ISIS Releases 25 Assyrian Christian Hostages in Syria But Dozens Remain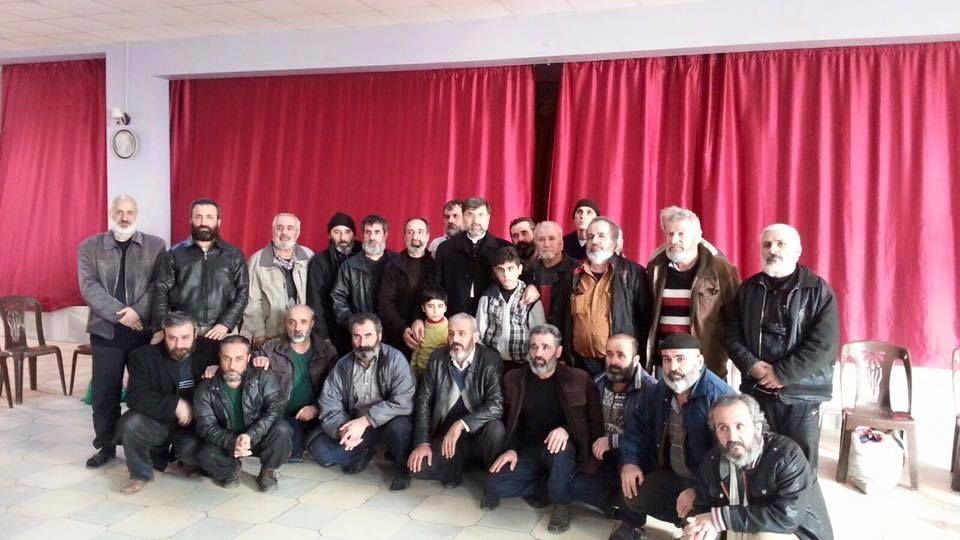 The Islamic State militant group (ISIS) released 25 male Assyrian Christian hostages, including two children, in Syria on Wednesday after they were held in captivity for nine months, according to an Assyrian advocacy group. Dozens of Assyrian Christian men, women and children remain in the hands of the radical Islamist group.
A Demand For Action (ADFA), an advocacy group for Middle Eastern minorities, confirmed in an email to Newsweek that the hostages were released with the help of the Assyrian Church of the East in Syria. The two children were aged between nine and 12 years old and ADFA said they were the first children to be released by ISIS.
The militant group has targeted Christians across the Middle East, particularly in Iraq and Syria, displacing thousands and forcing many to pay jizya (tax) or sign a dhimma (Sharia social contract) to avoid death.
The released hostages were taken to the Syrian village of Tel Tamer and were greeted by Mar Afram Athneil, the chairman of the Assyrian Church of the East Relief Organization (ACERO).
"This was made possible by the Assyrian Church of the East in Syria which has been tremendous in its efforts and they will continue to work day and night to make sure all are returned to their families safely," ADFA said in a statement.
ISIS kidnapped approximately 250 Assyrian Christian hostages from a number of villages—Tal Shamiran, Tal Jazirah and Qabar Shamia—in Syria's northeast Khabour region in February before releasing at least 20 hostages in March, according to ADFA.
In May, ISIS rejected an offer of $1.15 million, $5,000 per hostage, for the release of the remaining 230 hostages from donations raised by the Assyrian community. The militant group requested $100,000 for each hostage at a total cost of $23 million.
An Assyrian source with knowledge of the details of the hostages' release, speaking on condition of anonymity to Newsweek as they were not permitted to speak to the media, would not confirm if a ransom was paid but said, "fundraising has been going on in several countries."
Habib Afram, president of the Syriac League in Lebanon, also told Newsweek by phone late Tuesday that "indirect negotiations" were ongoing between Syrian bishops and ISIS for the captives' release. One person thought to be a negotiator, based in London, declined to be interviewed by Newsweek when requested by ADFA.
In May, Archbishop Mar Meelis, the Assyrian Archbishop for the Church of the East in Australia and the contact point for the Syrian bishop he says is negotiating with ISIS for the hostages' release in the city of Hasakah, told Newsweek that negotiations with the militant group are facilitated via communications made "through a third person who travels between the areas and delivers the messages of both sides."
While more than 100 of the hostages have been released, dozens remain in captivity, though the exact number is unclear. According to religious news site Christian Today, 99 remain in ISIS' hands, while ADFA says the number is higher. Some of those released and the relatives of those who remain in captivity have revealed the conditions under which the hostages are forced to live.
One of the Assyrian Christian women released in recent months, now in an undisclosed location in Lebanon and speaking on condition of anonymity as some of her family members remain in ISIS captivity, revealed that some of the women are forced to be house slaves for ISIS militants.
"It's hell, hell, that's the only way I can describe it. Hell. I don't want anyone in the world to experience it," she says, in an interview facilitated by ADFA. "We were their slaves, cleaning, washing and taking care of their household."
Her husband, who was also kidnapped then released, says that ISIS militants "took us outdoors and chained us to a fence just to melt in the sun."
"They told us we are infidels and ordered us to convert, we did not," he says. "They said we would be killed, but they did not tell us when or where. Every second was a torture, and it's even more of a torture now that we have our family members and friends in their hands."
Sabah, an Assyrian woman living in Stockholm, speaks of how she has had 42 relatives—including uncles, aunts and cousins—kidnapped by ISIS from the village of Tal Shamiran. ADFA says it has confirmed her version of events and says a number of those released on Wednesday were relatives of hers.
"At first, I didn't understand," she says, in a phone interview facilitated by ADFA before Wednesday's announcement. "It took a while, then I fell down on the floor and I was shaking. I didn't know what to do or say. I have been shaking for nine months."
She adds, speaking of the children who have been captured: "If they disappear I will have no roots left. This is going to be a harsh Christmas. What is there to celebrate?"