ISIS Releases Bloody New Video Singing 'Kill Them All' in U.S. and Other Countries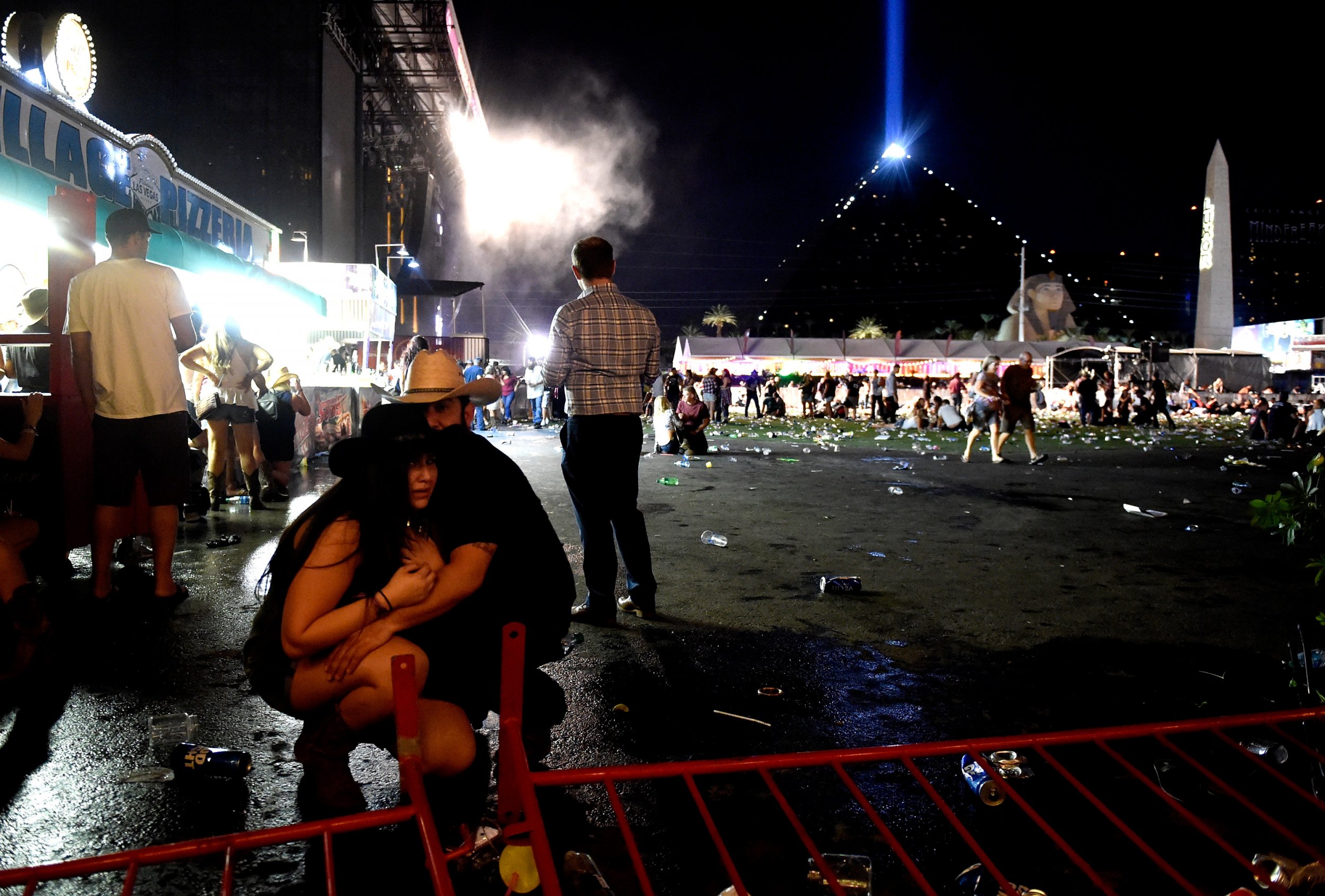 The Islamic State militant group (ISIS) released a graphic new video calling on its global support network to launch attacks across the world and especially in the West.
Facing widespread defeat in Iraq and Syria, tech-savvy jihadis have retained a powerful online presence, distributing daily digital publications detailing supposed successes in the Middle East and urging followers to stage attacks abroad, where ISIS-inspired violence has killed hundreds in recent years. The latest clip, released Friday by the group's official Al-Hayat Media Center, began with a narrator addressing viewers in Arabic over footage of attacks claimed by ISIS before an English-language hymn invited would-be attackers to oblige the group's violent, ultraconservative interpretation of Islam.
Related: ISIS Promises to Kill Drunk People Celebrating New Year's Eve Around the World in First Video From Somalia
"To our brothers in aqidah [creed] and iman [faith], in Europe, America, Russia, Australia and elsewhere, your brothers in your lands have absolved themselves of blame, so leap onto their tracks and take an example from their actions, and know that jannah [paradise] is beneath the shadows of swords," the narrator read.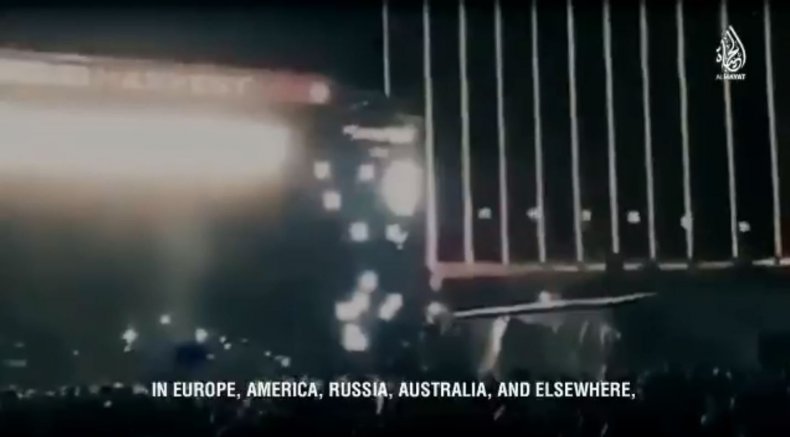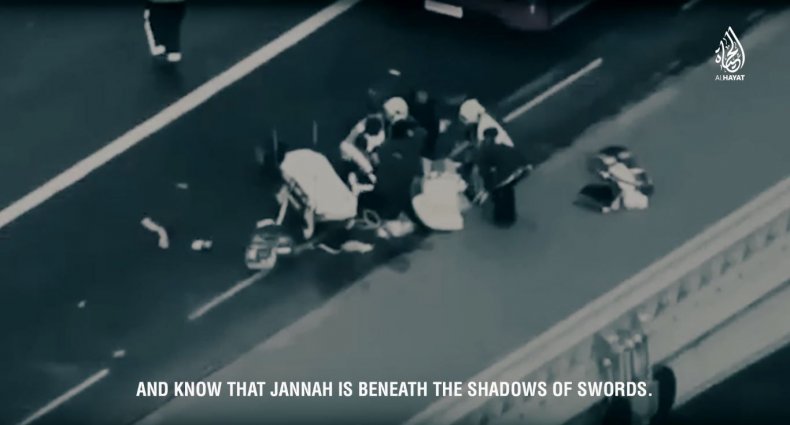 The introduction was read over scenes such as a video testimony by Anis Amri, who drove his truck into a Berlin Christmas market in 2016; an ISIS fighter showing off a decapitated head; and deadly attacks in France, Turkey and the U.K.
The clip also included handheld camera footage of last October's massacre at a country music festival in Las Vegas, perpetuating ISIS's claim that gunman Stephen Paddock had converted to Islam six months before committing the worst shooting in modern U.S. history and did so as a "soldier" of the group's self-proclaimed caliphate. ISIS has yet to provide any evidence of Paddock's ties to the group, and authorities have not revealed any information to support the jihadi claims.
Despite challenges to the theory's veracity, the group has continued to include the Las Vegas attack in its official propaganda. Following the Arabic-language beginning, Friday's video made an explosive transition to an English-language nasheed, or "chant," beckoning supporters to "answer the call" over scenes of extreme violence that concluded with severed heads rolling in slow motion.
"Go and answer the call, don't spare none, kill them all, it is now time to rise, slit their throats, watch them die," voices sang in the video. "The Islamic State stands, and it stands and demands that you worship the one whom besides there is none.
"We're the grandsons of men who gave all that they can to rule all of the lands with the law of Islam," they continued. "Holding up the flag high and seeking paradise, oh my brothers stay strong, victory won't be long."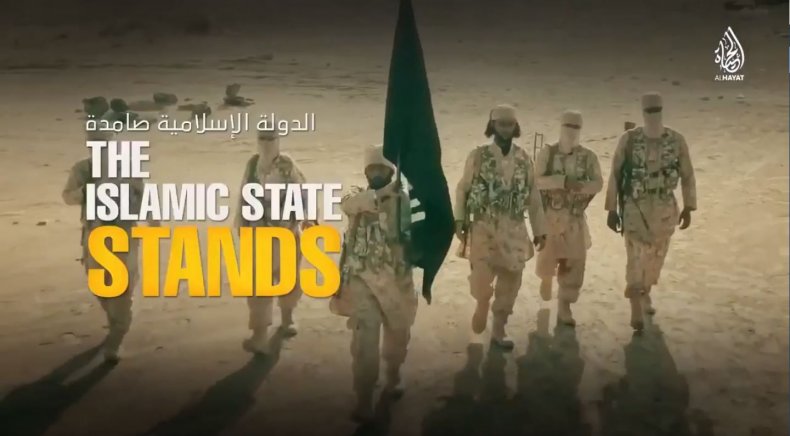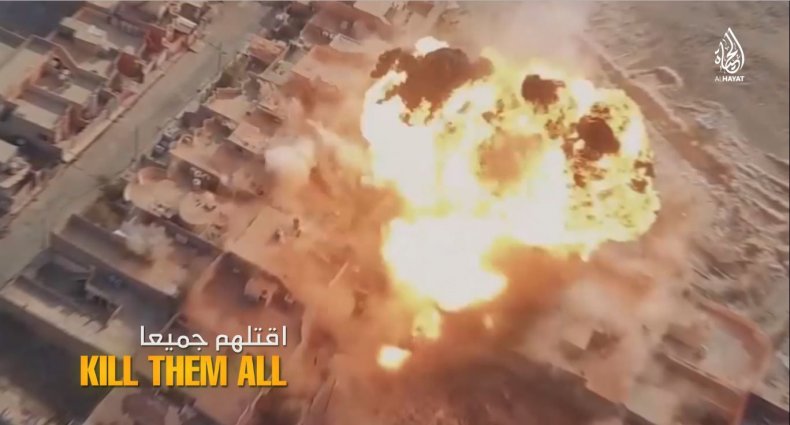 "Together we will stand up, once filled with iman, men who answered the call, terrorizing the world," the nasheed went on.
"Through our blood comes success, and we'll give it our best to destroy the kuffar [infidels], we will slaughter them all," the official ISIS clip continued. "So my brothers erupt, let the world know we're up, by the will of Allah, we will conquer the world."
ISIS lost 95 percent of its territory in Iraq and Syria as well as tens of thousands of fighters and more than 120 senior commanders, mostly to a campaign backed by a U.S.-led coalition and separate offensives backed by Russia and Iran. That has left many to speculate as to where the group may attempt to establish a new base of operations.
The group has managed to maintain a modest presence elsewhere in Asia, where as recently as Monday it claimed responsibility for a deadly attack on a military academy in Kabul, Afghanistan, ABC News reported. However, the militants have struggled to assert their identity in the face of a resurgent local rival, the Taliban, which killed up to 150 people in a suicide ambulance bombing in the Afghan capital only days before.
ISIS's particularly active affiliate in Egypt's Sinai Peninsula also continued to make headlines for acts of violence intended to destabilize the region.