ISIS Releases First Propaganda Video in Hebrew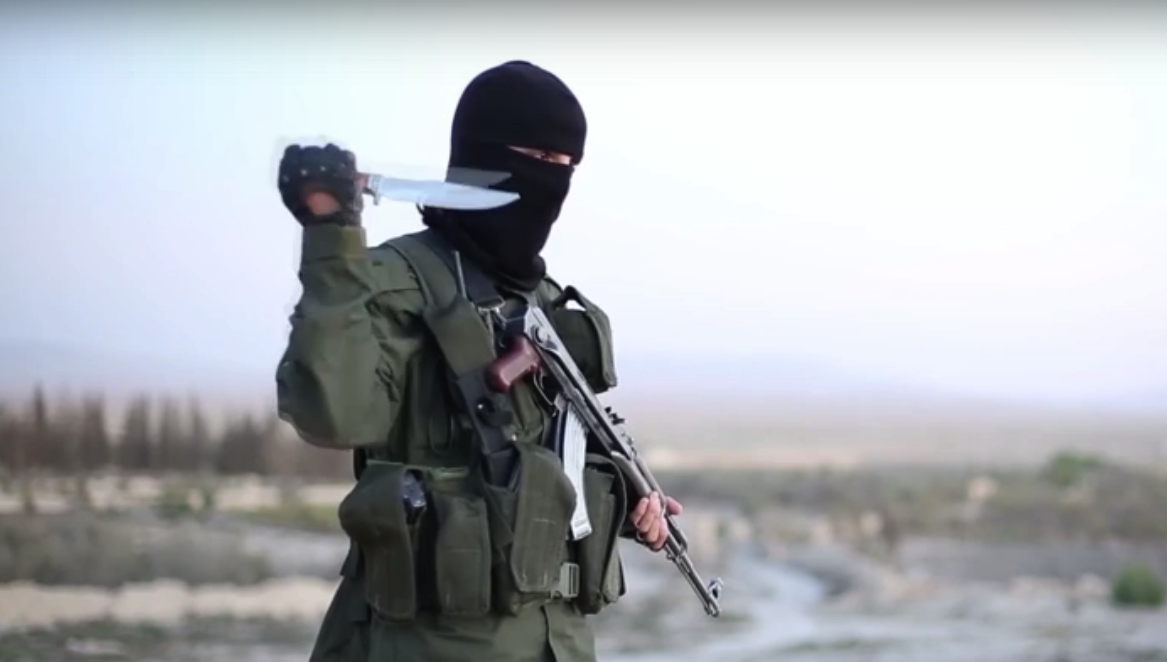 ISIS has released its first Hebrew-language video, which features a masked militant warning that the extremist group will soon "eradicate" Israel.
The militant is shown standing in open terrain wearing green overalls, a black balaclava and holding a machine gun with a red-handled knife sticking out of a pouch on his jacket. He gestures with his right hand while he speaks, the other hand holding his weapon.
The two-minute video was picked up by jihadi monitoring network SITE Intelligence, which first reported on the beheading videos of American ISIS hostages James Foley and Steven Sotloff last year.
"This is a message to all the Jews, who are the Muslims' number one enemy," the militant says, according to The Times of Israel's translation. "The real war has not even begun and everything you have experienced so far has been child's play[it is] nothing compared to what will happen to you soon enough, inshallah [God willing]."
"We promise you that soon, not one Jew will be left in Jerusalem or across Israel," he continues.
The militant then references the recent spate of attacks committed against Israelis by Palestinians, which have left nine Israelis dead and dozens wounded in Jerusalem, other Israeli cities and the West Bank.
Maj. (Res.) Aviv Oreg, the former head of the Israeli military's Al-Qaeda and Global Jihad intelligence unit, says the militant is likely an Arab citizen of Israel, one of dozens who have left the country to fight for the extremist group. But he adds that the footage does not signal a heightened security threat for Israel.
"He knew the language very, very well," says Oreg by phone. "This is a bit strange because up to now, they went out only to fight [Syrian President Bashar] Assad. Israel and the Palestinian issue was never mentioned."
"It's more wishful thinking for them," he adds. "I wouldn't see any direct or close threat to Israel now because of this rhetoric. It's only words and propaganda."
The video comes after two others released last week in which the radical Islamist group hailed attacks committed by Palestinians. The videos appeared to be an attempt to capitalize on the wave of violence and recruit more foreign fighters.
In August, Israeli security forces dismantled the first suspected ISIS cell in the country, arresting three suspects they said were planning to conduct attacks for the extremist group on Israeli soil.