ISIS Releases New Video Outlining 'Structure of the Caliphate'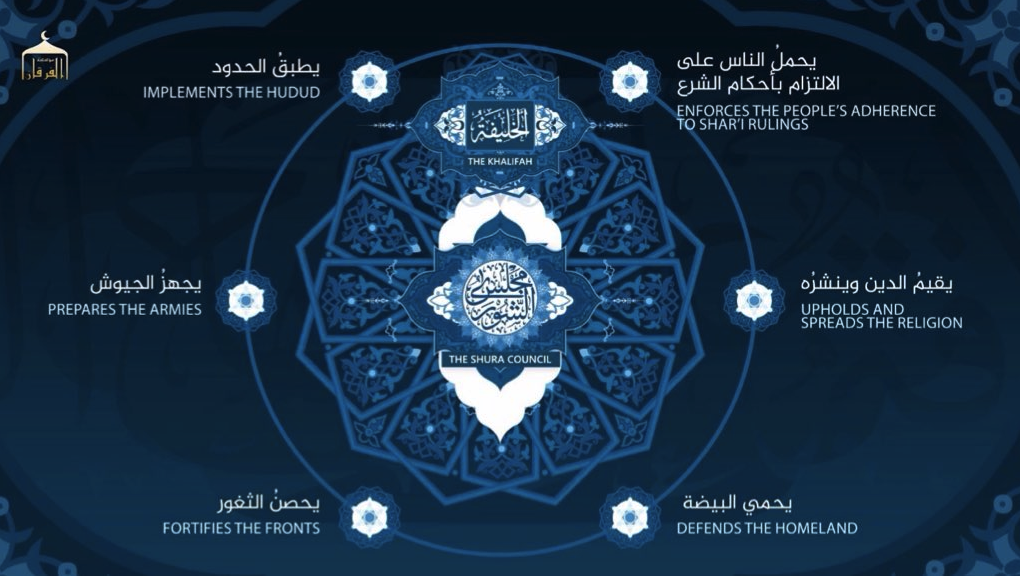 The Islamic State militant group (ISIS) has released a new propaganda video that outlines the structure of the group's self-proclaimed caliphate that stretches across the Iraqi-Syrian border despite a series of losses hampering the de-facto state.
ISIS caliph Abu Bakr Baghdadi speaks at the beginning of the video, saying that "the Islamic State will remain" after a series of losses in both Iraq and Syria to enemy forces in recent months.
Released by the Al-Furqan media wing, the same branch that released the execution videos of U.S. journalists James Foley and Steven Sotloff, sees a North American militant speaking English while narrating the video. He talks about Islamic history and why the group exists today, in a routine propaganda bid to attract further fighters to the ranks of the "caravan of jihad."
He proceeds to outline the structure of the group's area of control, from Baghdadi to the group's Shura Council, or leadership body, to the Delegated Committee, which supports Baghdadi, and the group's alleged "provinces" around the world. The video reveals that there is a body specifically focused on the "Administration of the Distant Wilayat" (provinces), that the narrator says is responsible for "overseeing and managing the affairs of the provinces outside" of Iraq and Syria.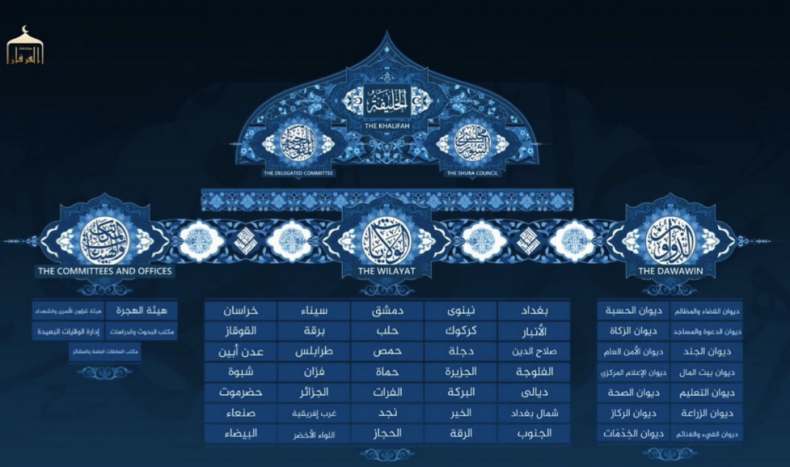 The video, seemingly released to coincide with the Eid al-Fitr holiday at the end of the Islamic holy month of Ramadan, says that Baghdadi's duties are to prepare ISIS's armies, fortify the various fronts the group fights on, defend the homeland, uphold and spread the group's ultra-conservative brand of Islam and enforce the obedience to Sharia law of those living under its rule.
The Delegated Committee is purportedly tasked with overseeing the group's Offices and Committees, the Wilayat (provinces), led by Wali's (governors), and the Dawawin (offices to protect people's rights), such as enforcing brutal punishments for violations of Sharia law. The group claims that it has 35 provinces across the world in total, with 19 in Iraq and Syria and 16 outside of the territory the group holds, such as Egypt's Sinai Peninsula and Yemen.
The release presents clips of joyous fighters for the group and children dressed in military fatigues holding the group's black and white flag. It is unclear where the video was filmed but it is captured with high-quality equipment, as much of the group's prior official releases have been presented.
The group regularly attempts to present the caliphate as similar to an official state, with a bureaucracy that deals with every aspect of daily life in this purported state, as opposed to that of an extremist organization.