ISIS Releases Video Purportedly Showing Caged Kurdish Fighters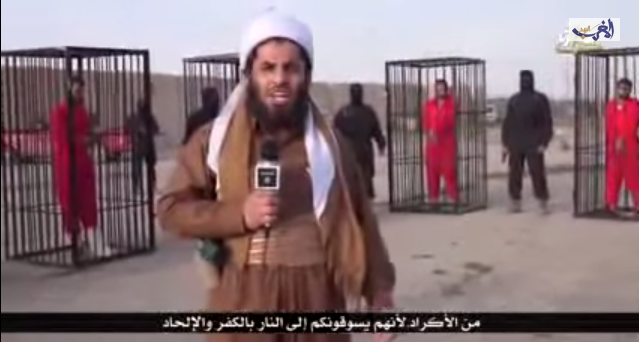 The latest video from the Islamic State (ISIS) terrorist group purportedly shows 21 men believed to be Kurdish Peshmerga fighters paraded down an Iraqi street in cages set in the backs of 21 white pickup trucks.
In the video released Saturday, titled "Healing the Chest of Those Who Believe," the men wear orange jumpsuits and ISIS's Black Standard flag is visible numerous times. All of the militants are dressed in black with only their eyes showing, similar to their appearance in other ISIS videos.
A large crowd gathers in the street to view the procession, and many people take photographs.
The video is similar to two others released by the terrorist group: The cage first appeared in the video showing Jordanian pilot Muadh al-Kasasbeh's execution, and last week a video surfaced of 17 Kurdish Peshmerga being forced by militants to walk through an Iraqi town. The latter has called into question when and where the video released on Saturday was filmed, and whether it is linked to last week's forced walk.
The SITE Intel Group, a jihadist threat watchdog, believes the cage parade was filmed in Kirkuk, Iraq. Officials have not confirmed the authenticity of the video.
The fate of the men also remains in question. At the end of the video, the hostages are removed from their cages and forced to kneel before their captors. This same formation has been used in other ISIS videos, such as that of 21 Egyptian Christians in Libya shown before they are beheaded by the terrorists. At the end of the new video, the hostages are still alive, though images of beheadings and al-Kasasbeh's death are flashed several times.