ISIS Responsible For Two Baghdad Suicide Bombings Thursday That Killed At Least 32
Terrorist faction ISIS claimed responsibility for a pair of suicide bombings that killed more than 30 individuals at a Baghdad market on Thursday.
The explosions, the first attack of its kind since January 2018, occurred in the Bab al-Sharqui area in Baghdad. On Friday, the Department of Defense announced that only 2,500 U.S. troops remained in Iraq. ISIS, also known as the Islamic State, said on Twitter they had carried out the attack.
"With grace of God Almighty," read the announcement according to a translation by Newsweek's Senior Writer on Foreign Policy, Tom O'Connor, "knight of martyrdom Brother Abu Yousef al-Ansari—God accept him—opened fire toward gathering of rejectionist polytheists in Tahrir Square, downtown Baghdad, after they gathered, detonated his suicide vest against them inflicting a number of dead & injured."
"Then another knight of martyrdom Brother Mohammed Aarif al-Muhajir—God accept him—followed him," the statement continued, "and detonated his suicide vest against rejectionist gathered from first explosion & their security forces leading to the deaths of over 30, in addition to the wounding of more than 100, praise and thanks be to God."
The first suicide bomber reportedly gathered a crowd to himself by pretending to be ill, according to the Iranian interior ministry. After being surrounded by people, the bomber triggered an explosive belt. The second bomber activated his explosives soon afterward.
Information from Iraq's health minister Hassan Mohammed al-Tamimi said at least 32 people were dead and 110 individuals were wounded in the bombing. In a statement, the U.S. Embassy in Baghdad denounced the attack as "reprehensible."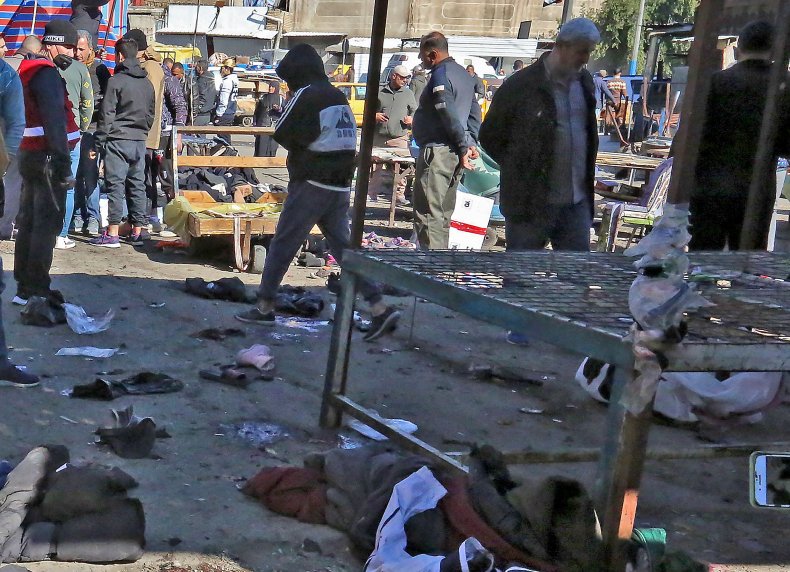 "The United States strongly condemns the suicide attack at the Aviation Square in Baghdad today that killed and injured dozens of innocent Iraqi civilians," said the U.S. Embassy in Baghdad on Thursday. "This attack is a reprehensible act of cowardice that underscores the dangers of terrorism that millions of Iraqis continue to face."
When asked for comment, the U.S. Department of Defense directed Newsweek to a tweet posted by Colonel Wayne Marotto, spokesman for the U.S. Military's Combined Joint Task Force (CJTF) to combat ISIS, Operation Inherent Resolve.
"We send our condolences to those affected by the attack in Baghdad today," Marotto tweeted. "This is yet another instance of terrorists killing fellow Iraqis & harms those who seek peace. @CJTFOIR continues to support the GoI (Government of Iraq), at their request, in pursuit of a stabilized and secure Iraq."
Members of the U.S. military were withdrawn from Iraq at the behest of the administration of former President Donald Trump, who had pledged to end American involvement in "endless foreign wars." According to the U.S. Army, the increased ability of Iraqi forces to handle ISIS forces was a factor in the troop reduction.
"We have long anticipated that the force level required to support Iraq's fight against ISIS would decrease as Iraq's capability to manage the threat from ISIS improves," said former Acting Defense Secretary Christopher Miller in a Friday statement.
Although Trump claimed during his time in office that ISIS had been defeated, OIR reported in January that U.S. Forces had engaged with Iraq-based ISIS forces 22 times during November 2020, resulting in the deaths of 35 ISIS fighters.