ISIS Takes Selfie at New York City Tourist Site. Will There Be Another Terror Attack?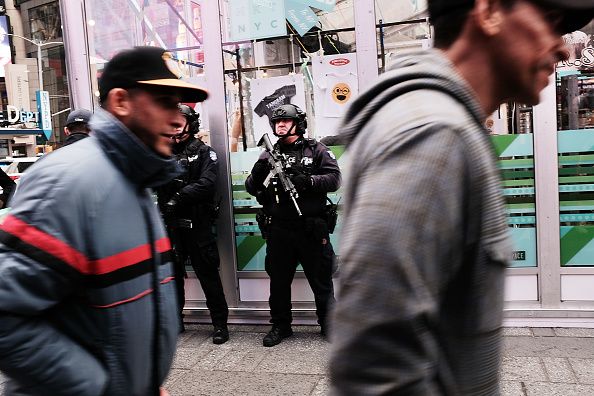 An image of a young man snapping a selfie in New York City while wearing a logo for the Islamic State militant group is being spread across the Internet this week by jihadi groups who want to prove their supporters can reach major U.S. cities.
The photo shows a young man standing in front of the Metropolitan Museum of Art in New York City. His eyes are blurred to protect his identity, and the rest of his face is covered in a balaclava with an ISIS logo emblazoned on it. A caption on the photo reads, "We are in your own Backyard O worshippers of the cross!!"
The photo was originally posted on pro-ISIS telegram channels and chat groups around December 30, and then spread to Google Plus, according to an intelligence group that monitors online propaganda from ISIS. A second image was shared a few days later, showing a telephone with an ISIS logo on the screen being held up in front of One World Trade Center, the building that replaced the twin towers, which were destroyed during the terrorist attacks of September 11, 2001.
The photos appear to be authentic, but ISIS supporters are known to release propaganda made from crudely doctored photos. Police in New York say they are investigating the photographs and the authenticity of the posts.
ISIS regularly threatens to attack U.S. cities, but police say they are unaware of any credible threat being made at the moment. The group repeatedly threatened to attack the U.S. during Christmas and New Year, but no major terrorist attack took place. In late October, however, one ISIS sympathizer killed eight people by running them over with a truck in Manhattan. In mid-December, another ISIS sympathizer unsuccessfully attempted to set off a pipe bomb in New York City.
ISIS territory in its strongholds of Iraq and Syria has been almost entirely wiped out, which motivates the group to call for lone wolf attacks in order to prove it's still relevant and influential.
A map of ISIS territory released by the State Department in late December showed that ISIS controls only a small fraction of the territory it had three years ago. In fact, as of late December there were only three small areas of Syria where the group had a notable presence: a region in the southwest bordering Israel, around the town of Abu Kamal near Syria's border with Iraq, and land controlled by the Kurdish-dominated Syrian Democratic Forces in the northwest of the country.
Some reports suggest that ISIS has since been ejected from Abu Kamal by fighters linked to Shiite Iran.