ISIS Stalls Advance to Mosul But Faces New Front in Raqqa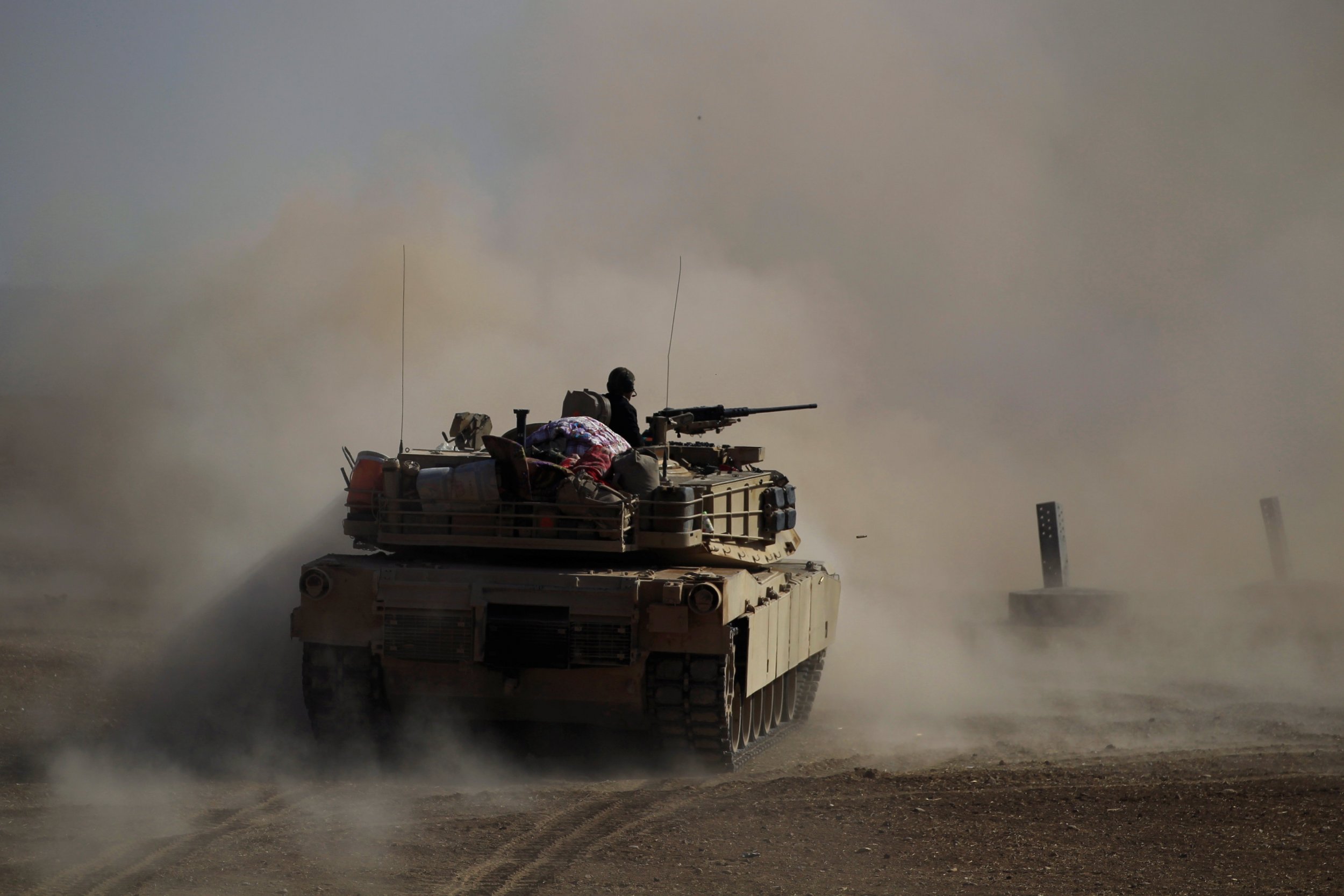 Islamic State militant group (ISIS) fighters targeted Iraqi troops with car bombs and ambushes in Mosul, stalling an army advance in their north Iraq stronghold, but faced attack on a new front on Sunday when U.S.-backed rebels launched a campaign for the Syrian city of Raqqa.
The jihadists have lost control of seven eastern districts of Mosul to Iraqi special forces who broke through their lines last Monday. Officials say the militants are now sheltering among civilians in those neighborhoods and targeting soldiers in what one called the world's "toughest urban warfare."
Mosul, the largest ISIS-controlled city in either Iraq or Syria, has been held by the jihadist fighters since they drove the army out of northern Iraq in June 2014.
The three-week Mosul campaign has brought together a force of around 100,000 soldiers, security forces, Shi'ite militias and Kurdish fighters, backed by a U.S.-led coalition, to crush the Sunni jihadists.
Across the border, U.S.-backed Syrian fighters announced on Sunday the start of their own campaign, called Euphrates Anger, to recapture ISIS's Syrian bastion of Raqqa. The Syria Democratic Forces (SDF) is an alliance of Kurdish and Arab armed groups which has seized large swathes of territory along the Syria-Turkey border from ISIS and pushed to within 30 km (20 miles) of Raqqa.
But the prominence within SDF ranks of the Kurdish People's Protection Units, or YPG, has raised questions over its suitability as a force to capture the predominantly Arab city.
Turkey, which has battled Kurdish separatists for three decades, regards the YPG as anathema, and Western officials have said the Raqqa operation should be fought mainly by Arab forces.
Washington says the battle for Raqqa will "overlap" with the assault on Mosul, in part because of concerns that any delay would allow ISIS to use it as a base to launch attacks on targets abroad.
France also wants a coordinated campaign against ISIS in Iraq and Syria. "Mosul-Raqqa can't be disassociated because Islamic State and the territories it occupies span that area," Defence Minister Jean-Yves Le Drian said.
TWIN OFFENSIVES
Twin offensives on Raqqa and Mosul could bring to an end the self-styled caliphate declared by ISIS leader Abu Bakr al-Baghdadi from the pulpit of a Mosul mosque in 2014.
Baghdadi, however, has told his followers there can be no retreat in a "total war" with their enemies, and the militants in Mosul have been waging a fierce and brutal defense.
They have deployed waves of suicide car bombs, as well as mortar attacks, roadside bombs and sniper fire against the advancing troops, and officers say they have also left behind fighters among residents of districts taken over by the army.
"That's why we are carrying out the toughest urban warfare that any force in the world could undertake," said Sabah al-Numani, spokesman for Iraq's elite Counter Terrorism Service (CTS). "Sometimes they climb to the rooftops of houses where civilians are still living and they hold them hostage and open fire on our forces, because they know we will not use air strikes against targets that have civilians."
Militants also targeted the troops with car bombs, sometimes waving white flags as they approached, he said.
Major General Maan al-Sadi, a CTS commander, told state television Islamic State fighters had launched more than 100 car bombs against his forces in the east, which is just one of several fronts in the Mosul offensive. A top Kurdish security official said ISIS had also deployed drones strapped with explosives, and long-range artillery shells filled with chlorine and mustard gas.
It could resort to even more devastating weapons including a network of booby traps that can blow up whole neighborhoods, Masrour Barzani, head of the Kurdistan Regional Government's Security Council, told Reuters.