ISIS Is Still Using Children to Carry Out Executions in Afghanistan, Photos Reveal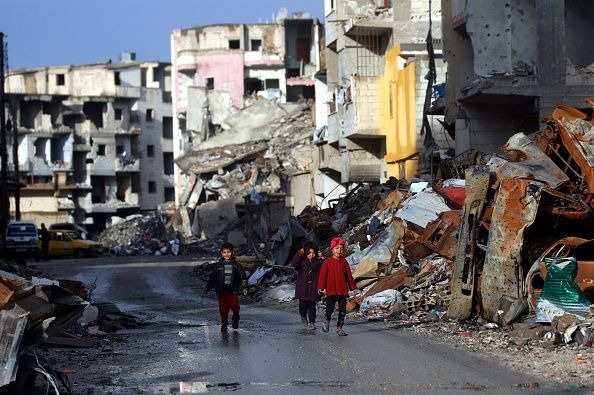 Members of the Islamic State have released evidence that they are once again using children to execute prisoners in Afghanistan.
Photos distributed on Wednesday show two small children participating in the execution of two Afghan soldiers and an accused spy in the country's eastern province of Nangarhar. In the photos published by the SITE Intelligence Group, which monitors extremism online, the children are seen leading the orange-clad prisoners to the place of their execution. A final photo shows the children raising their guns in a celebratory salute as the prisoners lie dead on the floor in front of them. It is unclear exactly how old the children are, but in the images, they appear to be between the ages of five and eight.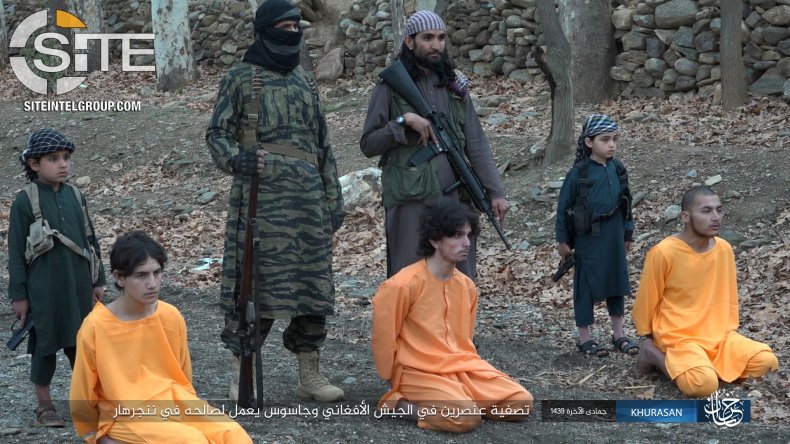 ISIS has routinely used children to carry out its bloody executions. The videos and photographs of the children are often used for the extremist group's propaganda, which thrives on shock value. Similar videos and photographs have appeared from Afghanistan, Syria, and Iraq, showing ISIS-affiliated children killing Kurdish, Palestinian and Russian prisoners, among others.
Before the group's military defeat in Raqqa, Syria, its erstwhile stronghold, videos emerged of ISIS training children there as the next generation of fighters. As the militant group was driven out of Iraq and Syria, the group has increased its presence in eastern Afghanistan. The Nangarhar province is now considered one of the deadliest regions for American and other foreign troops stationed there. U.S. warplanes have carried out hundreds of strikes on the area in recent months.
Nevertheless, the group continues to carry out attacks across Afghanistan, including one on the office of the children's charity Save the Children in Jalalabad in late January. ISIS is also responsible for several deadly bombing attacks on the capital that killed hundreds of people. As it builds its presence, the Islamic State is competing with the terror group Al Qaeda for prominence in the country.