ISIS Supporter Reportedly Killed by Hamas Security Forces in Gaza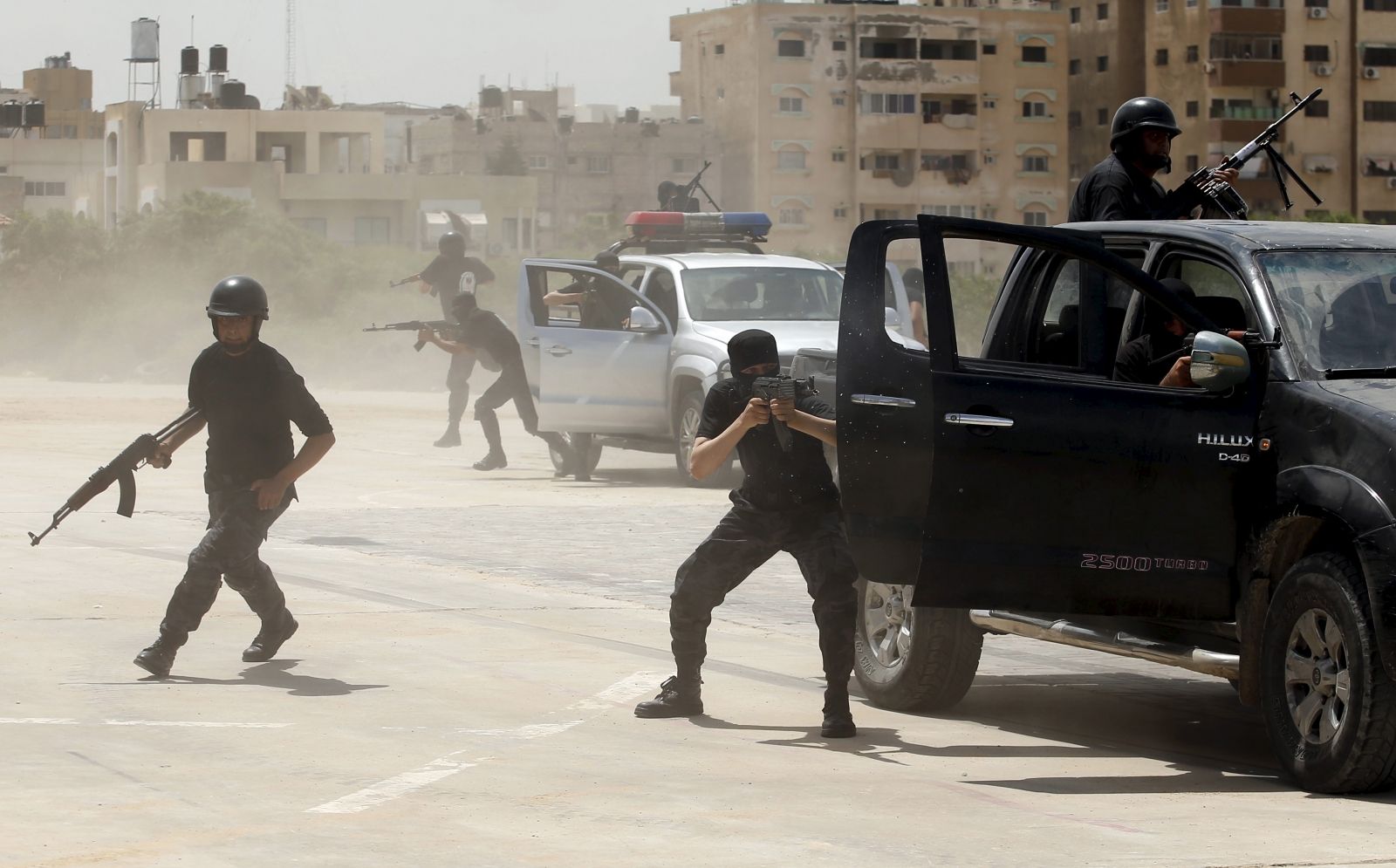 Hamas security forces have killed an ISIS supporter in the Gaza Strip, a spokesman said, the first death since the party, which rules the enclave, initiated a crackdown on those aligned to the radical group.
A spokesman for the Hamas's Interior Ministry identified the man as Younis al-Honnor, calling him a "lawbreaker" who had a wide range of weaponry in his residence, photos of which were posted on the ministry's Facebook page.
"He had booby-trapped the house he was in. Explosive belts, explosive devices and rifle-propelled grenades were found inside," the spokesman told Israeli newspaper Haaretz.
The ruling party is trying to restrict the rise of the terror group's ideology in the blockaded territory, and had previously arrested an Isis supporter in April. While Isis is yet to officially announce a splinter group or cell in Gaza, the group's influence has notably increased with incidents claimed by Isis loyalists now frequent.
A journalist on the ground in Gaza, who asked not to be named for safety reasons, confirmed that the Isis supporter was killed after opening fire during an arrest attempt by Hamas forces.
"He's a salafist. The security forces were trying to arrest him and he refused," the journalist says. "He opened fire on them, so they attacked the house and it seems like he was killed. He had some stuff with him, some explosives and grenades."
Relatives and neighbours of Honnor allege that he had previously been arrested by security forces and tortured, according to the journalist in Gaza.
"This guy was arrested before for three days and he was tortured, as some neighbours and relatives of his say. He used to be a Hamas militant," the journalist added.
Because of the increased activity of Salafi Isis supporters in the territory, Hamas has launched a crackdown, setting up security checkpoints at night and detaining dozens of people it believes sympathise with Isis's ultra-conservative ideology. Last month, Salafists accused Hamas of demolishing a mosque used by Isis supporters in the area of Deir el-Balah.
The killing of Honnor came just a day after Isis supporters in Gaza issued a statement and a 48-hour ultimatum warning Hamas to stop its crackdown on extremists in the territory.
"In the light of Hamas's new crackdown, we renew our loyalty to [Isis Caliph Abu Bakr] al-Baghdadi and call on him to strengthen his influence and to launch a campaign in Palestine," the statement, sent to reporters, said.
In one incident last month, a group which has named itself "Supporters of the Islamic State in Jerusalem" fired mortars towards a Hamas training base in Khan Younis, an area of southern Gaza, last month.
Hamas has controlled Gaza since 2007 after defeating Fatah in a rare election and fending off a coup by the rival party, of which Palestinian Authority president Mahmoud Abbas is now leader.