ISIS Supporters Likely Targeting Singapore for Attacks, Report Suggests
Update | Supporters of the Islamic State militant group (ISIS) have signaled that that group considers Singapore part of its self-defined territory, which means foreign fighters could consider the city state as a greater target analysts have warned.
Intelligence analyst Jasminder Singh picked up chatter on social media that singled out countries or territories that ISIS see as part of its "wilayah" (or province) in the region. Singh also noted in his paper, published by the S. Rajaratnam School of International Studies June 15, that ISIS supporters were talking about Malaysia, Indonesia, Myanmar, and Japan in similar terms.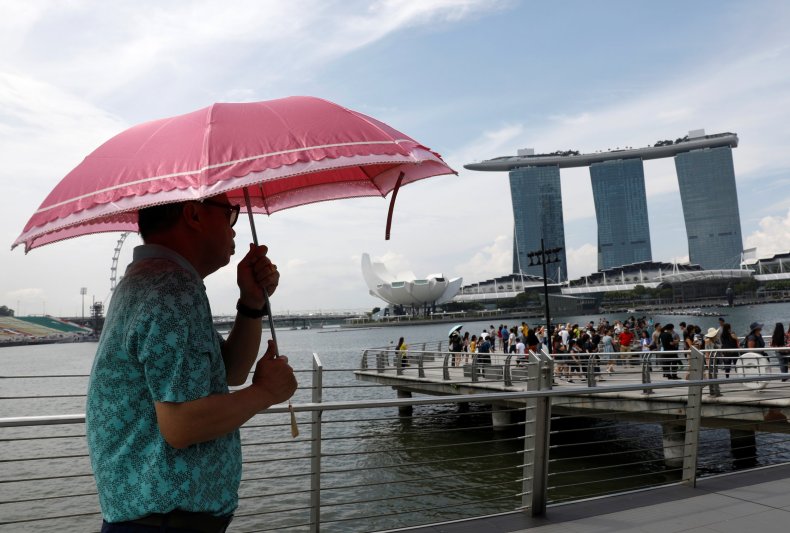 "For foreign fighters coming into the region, this gives them an idea of what they will be in for, and what the targets are," Singh told The Straits Times Thursday.
Another analyst, Remy Mahzam, associate research fellow at the International Centre for Political Violence and Terrorism Research, told the paper that fighters unable to reach Syria may now target the areas declared as an ISIS wilayah. Though many fighters from around the world have gone to Syria to join the group's fight to defend its self-declared caliphate in the region, ISIS has previously called on supporters in Europe to carry out attacks in their home countries via its propaganda outlets.
Singapore's Ministry of Home Affairs announced on June 1 that the threat level in the country is at "severe," its highest in recent years. The British Foreign and Commonwealth Office has warned its citizens that "terrorists are likely to carry out attacks in Singapore."
In the last month authorities have detained two auxiliary police officers suspected of trying to undertake Islamist violence overseas. One, Muhammad Khairul bin Mohamed, 24, was issued with a detention order under the Internal Security Act (ISA), which allows police to hold suspects without trial.
Earlier in June, police arrested an infant care assistant, Syaikhah Izzah Al Ansari, 22, on allegations that she was planning to travel to Syria to marry an ISIS fighter.
Singapore is also on high alert after extremist attacks across Southeast Asia. In the Philippines, ISIS-affiliated fighters have taken over the southern city of Marawi, while Indonesian intelligence have said they believe there are sleeper cells in every region in Indonesia. Malaysia, Singapore's neighbor, has also experienced radical violence—ISIS were linked to a grenade attack on a nightclub in 2016—and concerns about self-radicalized "lone wolves" in nearby will be of concern as they have been in Europe.
This piece has been updated to clarify the policemen arrested were auxiliary policemen.