ISIS Suspects Planning to Attack U.S. Embassy Arrested And More 'Terrorists' Killed in Turkey
Turkey's official broadcaster reported Monday that four suspected members of the Islamic State militant group (ISIS) were detained in connection with a "security threat" at Washington's embassy in Ankara.
The four men, all Iraqi nationals, were detained in the Black Sea province of Samsun and were among up to 20 suspected members of ISIS arrested in police raids across the country, according to Anadolu Agency, citing an unnamed security source. The operation came a day after the local U.S. embassy was closed for what it said were unspecified security reasons. The embassy remained closed through Monday.
Related: What's Happening in Syria? Everything You Need to Know About Proxy War Between U.S., Russia, Iran and Turkey
"Embassy Ankara informs U.S. citizens that the U.S. Embassy in Ankara will be closed to the public on March 5, 2018, due to a security threat. The Embassy will announce its reopening, once it resumes services," the embassy wrote Sunday on its official website.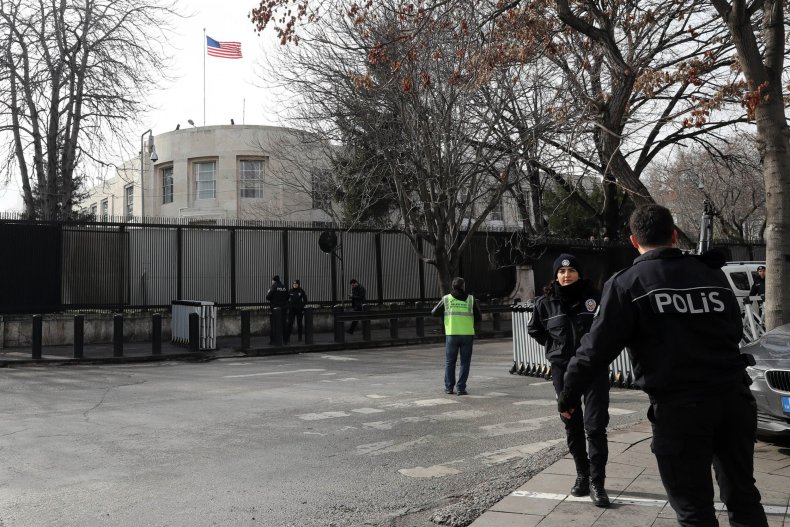 It then instructed U.S. citizens to "Avoid large crowds; Avoid the Embassy; Heighten your personal security posture and awareness if you choose to visit popular tourist sites, shopping malls, shopping districts, and sports and entertainment venues; Notify family and friends of your safety, Monitor local media for updates; Keep a low profile."
The embassy shared an identical message on Monday.
In addition to media reports of the 20 suspected ISIS members rounded up, the Turkish Interior Ministry announced Monday that 20 "terrorists" were "neutralized" in 1,079 counterterrorism operations conducted in the past week, from February 26 to March 5. Of this figure, the ministry said that five were captured, eight surrendered and seven were killed, including a regional leader of the Kurdistan Workers' Party, a separatist militant group that has waged a violent insurgency against the Turkish state for four decades.
Turkish authorities arrested a total of 4,698 people, including over 3,530 on drug charges, 46 alleged to have links to ISIS, 216 accused of providing support to the Kurdistan Workers' Party (PKK) and 765 people said to be associated with the FETO militant group, according to the ministry statement.
Turkey has used the FETO label to describe supporters of Muslim preacher Fethullah Gülen, a former ally of Turkish President Recep Tayyip Erdogan who the Turkish leader has since blamed for a failed July 2016 coup and other conspiracies against his government.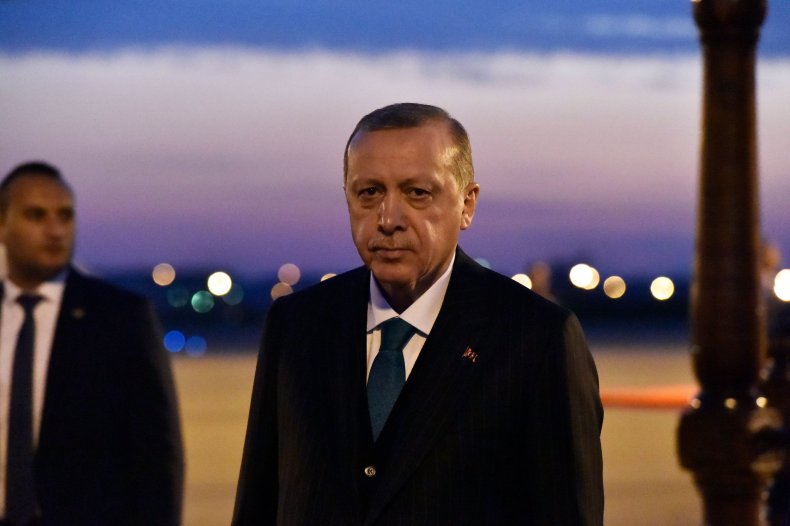 Since that coup, Erdogan has arrested tens of thousands of civil servants and suspended over a 100,000 more, accusing them of FETO-related sedition. Turkey has also been the victim of numerous ISIS and PKK attacks in recent years that have killed hundreds.
Turkey's battle with the PKK compelled Erdogan to launch "Operation Olive Branch" last month, joining the allied rebel Free Syrian Army in a cross-border offensive to oust the Kurdish People's Protection Units (YPG), a U.S.-backed Syrian Kurdish militia, from the Syrian border district of Afrin. The U.S.-led coalition in Iraq and Syria said it would not support Kurdish fighters—who have since been joined by pro-Syrian government forces— in the Afrin offensive, but also warned Turkey that the attack distracted from the battle against ISIS.