ISIS Sympathizers Threaten Twitter Founder Jack Dorsey and CEO Dick Costolo Over Blocked Accounts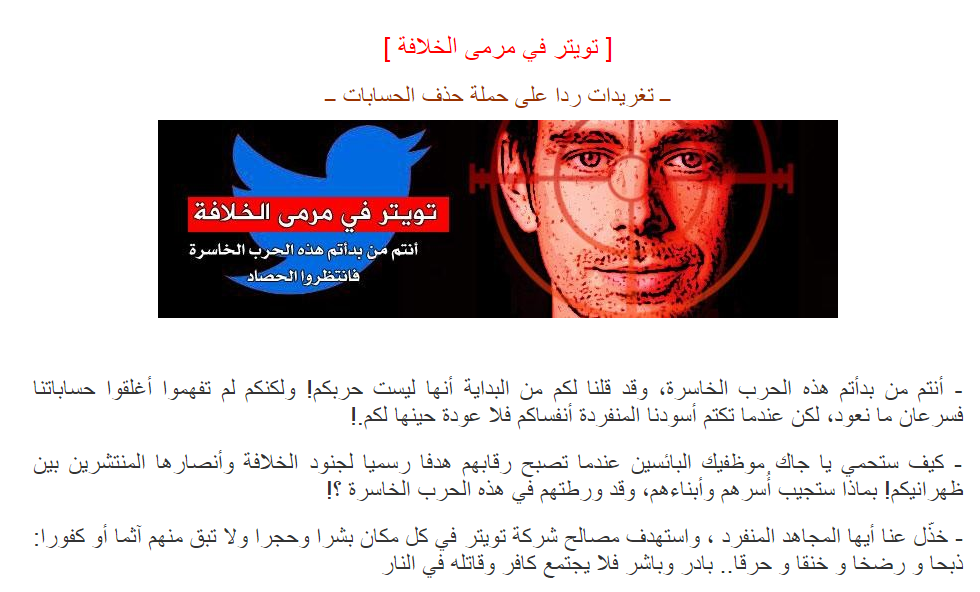 Internet threats against the founder of Twitter, Jack Dorsey, and its CEO, Dick Costolo, have been posted on the text- and photograph-sharing platform Just Paste It.
Buzzfeed News, which found and translated one post, reported it was sent on Sunday by supporters of the Islamic State (ISIS), though the terrorist group's official media branches have not taken public responsibility for the threats. It may have been posted by sympathizers of ISIS, rather than fighters or officials within the organization.
The threats were posted in response to Twitter's ongoing attempts to take down accounts associated with and supportive of terrorist groups, which violate the company's terms of use. Many ISIS fighters boast about how many accounts they have created, with their bios often including statements like "90th account," "follow backup accounts X, Y, Z" and "30 accounts blocked."
"Your virtual war on us will cause a real war on you," reads one post, as translated by Buzzfeed. "We told you from the beginning it's not your war, but you didn't get it and kept closing our accounts on Twitter, but we always come back." This post targeted Dorsey. Another post, uncovered by the SITE Intel Group, a jihadist watchdog, targeted Costolo.
SITE's founder, Rita Katz, has long criticized Twitter as being too lenient when it comes to ISIS accounts, saying the company allows them to spring back up rather than blocking their IP addresses automatically. Her organization launched the campaign "#WakeUpTwitter" to garner the social media company's attention. "As I've been saying, IS considers online media an important battleground. It's time we do the same," she tweeted after the Just Paste It threat was uncovered.
"Our security team is investigating the veracity of these threats with relevant law enforcement officials," a Twitter spokesman said in a statement.