As ISIS Take Kobane, NATO's Second Largest Army Sits on the Sidelines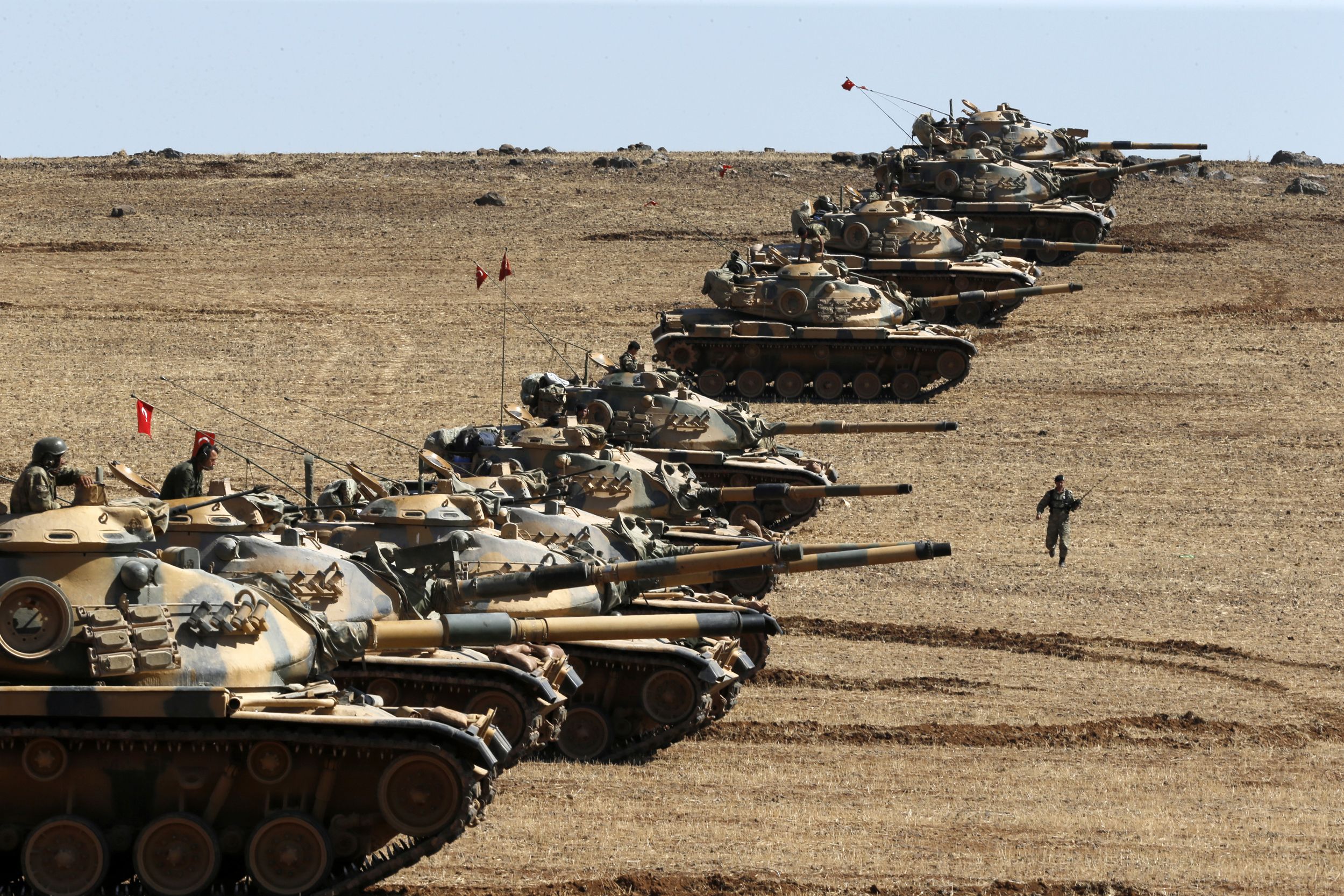 As the black flag of the Islamic State (ISIS) rose above the Syrian town of Kobane on Monday, the soldiers of NATO's second largest army stood and watched only a few hundred metres away.
As gunfire and explosions echoed across the border, fears were voiced about the potentially devastating long-term price Turkey may pay for remaining ambivalent to the plight of the Kobane's Kurdish defenders.
"We will do everything possible to help the people of Kobane because they are our brothers and sisters," Turkey's Prime Minister Ahmet Davutoglu told CNN as the town was close to falling on Monday.
However, they would only do so, he added, if there was a broader military commitment by Turkey's allies to create a no-fly-zone in northern Syria, a move the United States has so far refused to back.
Get your unlimited Newsweek trial >
In Kobane itself, one of the town's Kurdish fighters complained bitterly about their fate.
"We, the Kurds of Kobane, urged the international community including Turkey to help our resistance against ISIS by sending us weapons, logistics and ammunitions," Delila Azad, a commander of the Women's Protection Units, part of the Kurdish militia force defending the city, told Newsweek.
"We pleaded for help because ISIS threatens not only the Kurds but also the entire Middle East and the rest of the world… However, our call for solidarity has since fell on deaf ears in the international community and in Turkey."
Analysts fear Turkey's willingness to sit on the sidelines as the West's 'Public Enemy Number One' moves in next door could badly damage a country that has been something of a bastion of stability in a troubled region.
Get your unlimited Newsweek trial >
Watching the fate of Kobane with horror and anger were Turkey's own 15 million-strong Kurdish minority—nearly 20 per cent of the country—whose long history of insurrection against the Turkish state appeared until recently to be drawing to a close.
Many now fear the growing risk of blowback represented by the ISIS jihadist group, which thrives on instability and whose long term goal is to erect a Caliphate encompassing all the Muslim lands of the region.
"Turkey has helped create an environment in which it is in the first stage of 'Pakistan-ization'," says Halil Karaveli of the Central Asia-Caucasus Institute, a security think tank, referring to Turkey's alleged past toleration of the Islamic State, which Ankara denies.
He fears the next step is for the Islamic State, regardless of whether it is able to maintain its hold of the territory in Syria and Iraq, will be to turn its attention to Turkey in the same way as jihadists fighting in Afghanistan went on to wreak havoc in Pakistan.
Newsweek reported last month on the Islamic State's extensive recruiting activities in Turkey, and on the authorities' apparent unwillingness or inability to combat them.
"In the second phase, these groups begin to come back into the country and cause mischief, and that the government will not be able to control." says Karaveli.
Another faultline for potential strife is the future of Turkey's 15 million Alevis, a heterodox Islamic sect regarded by ISIS as infidels, and who already complain of marginalization under the conservative Sunni-dominated leadership of President Recep Tayyip Erdogan.
Of more immediate concern is the anger among Turkey's Kurds, many of whom are convinced that Ankara is aiding the Islamic State.
"Turkey's Kurds have been given a front row seat to watch the destruction of their own people," says Asli Aydintasbas, a columnist at the daily Milliyet newspaper.
"There will be serious repercussions. Strategically speaking Kobane is tiny, but it's gained an enormous symbolic meaning for Turkey's Kurds, and I don't think the government realises that," she added.
"Kurds are fighting ISIS tooth and nail with Turkey standing by. That's the image abroad, and that's the image for Kurds."
The Kurdistan Workers Party (PKK), a Turkish-Kurdish rebel group regarded as a terrorist organization by Europe and America, has for the past 18 months been involved in historic peace talks aimed at ending a three decade long insurgency that decimated Turkey's southeast and cost 40,000 lives.
The strong conviction among many Turkish Kurds—and Syrian Kurds—is that Turkey has been actively assisting and arming the Islamic State, an assertion that is strenuously refuted by Ankara and which lacks substantiating evidence.
"The Turkish Government did not respond to our call because Turkey supports Islamic State against us Kurds," said Azad, the commander in Kobane.
Abdullah Ocalan, the PKK's imprisoned leader who is conducting the peace talks, warned they would be over if 'this massacre in Kobane is allowed to continue'.
Ankara's seeming ambivalence is in part explained by its long history of antagonism with the PKK—and the deep hatred of it harboured by much Turkey's population.
Meanwhile, while opinion polls indicate that Turks almost universally abhor the atrocities of ISIS, there is a strong sympathy for the oppressed Sunni Muslim populations they purport to champion.
"The attitude in Ankara is extremely hostile towards ISIS," says Hugh Pope, deputy programme director for Europe and Central Asia at the International Crisis Group.
After a recent meetings with Turkish officials in Ankara, Pope said he believes the administration feels cornered between the anger of its Kurdish minority and the potential misgivings of its Sunni population.
"If they go one way, they will have an eruption within one section of their constituency, if they go the other way, they will have an eruption within another section of it."
He sympathises with Ankara's wider misgivings regarding the lack of strategic vision behind the Western coalition against Islamic State.
"They don't want to get involved in something when it's not clear where it's going," he says. Turkish leaders have long demanded the overthrow of Syria's President Bashar al-Assad, whom they see as the ultimate author of the country's instability.
Their calls for a buffer zone, which would require the degrading of Assad's airforce, is widely seen as a step towards railroading the West into direct confrontation with the Syrian regime.
In the meantime, Turks are becoming increasingly fearful of the longer term repercussions of having the world's most feared terror group as their new neighbour.
"We don't know the political winds that ISIS will bring about in Turkey," says Aydintasbas. "What about Turkish Arab border towns? What about the 1.5 million Syrian refugees? We're in for a deep and prolonged period of uncertainty."
Read next: Kurdish Activists Shut Down London Underground Station in Anti-ISIS Protest
As ISIS Take Kobane, NATO's Second Largest Army Sits on the Sidelines | World