ISIS Targeting U.S. Children as Revenge for Syrian Airstrikes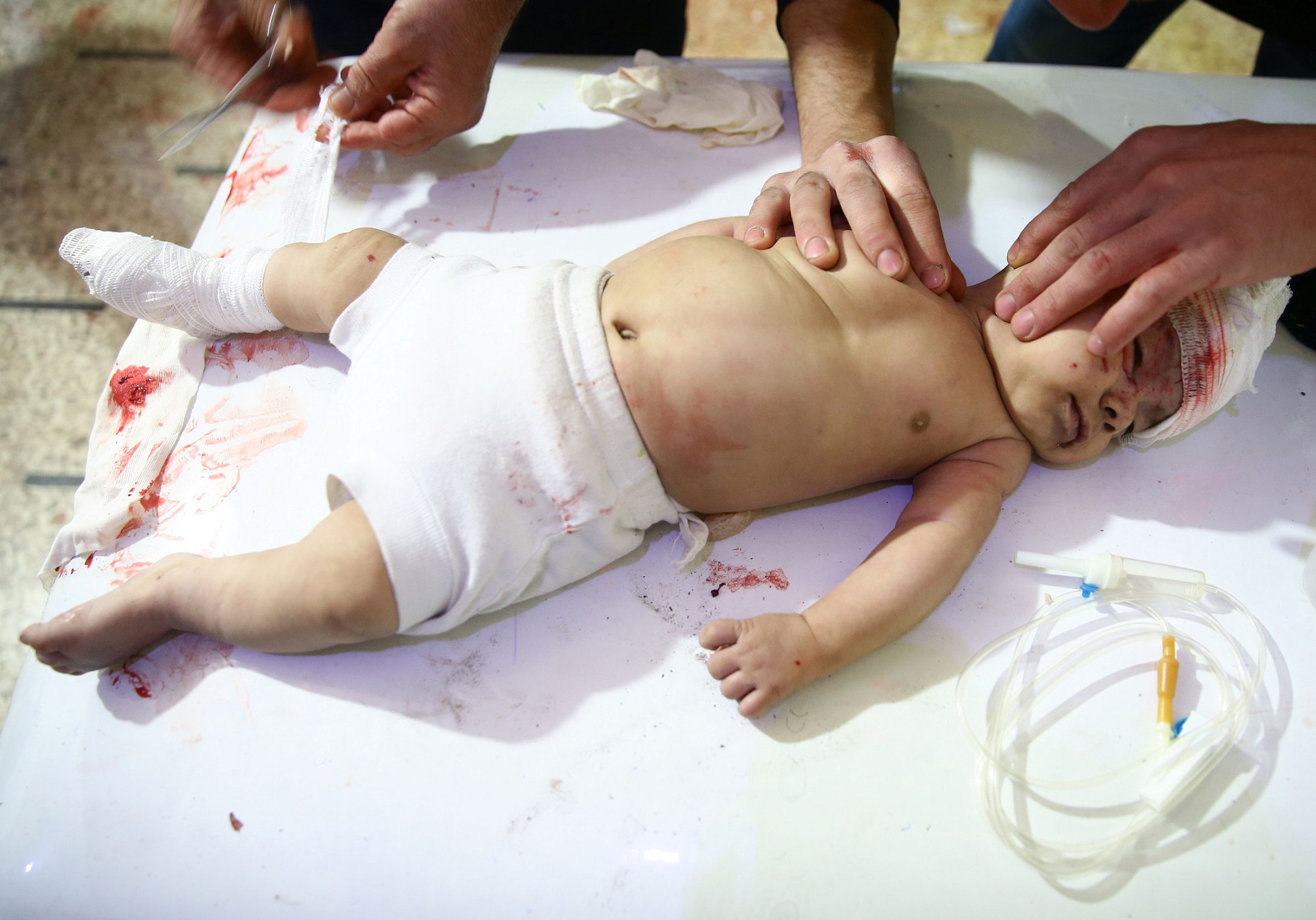 A group affiliated with the Islamic State is calling on lone wolves in America and Europe to attack Western children in retaliation for the death of Muslim children during airstrikes in Syria, according to an intelligence group.
The message was posted in a pro-ISIS Telegram channel on Monday and spread across a variety of pro-ISIS chat groups.
"I wish that I could travel to Europe or America or Australia and, by Allah, burn their children with oil in place of their men and women," read the message, which referenced the death of Muslim families in Albu Kamal in Eastern Syria.
"I would not choose a market, club, shopping center, or park... no... no... no... I would choose a kindergarten and a maternity hospital to slaughter them."
U.S.-led and Russian airstrikes in Syria have killed many civilians over recent months, and experts say the threats against Western children are meant to call attention to these deaths.
"Islamic law has a lot of prohibitions against the killing of children, so this is designed to shock. By calling for the deaths of children in the West, they're not only trying to inspire attacks in the West—they're also trying to draw attention to how shocking it is that Muslim children have been killed, and no one was able to protect them," Chris Meserole, a Middle East expert at the Brookings Institution, told Newsweek.
"Sadly, it's a way for them to further position themselves as the defenders of Islam."
Russian airstrikes were carried out against the eastern Syrian town of Al-Shafah on Sunday, killing 53 civilians. The UK-based Syrian Observatory for Human Rights said that 21 of the victims were children. It is unclear whether there was a new strike against Albu Kamal in recent days, or if Monday's message was provoked by the liberation of the town from ISIS in early November.
ISIS members often live among civilians, making it difficult to fight the group without killing innocents.
"It's terrible human tragedy as many civilians are caught in between attacks by terrorist groups and attacks by the government, demonstrating the failure of many counterterrorism policies to halt the violence rather than contribute to an increasing cycle of attack and counter-attack," Harrison Akins, a researcher at the Howard Baker Center, told Newsweek.
What's more, terrorist groups often threaten children when they feel weak and powerless, Akins said.
"Many other terrorist groups have pushed the idea of avenging civilian deaths within their areas of operation by targeting children in cities and especially the children of those associated with the government and the military," he noted.
"However, by calling for the targeting of children in Western countries by lone wolf terrorists, an especially heinous and morally reprehensible act of violence, they are perhaps demonstrating both their current weakness and their desperation."
The message itself came from al-Qastantiyyah Foundation, which is considered an established media group in the pro-ISIS community, particularly among Arabic users, explained Rita Katz, Director of the SITE Intelligence group.
"ISIS has made numerous justifications of killing children, stating in issue five of its Rumiyah magazine: 'one should not grieve over the collateral killing of kafir [infidel] women and children,'" Katz told Newsweek.
Earlier this month, Syrian troops entered Albu Kamal, one of the last ISIS-held towns in Syria. The Lebanese Shiite militant group Hezbollah later claimed that ISIS leader Abu Bakr al-Baghdadi was seen in the town following its liberation, but their claims were never confirmed.
"Syrian forces had 'liberated' the city, but there's still been insurgent activity in the area," Meserole explained. "Since Assad doesn't have the manpower needed to patrol eastern Syria effectively, it looks like he—and possibly the Russians—are resorting to indiscriminate violence as a way of suppressing insurgent activity."