ISIS Supporters Threaten to Assassinate Trump and Putin, Want Attacks on U.S. and Russia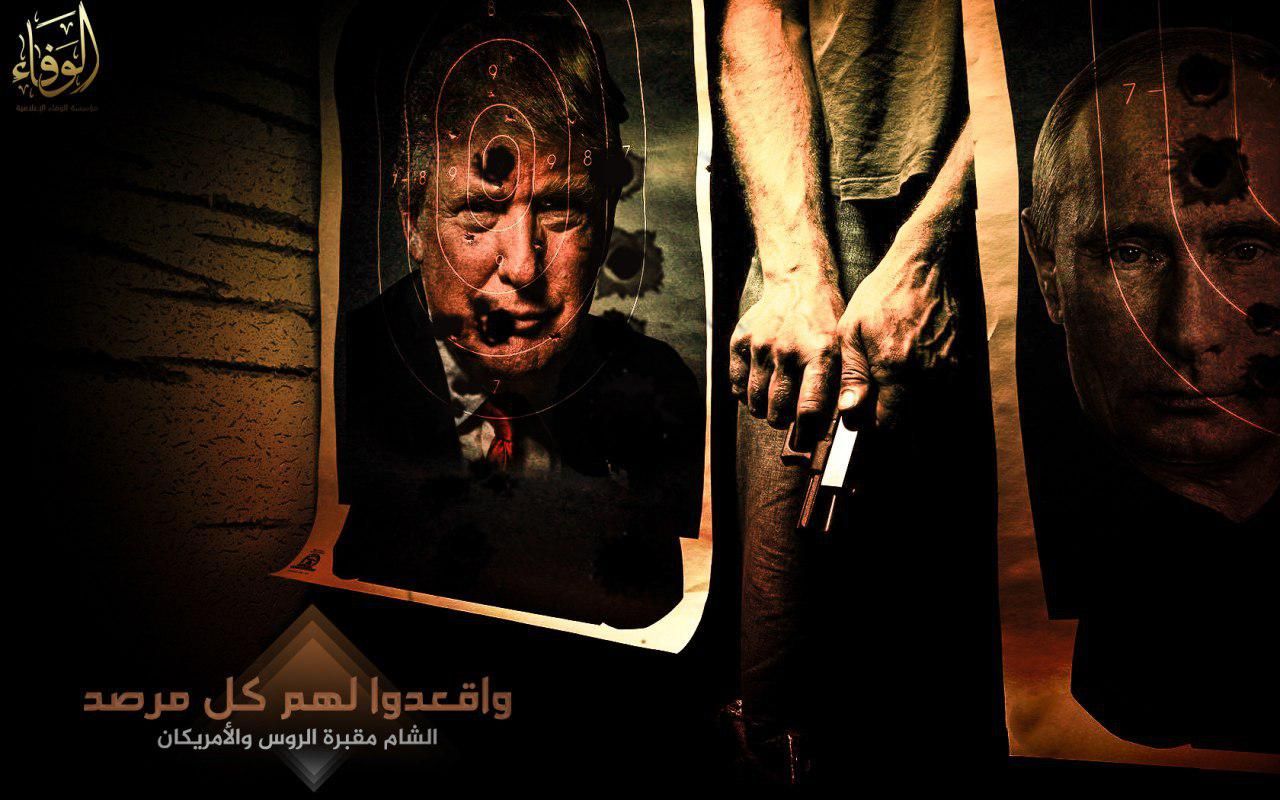 Supporters of the Islamic State militant group (ISIS) have released a new propaganda image featuring bullet-ridden photos of President Donald Trump and Russian President Vladimir Putin, and inviting its followers to stage more attacks on the group's two leading foes abroad.
The image, which was shared throughout pro-ISIS channels on the encrypted messaging application Telegram and attributed to Al-Wafaa Media Foundation, featured an excerpt of a Quranic verse manipulated by the ISIS followers to urge fellow jihadis to take every opportunity to conduct deadly attacks in the U.S. and Russia. Despite the jihadis suffering severe territorial losses to military campaigns sponsored by Moscow and Washington, the image also claimed that ISIS would overcome its enemies on the battlefield.
Related: If ISIS was behind Las Vegas shooting, there is a terrifying reason it won't prove it yet
"Lie in wait for them at every chance to ambush," the text reads beneath photos of Trump and Putin pasted to gun target practice sheets. "The Levant is the graveyard of the Russians and Americans."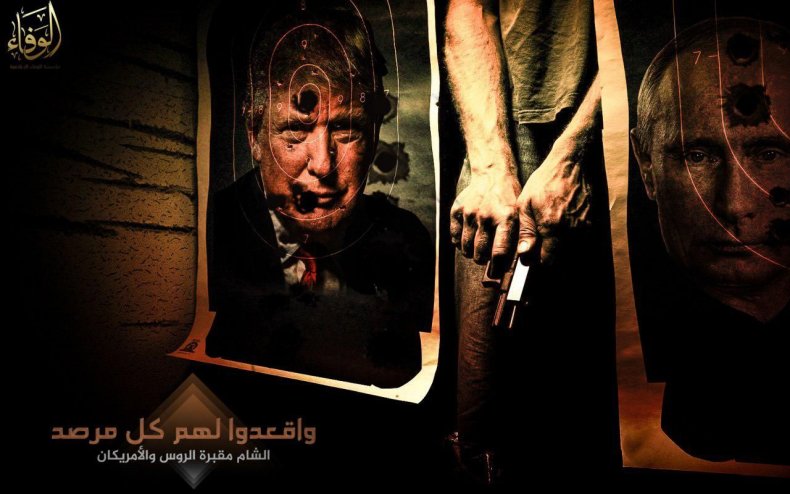 The image is believed to have originated from user Ibn Al Dawlah ("Son of the State"), who posted it on pro-ISIS Telegram channel Fi Sabil Allah ("In the Cause of God"), according to Mia Bloom and her team at Georgia State University's Documenting the Virtual Caliphate project. Both terrorism analyst Michael S. Smith II, co-founder of Kronos Advisory, and Bloom tell Newsweek the image was not likely produced by official ISIS media outlets, such as Amaq news agency, but rather by an organization supportive of ISIS.
Bloom says the image stands out because it features Trump, who only recently replaced former President Barack Obama in most ISIS propaganda.
"Only up until literally a few months ago, ISIS was still featuring images of President Obama," Bloom tells Newsweek. "It's like, hey, did you know we have a new president? This is one of the few...to use Trump's face."
She added: "It's also interesting because it equates Trump with Putin."
ISIS did release what appeared to be a new official video Thursday. The 18-minute, high-quality clip, titled "The Descendants of Ibn Jubayr," showcases the group's sniper capabilities using graphic footage of militants firing on Syrian troops and their allies in the self-proclaimed ISIS province of Khayr, which includes the eastern Syrian province of Deir Ezzor. In the video, the group claims around 2,500 sniper kills in Khayr in the past three years, and the footage ends with the gory beheading of three prisoners.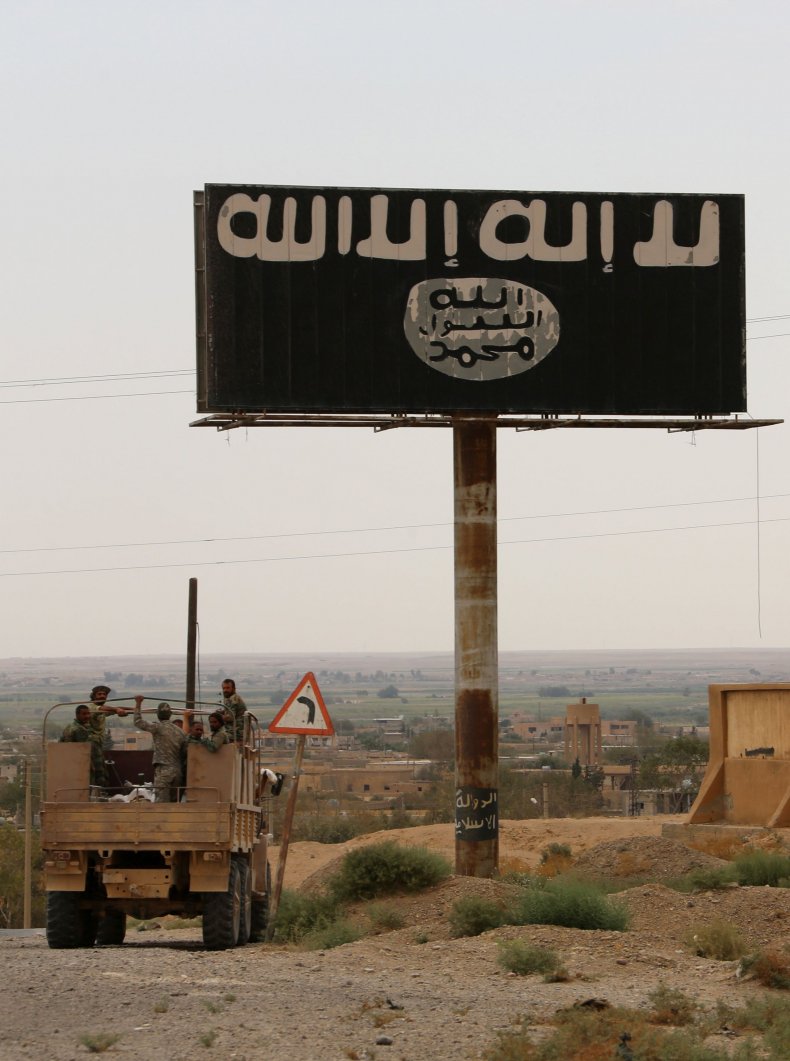 The latest propaganda comes as ISIS insists it was behind the deadliest mass shooting in recent U.S. history. Despite authorities maintaining they have not found any evidence to link to the jihadi movement 64-year-old Stephen Paddock's Las Vegas shooting spree earlier this month—which killed 59 people, including his suicide, and injured hundreds more—ISIS has released multiple statements claiming responsibility for the massacre.
Last week, ISIS published an infographic in its weekly digital magazine al-Naba alleging Paddock, whom it refers to as Abu Abdul Barr al-Amriki, was a "soldier of the caliphate" who "converted to Islam six months ago." Federal and local investigators have said there is no evidence to corroborate these claims, and they have yet to establish why Paddock, a frequent drinker and gambler by most accounts, committed the mass murder.
ISIS has also recently claimed fatal attacks in France and Syria, where it maintains what's effectively the last of its self-styled caliphate in the Middle East. In Syria, ISIS faces separate campaigns by the Russia and Iran-backed Syrian military and the U.S.-backed Syrian Democratic Forces, a mostly Kurdish alliance that includes Arabs and ethnic minorities. The U.S. and Russia are both actively battling ISIS, but differ on Syria's political future.