ISIS Threatens World Cup Attacks With Video Showing Stadiums in Flames
The Islamic State group has released a new video threatening to attack the World Cup as hundreds of thousands of fans travel to Russia for the opening fixtures of the tournament.
Wednesday's propaganda reel shows a drone with an ISIS logo flying over the Olympic village in Sochi as its stadiums and other buildings burst into flames, according to the Middle East Media Research Institute monitoring body.
MEMRI said most of the footage included in the four-minute video has already been released by ISIS's branch in the Caucasus, a hotbed of regional jihadism. The film opens with 11 young men standing in front of a black ISIS flag, three of whom have their faces blurred.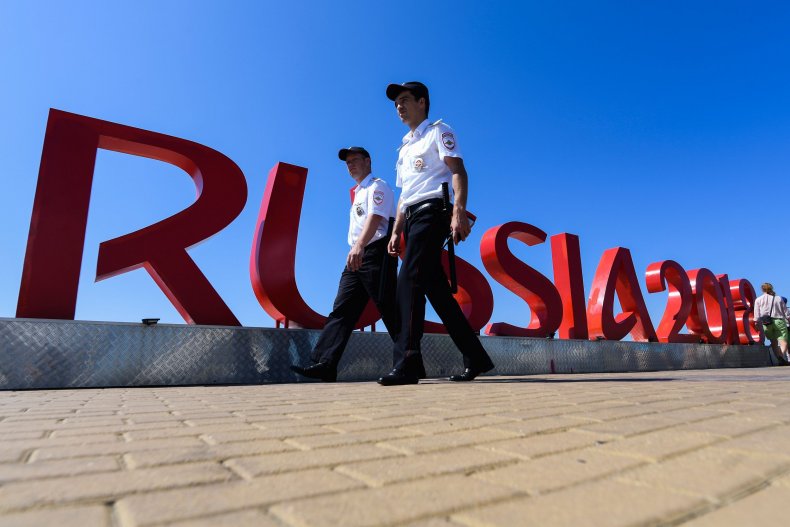 The footage was released by pro-ISIS media outlet Al-Adiyat and includes clips of ISIS combat in the Iraqi city of Mosul.
"Nobody knows that we are mujahideen and that we are operating here in the city—not our families, not our friends, not our work colleagues, and not even our brothers," says one man standing at the center of the shot. "We are lying in wait for you, and we know everything about your moves, Allah-willing. So watch out for that moment. Watch your cars. Watch your homes. The brothers are going to hunt you down."
A second man then lauds the group's "army" of Russian fighters, warning they have "sharpened our knives, and we are coming for you." The man continues, "Russian people, know that we will kill you, because of this tyrant who started a war against us…. He started the war for his personal goals, but you will be the ones who will pay the price…. We will enter your homes. We will take you and slaughter you…. We will take your women captive, and we will enslave your children."
Special mentions are reserved for Russian President Vladimir Putin, who has been uncompromising in his approach to Islamic extremists both at home and abroad in his time in office. "Putin, you dog, you will burn in the hellfire," one of the men declares.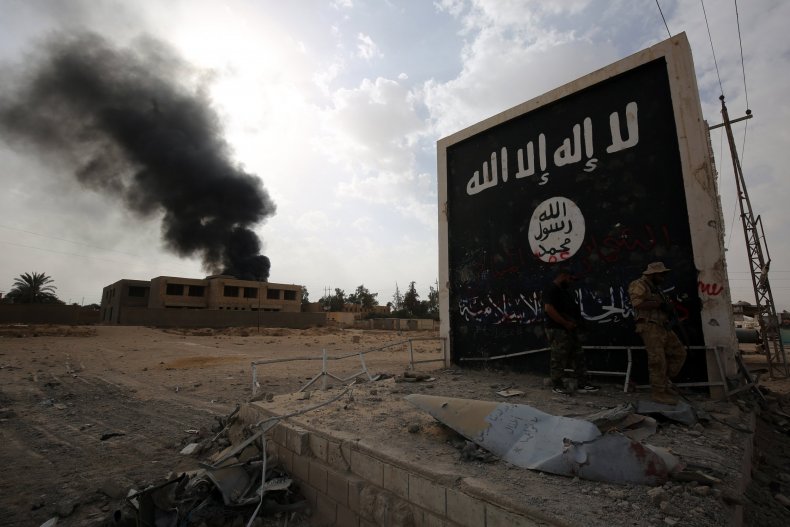 ISIS has already threatened this year's tournament, being held in 11 cities across Russia. Footage included superstars Lionel Messi and Neymar dressed in orange jumpsuits—synonymous with ISIS execution videos—with knives against their throats or bathed in fire. "You will not enjoy security until we live it in Muslim countries," read text accompanying the images.
The extremist group has spent recent years under attack in Iraq and Syria, where it was able to carve out a so-called caliphate encompassing some 34,000 square miles and 8 million people. Though it has lost almost all of its territory, the group is still able to launch attacks.
Russia has long grappled with the threat of jihadi terrorism and over the past few years ISIS has claimed several attacks on the country and its citizens. The group's efforts have intensified since Russia joined the Syrian civil war in support of President Bashar al-Assad. Its deadliest claimed operation was in 2015, when ISIS downed a Russian passenger jet over Egypt, killing 224 people.
Russian police have been joined by officers from 33 nations to secure the World Cup cities. They are also there to deal with any hooliganism, for which Russian fans have gained an infamous reputation.