ISIS Inspired By Times Square Crash, Warns of Vehicle Attacks on NYC Tourist Hub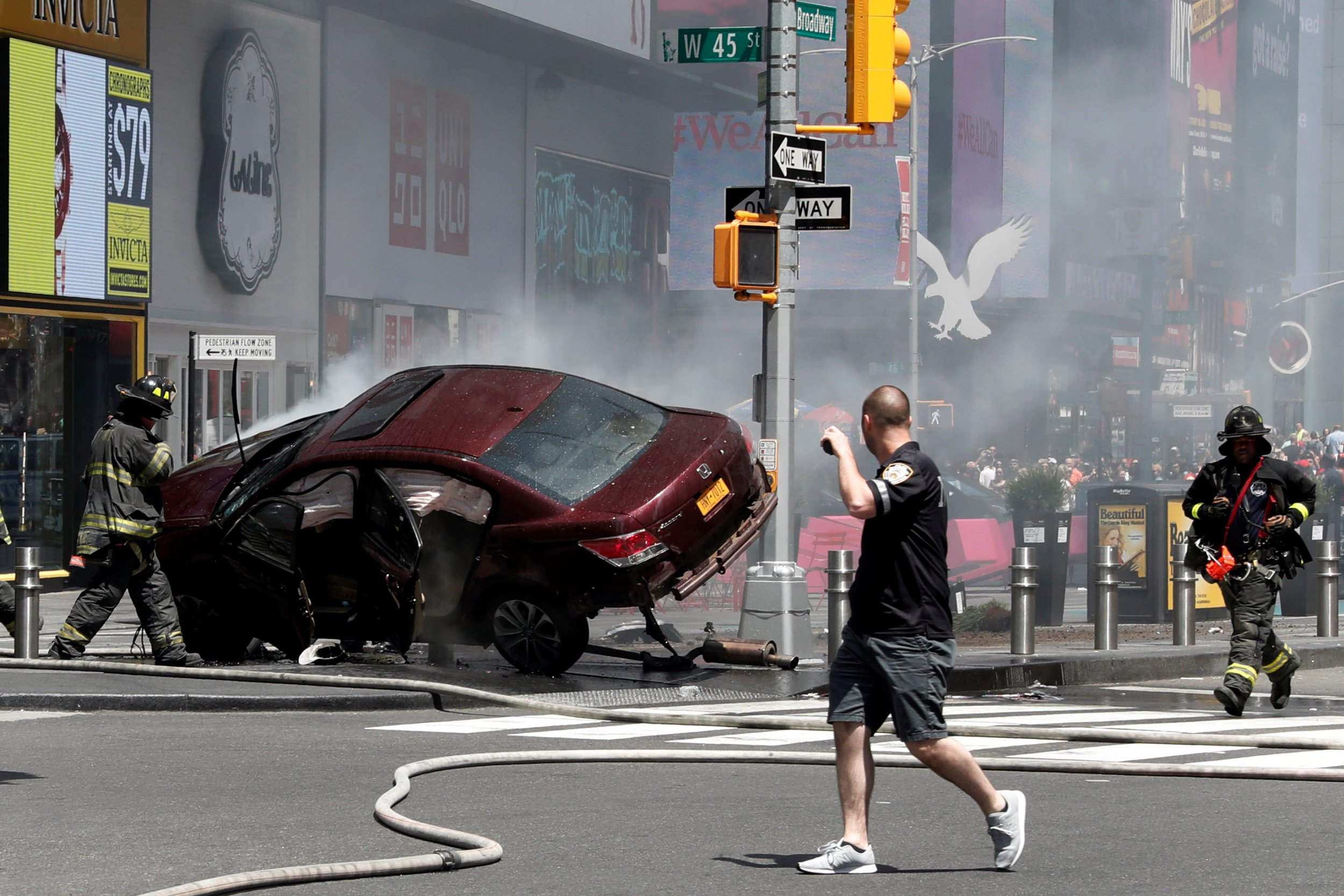 Inspired by a crash in Times Square Thursday that left one person dead and 22 others injured, supporters of the Islamic State militant group (ISIS) has threatened similar vehicle attacks on the New York City tourist hub.
Related: Times Square Car Crash Driver Was In and Out of Prison Because of Drinking Problems
In an incident believed to be unrelated to terrorism, a driver plowed through crowds in the heart of the country's most populated city. The suspect was charged with second-degree murder, 20 counts of attempted murder and five counts of aggravated vehicular homicide, police said.
A day later, a pro-ISIS Telegram channel called for lone wolves to take similar actions, according to the SITE intelligent Group, which monitors extremist publications and media.
ISIS has claimed responsibility for a series of vehicle attacks in Europe in recent months, including in Nice, Berlin, London and Stockholm. A student who rammed his car into a group of people before charging at passerby with a knife at Ohio State University last November was also inspired by ISIS, authorities believe.
On Thursday, a new video released by ISIS showed a purportedly American fighter calling for Americans to carry out knife and vehicle attacks on home soil. In the 44-minute video, photos were shown of multiple locations in the United States, including Times Square, the Las Vegas Strip and banks in Washington D.C.
A bearded fighter using the name Abu Hamza al-Amriki specifically mentioned knife attacks and running non-believers over with vehicles before calling for Americans to wage jihad in the U.S.
"Liberate yourself from hellfire by killing a kafi (non-believer)," he said, according to NBC News.
Al-Amriki translates as "the American" and also was the name of the last alleged U.S. fighter to appear in an ISIS video, Abu Isma'il al-Amriki, who praised the gunman who killed 49 people inside a gay nightclub in Orlando last June. He added that America was at war "with all the true and sincere Muslims around the world."
The new video also showcased a haul of new weapons at ISIS's disposal, including drones, rocket-propelled grenade launchers, video-equipped guided missiles and shoulder-launched surface-to-air missiles.
"It showcases a range of proprietary weapons that ISIS militant workshops have developed," Laith Aikhouri of intelligence site Flashpoint told NBC News.
ISIS has lost close to a quarter of its territory in the past year, however the video shows that "it's innovating and weaponizing whatever material is available," Aikhouri said.