ISIS Urge Ferguson Rioters to 'Be Like Malcolm X'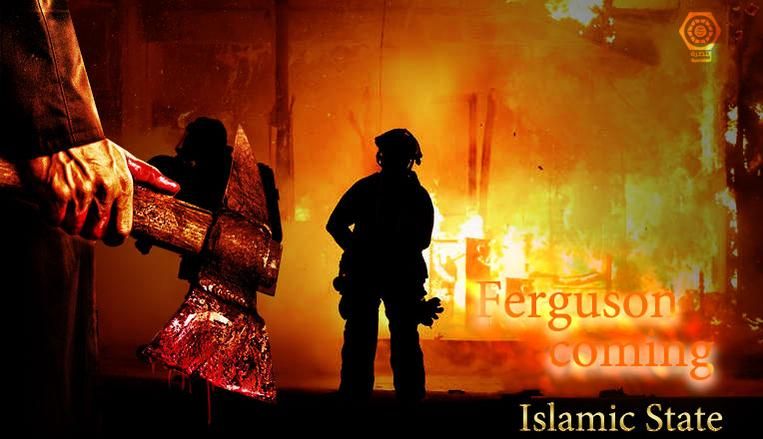 Online activists for Islamic State (ISIS) have been using social media coverage of riots in Ferguson, Missouri over the shooting of unarmed black teenager Mike Brown by a white Missouri police officer to promote their cause.
Using the hashtags related to the riots ISIS activists have been reaching out to residents of the predominantly black St. Louis suburb of Ferguson urging them to join the ISIS wave of Islamist violence.
Some of the most popular ISIS social media accounts have been sending messages using the Ferguson hashtag such as "Hey blacks, ISIS will save you" or "The islamic state deal with people according to their religion because this is only one can choose it [sic]".
A photo of a handwritten note addressed "From #IS 2 Ferguson" is circulating online captioned "We heard your call, we are ready to respond".
An account calling itself the 'State of Islam' retweeted the image, promising Ferguson residents "soldiers that don't sleep" if they "accept Islam" and swear allegiance to ISIS leader Abu Bakr al-Baghdadi.
Another account tweeted quotes and images of civil rights icon Malcolm X next to photographs of ISIS fighters, saying: "Ferguson, know that many of your forefathers perhaps were muslim.[sic]"
Similar posts from other accounts send out propaganda videos of a Canadian man's "incredible" journey to join ISIS to Ferguson locals and those following hashtags such as #Ferguson #MikeBrown.
An ominous image of a bloody hatchet, stalking silhouettes near a torched house in Ferguson has also gone viral online. The caption of the image reads "Ferguson coming. Islamic State."
According to Dr Erin Saltman, senior researcher for anti-radicalisation thinktank the Quilliam Foundation, "bandwagoning national and international social media trends" is something ISIS are quite adept at.
Social media attention turned on Ferguson after the state of Missouri's grand jury decided not to indict the white police officer that shot unarmed black teenager Mike Brown earlier in the year, making #Ferguson trend globally.
"We saw similar attempts from ISIS activist accounts using the hashtags of the Scottish independence referendum and the World Cup," Saltman adds.
"Unlike al-Qaeda, ISIS allow for decentralised messaging, meaning activists from around the world can use their accounts and their voices to speak on behalf of ISIS," Saltman explains.
Saltman is sceptical whether censorship of ISIS campaigns to turn attention on them during the Ferguson riots will be successful. "The most successful ISIS counter-speech campaigns have been ones which have used the same tech savvy language to denounce them," she says.
"We need grassroots voices, theologians and young individuals active on social media in the same way as ISIS, to unite against their message."
Public outrage over the decision not to indict the officer that killed Mike Brown has gripped a dozen U.S. cities since Monday night, including New York and Seattle.
Though protests have been primarily peaceful outside of Ferguson itself, which has seen over 100 arrests, violent unrest has been reported in Oakland, California.