Syria: Arab Tribes Who Once Supported ISIS Turn to U.S. As Endgame Begins in Raqqa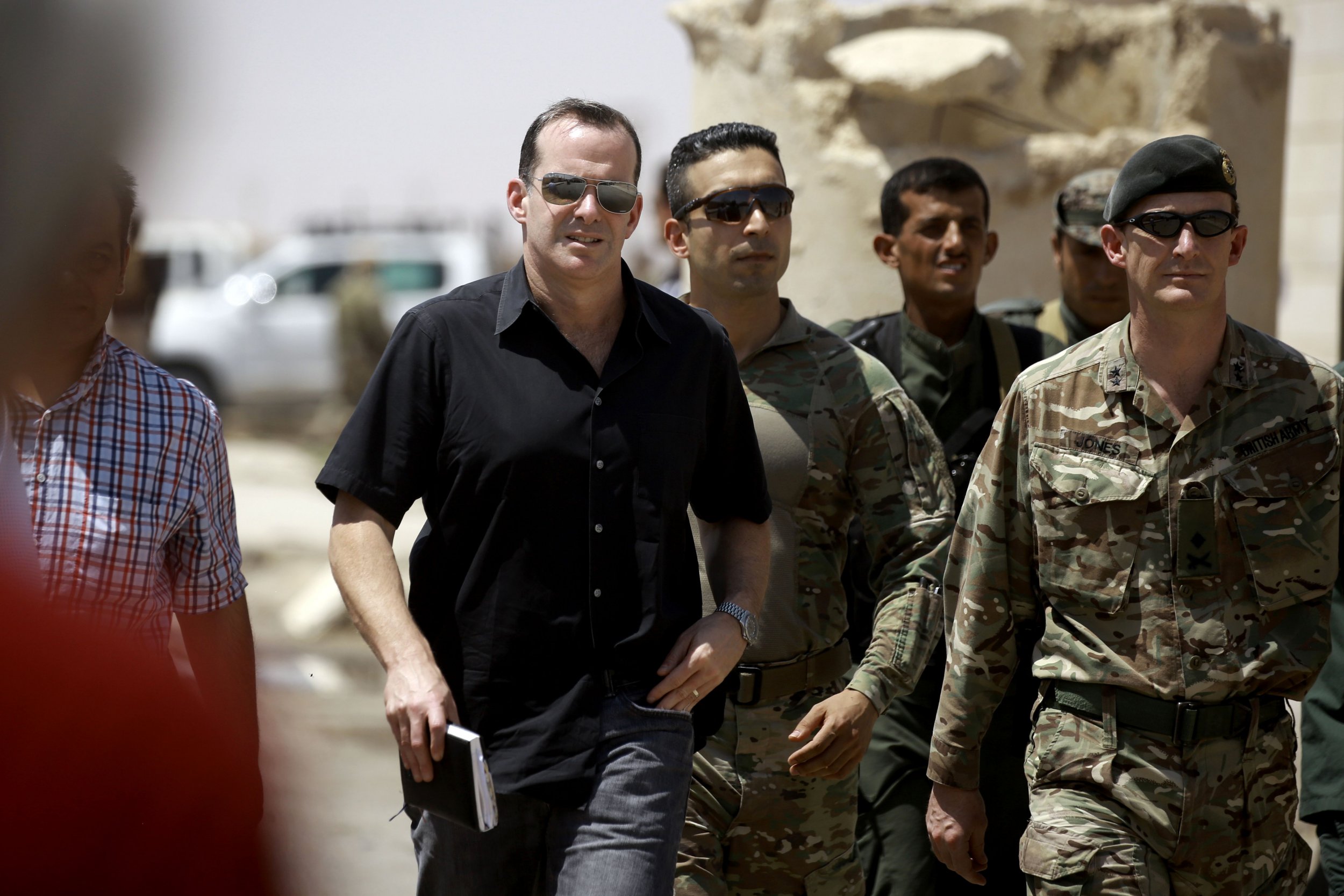 A top U.S. diplomat in the fight against the Islamic State militant group (ISIS) has praised recent talks with Syrian tribal leaders slated to play a large role in governing Raqqa once the jihadis are expelled.
But the plan to create a careful balance of local power on the ground in Raqqa that will likely see former ISIS-affiliated officials ultimately in charge could cause a split between the U.S. and its Kurdish allies.
Brett McGurk, who was appointed special presidential envoy to the U.S.-led coalition against ISIS by former President Barack Obama in 2015, recently tweeted a picture of himself with tribal leaders near Raqqa, once the de facto capital of the jihadis' self-proclaimed caliphate in Iraq and Syria.
McGurk played a crucial role in the previous administration's efforts to reach out to Iran, and now the diplomat has been tasked with maintaining relations with groups key to Washington's long-term plans in Syria, as the U.S.-backed Syrian Democratic Forces (SDF) prepare to take back Raqqa.
Related: When will the war in Syria be over? Soon, says top Assad adviser, as cities rebuild
"Excellent meetings with sheikhs of all major tribes in #Raqqa Province, committed to destroying #ISIS & restoring life to their communities," McGurk wrote on his official Twitter account.
ISIS overran Raqqa in late 2013 and took control of the city in early 2014, overpowering rebel groups that had seized the city from the Syrian government following an uprising in 2011.
Once in charge, ISIS slaughtered religious and ethnic minorities, members of rival rebel groups and those suspected of supporting Syrian President Bashar al-Assad. But rather than completely dismantle the existing social order, ISIS opted to absorb it, compelling local sheikhs to swear allegiance to its ultraconservative version of Sunni Islam.
Some tribal leaders fled to areas of the country outside of rebel control, while others resisted and were killed. But many others went along with ISIS just to survive.
As ISIS's grip on the city began wavering earlier this year, the mostly Kurdish SDF managed to recruit some Arab leaders with the intention of having them help restore order to the city once the group was defeated. But the move has been controversial: Shortly after McGurk's visit Thursday the names of some of the sheikhs and their alleged ISIS ties were published by Turkey-based Syrian media outlet Qasioun News Agency.
For the SDF, ISIS, Assad or anyone else trying to win popular support over locals, Kyle Orton, a research fellow at the Henry Jackson Society's Center for the Response to Radicalization and Terrorism, says that securing the backing of these elders one way or another was "vital."
He tells Newsweek that ISIS leaders had learned from the group's experience as Al-Qaeda in Iraq facing opposition from rival grassroots Sunni Muslim groups "that trying to rule roughshod over local institutions is a nonstarter: They have to co-opt them." With ISIS on its way out, though, Raqqa's remaining factions do not entirely see eye to eye.
The relationship between these tribal leaders and Kurdish militias, such as the SDF-aligned People's Protection Units (YPG) could very soon turn ugly, Orton says.
Kurdish groups have acted as the vanguard of the U.S.-backed fight against ISIS, but their nationalist aspirations have been rejected by the local majority-Arab population in cities such as Raqqa.
One of the leading international sponsors of Syrian Arab rebels, Turkey, is also a major opponent of a large Kurdish role in Syria, where it considers groups like the YPG to be an extension of the Kurdistan Workers' Party (PKK), a nationalist militant group that has waged a decades-long insurgency against the Turkish government.
"The tribes have great apprehension about the PKK because of its alignment with the pro-Assad coalition, its authoritarianism and its habit of conscripting their sons and daughters into its militia. But the tribes are also pragmatic, and they see which way this is going. Most of them are hoping that the SDF can be an American project, rather than a PKK one," Orton says.
"There is a severe danger that the political outcome of the coalition's policy will trigger another war on Syrian territory, between Turkey and the PKK, which undoes the progress, such as it is, against [ISIS]."
The Syrian military and its allies, including Russia and Iran, are also increasingly involved in Raqqa, eradicating the group's expansive infrastructure in central Syria. The Syrian military and Kurdish militias have a complex relationship, and they have both clashed and fought alongside one another in the past. They both reject the hardline brand of Sunni Islam fostered by jihadis and some rebel groups, but they fundamentally disagree over the degree of autonomy Kurds demand in northern Syria, a region referred to by the SDF as the Federation of Northern Syria, or Rojava.
While SDF spokesperson Talal Silo said Thursday he believed the U.S. had "a strategic interest" in supporting Syrian Kurds for decades after ISIS's defeat, according to Reuters.
Kurdish groups have already established contacts with Damascus and Moscow fearing a total U.S. withdrawal. Special Forces commander General Raymond Thomas, who plays a central role in U.S.-SDF military relations, said last month that it was difficult to see a long-term role for the U.S. in Syria once ISIS was defeated as long as it was unwelcome by the Syrian government and Russia.
Former U.S. ambassador to Syria Robert Ford said in June that "Syrian Kurds are making their biggest mistake in trusting the Americans" and what the U.S. "is doing with the Kurds is not only politically stupid, but immoral."
Macer Gifford, a U.K. national fighting ISIS on behalf of the Syriac Military Council, a Christian faction aligned with the SDF, told Newsweek earlier this month that Turkey's involvement and Kurdish uncertainties toward President Donald Trump's intentions in Syria mean the SDF needs to rely less on Washington and focus on its own political future.
He said he hoped the SDF would ultimately be able to replace the Turkey-backed Free Syrian Army (FSA) at Geneva peace talks with the Syrian government, which the SDF could engage with politically rather than extending a war that's already entered its seventh year.
"There's a new populist president in the U.S. One that promised to defeat ISIS,
"There's a new populist president in the U.S. One that promised to defeat ISIS, but not rebuild Syria and bring enduring peace. I do think it's very likely the US will 'cut and run' after a quick victory," Gifford told Newsweek. "That's not to say the loss of the USA as a major ally of the SDF would be a terrible thing. The SDF won't necessarily just fall straight into Russia's arms."
"As long as Turkey or the Syrian state is not emboldened to attack the Federation of Northern Syria, I would hope the SDF becomes the democratic opposition to Assad," he added. "The Syrians have a lot to deal with against the FSA and the Turkish occupied areas. I would hope Assad sees the SDF as a political movement he can deal with."