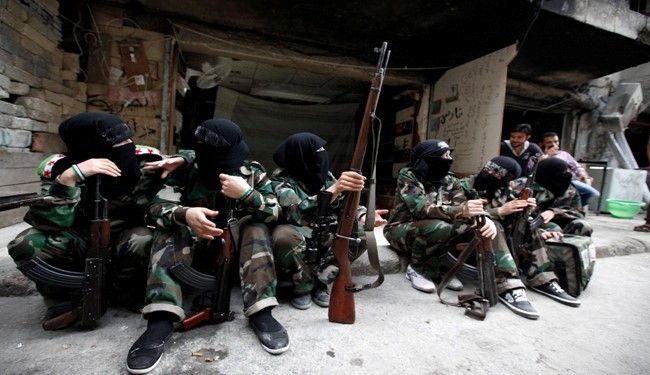 "Jihad is not a man-only duty. Women must do their part as well," Abu Ahmad, a spokesman for ISIS in Syria told Syria Deeply.
In the city of Raqqa, where last week ISIS ambushed and killed more than 50 Syrian soldiers, the Sunni militant group has established an all-female unit tasked with policing other women under ISIS's rigid interpretation of Sharia law.
"[T]he brigade raided the city's Hamida Taher Girls School and arrested 10 students, two teachers and a secretary on the grounds that some of them were wearing veils that were too thin. Others were accused of wearing hair clips under the veil, pinning them in a way that showed too much of their faces," activist Abu al-Hamza told Syria Deeply.
"The women who join the brigade are either women of Raqqa who wanted to take part in ISIS's activities there, or, often, the wives of mujahedeen who have come to fight from other parts of Syria or the region," Syria Deeply reported.
Women policing other women is a frequent topic of discussion in feminist scholarship, though never before has the phenomenon been taken to this extreme conclusion.
The official reason given for the brigade's existence is to "raise awareness among women, and arrest and punish women who do not follow the religion correctly," Abu Ahmad said. However, the true purpose of the brigade is to detect anti-ISIS fighters attempting to infiltrate Raqqa dressed as women, Syrian media outlet Alalam reported.
The creation of all-female "morality police" units might be "indicative of a bigger, slow-moving shift toward allowing women 'more operative' roles in the jihadi movement," Thomas Hegghammer, the director of terrorism research at the Norwegian Defense Research Establishment, told The Atlantic. "There is a process of female emancipation taking place in the jihadi movement, albeit a very limited (and morbid) one," he said.
But the tactic of "putting women out front as a sign that their policies are 'broadly' accepted among the community" is nothing new, Isobel Coleman, a Senior Fellow at the Council on Foreign Relations and author of Paradise Beneath Her Feet: How Women Are Transforming the Middle East, told Newsweek via email. "Remember the 'chicks with sticks' (so dubbed by the Pakistani press) - the all-women groups that terrorized citizens on the streets of Islamabad outside the Red Mosque in 2007?"
Still, being part of ISIS's morality police might beat a lot of other options for Syrian women. According to Alalam, ISIS pays its female militants "a monthly salary worth 25 thousand SYP (Syrian pounds)." The country's median wage since the crisis there began has dropped to 12 thousand SYP, Beirut-based news source Al-Akhbar said.