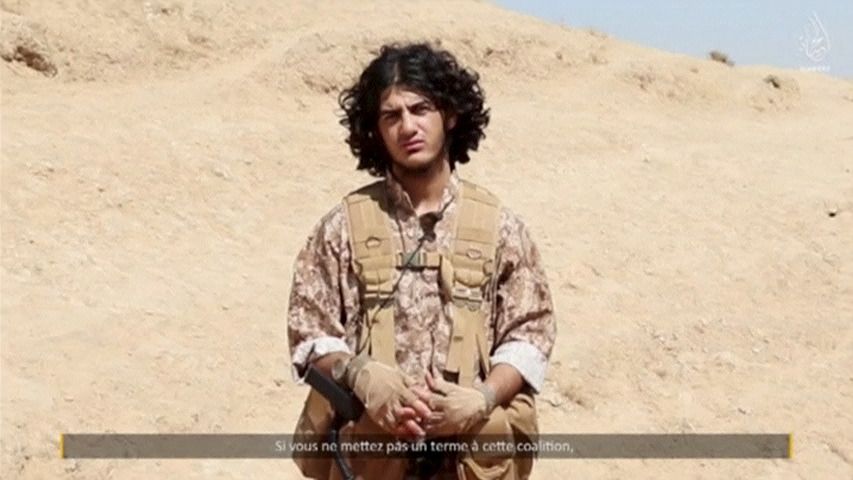 The Islamic State militant group (ISIS) has released a video which it says shows nine of the men allegedly behind the November 13 terrorist attacks in Paris. In the 17-minute film, which is believed to have been filmed in Syria and Iraq, members of the group appear to execute several prisoners. It also shows some of the sites of the Paris attacks, which left 130 people dead. The video ends with an implied threat to the U.K., closing with shots of major London locations and an image of Prime Minister David Cameron with crosshairs over his face.
Over news footage of people fleeing the attacks in Paris and speeches by French President François Hollande and French Prime Minister Manuel Valls, the narrator, reportedly Abdelhamid Abaaoud, the ringleader of the attacks, threatens further assaults against the coalition forces carrying out air strikes against ISIS. The youngest of the identified Paris attackers, 20-year-old Bilal Hadfi, is also shown beheading a man, while 28-year-old Samy Amimour is filmed holding a severed head, the Guardian reports. In the video, all the men are identified by their noms de guerre.
The shots of the attackers were filmed before the November 13 attacks, in the Syrian city of Raqqa, the capital of its so-called caliphate, the BBC reports. The video appears to show Abaaoud among the other men. If verified, it indicates that ISIS directly controlled and co-ordinated the Paris attacks.
Nine suspected assailants, including Abaaoud, died during or in the aftermath of the terrorist attacks. Two others are still at large. France's foreign ministry has so far declined to comment on the video, which ISIS mentioned in the latest issue of its monthly magazine, Dabiq.
A spokesman for the U.K. government said on Sunday: "We are currently examining this latest Daesh propaganda video—another desperate move from an appalling terrorist group that is clearly in decline."