This article first appeared on the Wilson Center site.
Islamist movements faced major reversals—both in stunning setbacks and unexpected gains—in 2017.
Among jihadis, ISIS's pseudo-caliphate lost 95 percent of its territory—once the size of the state of Indiana or the country of Jordan—carved from chunks of Syria and Iraq. It also lost tens of thousands of fighters and more than 120 senior leaders and commanders.
At the same time, however, three ISIS "provinces"—in Libya, the Sinai Peninsula and Afghanistan—became bolder in their attacks. So did so-called lone wolves who claimed allegiance to ISIS; they carried out tens of attacks on four continents. Meanwhile, al Qaeda strengthened its affiliates through rebranding, merging with other militias and embedding in local conflicts.
Among Sunnis, Islamist political parties in Jordan, Tunisia and the Palestinian Territories tried to increase their appeal by distancing themselves from rigid ideology and jihadi extremists. Yet they faced hurdles in significantly broadening their bases.
Jordan's branch of the Muslim Brotherhood won seats in local elections as part of the National Coalition for Reform, a coalition of Islamists, nationalists, tribal candidates, Christians and minority groups—but only 76 out of more than 1,800 seats.
Tunisia's Ennahda kept its place in the ruling coalition, yet its opponents charged that it had not followed through on its pledge, in 2016, to abandon "political Islam."
In the Palestinian Authority, Hamas provisionally accepted the establishment of a Palestinian state along 1967 lines--and implicitly the concept of a two-state solution.
But talks to reconcile with the PLO—to create a united front for any peace process—failed to make deadlines and were endangered by the U.S. decision to recognize Jerusalem as Israel's capital.
Among Shiites, Lebanon's Hezbollah emerged from Syria more empowered and war-hardened than ever. Hezbollah also expanded its presence region-wide. It reportedly heightened its role in aiding Iraqi militias and in advising the Houthis in Yemen.
The Houthis accelerated the pace of their war against Yemeni factions as well as a Saudi-led coalition. The following is an overview of the status of Islamist movements in the Middle East.
Jihadi Movements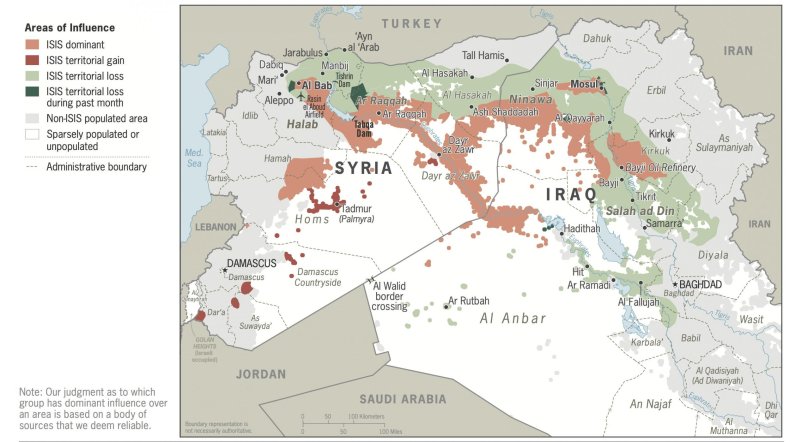 ISIS
After already losing territory in 2016, ISIS collapsed after the loss of its two most strategic properties in 2017.
In July, the Iraqi Army and Kurdish Peshmerga fighters forced ISIS out of Mosul, Iraq's second largest city and the place where Emir Abu Bakr al Baghdadi had declared the caliphate three years earlier.
In October, the U.S.-backed Syrian Democratic Forces forced ISIS to retreat from Raqqa, the nominal ISIS capital. In December, Iraq was completely liberated from ISIS as Iraq resumed full control over its border with Syria.
By the end of 2017, more than 60,000 ISIS fighters had been killed and 120 plus leaders eliminated, according to Operation Inherent Resolve. More than 7.7 million people had been liberated —5 million of them in 2017.
The trickle of foreign fighters into Syria had nearly stopped and ISIS financing was at its lowest level to date. The ISIS propaganda machine was reduced to 85 percent of its peak output in August 2015.
But the Sunni jihadist group remained a threat. Hakim al Zamili, leader of the Iraqi Parliament's Security and Defense Committee, estimated that 20,000 ISIS supporters were still inside the country, despite its victory over ISIS.
Around 3,000 ISIS fighters remained in Syria, U.S. officials said. U.S.-backed fighters continued to battle ISIS in Syria into December.
ISIS still had more than three dozen wilayats , or provinces, on three continents. Some were small. Some were dormant. But all were deadly.
Thousands of its foreign fighters— which totaled over 40,000 from some 120 countries—returned home or relocated to a third country. ISIS also continued to inspire and launch deadly attacks around the globe, including the failed NYC bomb attack on December 14.
"Even as we see Daesh (ISIS) push back on the physical battlefield, we know that they will continue to pose a threat in the region," said Alastair Burt, the United Kingdom's Minister of State for the Middle East and North Africa. "We also know that the battle of ideas is far from won, Daesh is still capable of inspiring people to carry out attacks in its name and, as such, it remains a serious global threat."
Click here to read more about the collapse of ISIS.
Click here to view the full ISIS timeline.
Al Qaeda
With international attention focused on ISIS, al Qaeda franchises--such as al Qaeda in the Arabian Peninsula (AQAP) and al Qaeda in the Islamic Maghreb (AQIM)—exploited local conflicts in Syria, Yemen and Libya.
By the end of 2017, al Qaeda's affiliates were entangled in conflicts in Africa, the Middle East, South Asia and Southeast Asia.
Al Qaeda also tried to exploit U.S. policy, including President Trump's recognition of Jerusalem as Israel's capital. In a statement, al Qaeda central it called on followers to attack the United States and its allies.
It said, "The surest and quickest way to confront the aggression of the pharaoh of our age—America—is jihad in Allah's name by targeting the vital interests of the United States and its Zionist and Crusader (Christian) allies everywhere." AQAP and AQIM issued statements as well.
Al Qaeda in the Islamic Maghreb
In 2017, the Sahelian branch of AQIM increased its strength by incorporating other African militant groups —Ansar al Dine, the Macina Liberation Front and al Mourabitoun from Mali—to form Jama'at Nusrat al Islam wal Muslimin, or the Group to Support Islam and Muslims. (It was still widely referred to as AQIM.) In March, the new alliance formally pledged allegiance to al Qaeda chief Ayman al Zawahiri.
AQIM had vast resources. It made an estimated $100 million through kidnapping for ransom, drug smuggling, and levying taxes on local populations, according to a report by the Foundation for Defense of Democracies' Center on Sanctions and Illicit Finance. AQIM earned enough to sustain future operations in Algeria, Mali, Niger, and southwestern Libya.
Al Qaeda in the Arabian Peninsula (AQAP)
AQAP became a primary target of the United States in 2017. On January 21, the Trump administration ordered its first U.S. drone strike on AQAP in Yemen, killing three operatives. A week later, the president authorized a U.S. land raid on AQAP headquarters, killing 14 militants. But one Navy Seal was killed and three other Seals were injured in the attack.
"The new fool of the White House received a painful slap across his face," AQAP leader Qasm al Rimi said, in a taunting audio message to Trump.
Under pressure from Yemeni troops supported by U.S. Special Forces, AQAP was forced to retreat from the southern governorate of Shabwah to one of its main operations centers in Al Bayda Province in mid-2017.
By the end of 2017, the U.S. had carried out more than 120 airstrikes in Yemen and killed one of AQAP's top propagandists, Abu Hajar al Makki. The total number of airstrikes in 2017 was greater than 2014, 2015, and 2016 combined, according to the Long War Journal.
Hay'at Tahrir al Sham (Formerly the Nusra Front or Jabhat Fatah al Sham)
In early 2017, the al Qaeda-affiliated Nusra Front, also known as Jabhat Fatah al Sham, merged with four smaller local factions to create Hay'at Tahrir al Sham (HTS). It claimed to have severed its ties with al Qaeda, adopting a Syria-first agenda rather than prioritizing global jihad.
The goal was to broaden its appeal by distancing itself from Al Qaeda and widening its control over the rebel campaign. The formation of HTS also allowed the al Qaeda affiliate to expand its operations in Idlib, Hama and Aleppo provinces in the north and Darra in the south.
HTS demanded that other militias join the new faction; it threatened anyone who refused. By the end of February, HTS had become the dominant force in northwest Syria. In the process, it severely fractured rival groups, notably Ahrar al Sham. HTS and Ahrar al Sham fought frequently in 2017. One of the original four local factions—Harakat Nour al Din al Zinki—quit altogether. On July 21, HTS and Ahrar al Sham agreed to a ceasefire. Two days later, Ahrar al Sham withdrew from Idlib and HTS consolidated its control over the northwest province.
Despite its battlefield successes, HTS's brutal tactics and join-or-die attitude produced a backlash. Between September and November, 35 members, including high-profile players , were assassinated. In October, it also lost control of 12 villages to the Islamic State—Hama province.
Confusion over HTS's relationship with al Qaeda central further isolated the group. From its inception, HTS said it was independent and had no affiliations with organizations outside of Syria.
But many Syrians still considered it an al Qaeda affiliate. Murkiness over relations between the two deepened in 2017, as leaders on both sides called into question the actions and loyalties of each other.
In November, tensions mounted when HTS arrested its own members loyal to al Qaeda. On November 28, al Qaeda leader Ayman al Zawahiri countered by calling on supporters to form "a new Jihadi group in Syria." "We have given them a chance for more than a year now," Zawahiri said, in an audio message. Yet he still refused to release HTS from its bayat or allegiance to al Qaeda.
Click here to read more about Hay'at Tahrir al Sham.
Sunni Islamist Parties
Ennahda
After formally abandoning political Islam in 2016, Tunisia's Ennahda movement struggled to change its Islamist image in 2017. Mohsen Marzouq, secretary-general of the Tounes Movement Project, charged in September that Ennahda had not become a "civil and democratic party," as it claimed, or abandoned its traditionalist vision.
Yet Ennahda continued in the ruling coalition with Nidaa Tounes, a secular party. In September, Prime Minister Youssef Chahed, of Nidaa Tounes, shuffled his cabinet and increased Ennahda cabinet posts from three to four.
Click here to read more about Ennahda
Hamas
In 2017, Hamas for the first time accepted the establishment of a Palestinian state based on the 1967 borders, effectively acknowledging that the Palestinians would not get back all of Israel and that Israel had a right to exist.
It also issued a new manifesto in May that declared its fight was not with Judaism or Jews, but with the "racist, aggressive, colonial and expansionist" Israel. It was the first time Hamas formally distinguished between Judaism and Zionism.
Under pressure from regional players, Hamas agreed to reconciliation talks with Fatah. The initial terms ceded the right of security in Gaza the PLO. Reconciliation between the rival Palestinian governments had long been a key to more viable prospects for peace talks with Israel.
But the two sides missed their November deadline. The U.S. decision to recognize Jerusalem as the capital of Israel further stalled the process. "This decision has killed the peace process, has killed the Oslo [accord], has killed the settlement process," Hamas leader Ismail Haniya said. "We should work on launching an intifada in the face of the Zionist enemy."
Click here to read more about Hamas's new manifesto.
The Muslim Brotherhood
The status of the Muslim Brotherhood fluctuated from country to country in 2017. In Jordan, the Brotherhood's Islamic Action Front won 76 positions in mayoral and other municipal council elections in August. But it still took only a tiny percentage of local posts.
In contrast, Egypt cracked down further on vestiges of the Muslim Brotherhood, which had been designated a terrorist organization after the 2013 military coup against a Muslim Brotherhood-dominated government. In 2017, Egypt named dozens of Egyptian citizens, including 21 women, terrorists for alleged membership in the Brotherhood.
Shiite Islamist Movements
Hezbollah
Hezbollah was more emboldened militarily in 2017. Allied with Russian and Iranian forces, the Lebanese movement was pivotal to the ground campaign in Syria against both ISIS and local rebels. It deployed thousands of fighters in Syria. It helped the regime of President Bashar Assad retake key territory.
By the end of the year, Damascus controlled the majority of the land and the majority of the population. In December, after declaring victory in Syria, Hezbollah emerged battle-hardened and resembling a more conventional military force. It had also replenished its arsenal.
At home, Hezbollah also played a pivotal role—alongside the Lebanese Army—in retaking the Qalamoun Mountains, where some 2,000 ISIS and al Qaeda militants had been in control.
But its growing military capabilities increasingly made Hezbollah the centerpiece of political battles at home and in the region. The Shiite movement was the only one of dozens of militias dating back to the Lebanese civil war still carrying arms. It alliance with Iran—and fears of a Shiite crescent running from Tehran through Baghdad and Damascus to Beirut—deepened fears with Sunni governments.
In November, while on a visit to Saudi Arabia, Lebanese Prime Minister Saad Hariri announced his resignation. He blamed it on the influence of Iran and Hezbollah in Lebanon. Hezbollah leader Hassan Nasrallah countered that Hariri's resignation was under coercion from Saudi Arabia, an oil-rich Sunni country.
Hariri rescinded his resignation after he returned to Lebanon, but the scope of Hezbollah's powers was still a major political issue.
Mattisan Rowan, a program assistant at the U.S. Institute of Peace, contributed to this report.