Tory Peer Says Conservatives Turn Blind Eye to 'Deep-Rooted' Islamophobia
Anti-Muslim bigotry and prejudice is deep-rooted and widespread in the British Conservative Party and it refuses to do anything about it because it is winning elections, a leading Muslim conservative politician has said.
Baroness Sayeeda Warsi, who used to be chairwoman of the British Conservative Party and was the first Muslim female minister to attend Cabinet briefings of top officials, told Newsweek in an exclusive interview that her party is in denial over the scale of Islamophobia within its ranks.
She made the comments after a poll from U.K. anti-racism group Hope Not Hate showed almost half of party members believed that Islam is a threat to the British way of life, with 44 percent believing that Islamist terror reflected the widespread hostility of British Muslims. In addition, 58 percent believe the conspiracy theory that "there are no-go areas in Britain where Sharia law dominates and non-Muslims cannot enter".*
Sharia law, Islam's legal system, has different interpretations around the world. In the U.K., it is not a legal system but a number of Sharia councils that can advise on things like family matters and do not supersede or replace the legal system in any way. They are not compulsory and are not used by a majority of Muslims in Britain. The idea of "no-go areas" in London, touted by Donald Trump in 2015, has been widely debunked.
Warsi said: "History will show that just like we got other issues wrong, around women's rights, LGBT rights and other forms of racism, we will, in the end, be proven that we were on the wrong side of history on this issue as well. It's such a shame that it's had to be done this way and it's such a shame that we've been bought to this situation kicking and screaming."
Warsi said she was also not surprised about the latest poll findings.
"These findings don't surprise me whatsoever," she said. "Over a number of years I've consistently been making the case that this issue is deep-rooted and widespread. It's obvious that this is the level of daily views which then develop into incidents for members and people associated with the party who endorse this kind of view or viewpoint. It's also deeply disturbing that poll after poll and study after study and research after research continues to point this out to the party and the party is still tragically in denial."
A dossier of more than 300 allegations of Islamophobia by Tory party members was submitted to the equalities watchdog, the Equalities and Human Rights Commission (EHRC), in March by the Muslim Council of Britain (MCB). Incidents included party members calling for Muslims to be thrown off bridges and to be forcibly sterilized.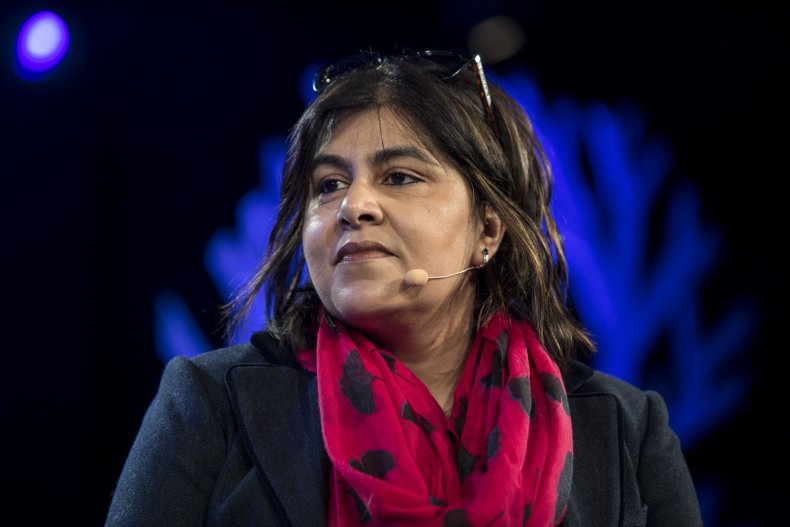 During the Conservative Party leadership campaign in 2019, Prime Minister Boris Johnson committed to holding a specific inquiry into Islamophobia among party members. He instead launched an investigation into all forms of prejudice, a move criticized by the MCB, who accused the party of "refusing to acknowledge that there can be bigotry and prejudice directed at Muslims." That inquiry, which will be led by Professor Swaran Singh is now underway and Warsi will be engaging with the process, despite some reservations.
Warsi said: "He gave me an assurance that he would be prepared to listen to anything and everything from anybody. I understand that the remit is far more limited than that, they won't take third party submissions. I'm going to be challenging Professor Singh on this because either we really want to know what the problem is or we don't want to hear it and the more we limit the remit of the investigation and the remit of those they are prepared to listen to, the more we support the view that we're not taking this seriously and that it's a bit of a whitewash."
Concerns had been raised about the suitability of Professor Singh after his comments about Muslims in Kashmir, which included the claim that the Kashmir conflict had been portrayed as a tragedy only for Muslims and that, for many, Sikhs and Hindus "do not meet the criteria of victimhood". Warsi has previously criticized that comment. He has also previously faced criticism for stating that it was not realistic for the U.K. to live to a standard "where every individual is non-racist," another thing Baroness Warsi is critical of.
She said: "I had and I have my concerns about the appointment of Professor Singh and there are definitely things he's said in the past which do lend credence to the fact that he's not somebody who would be the right person to be overseeing this investigation. I've raised these concerns with him and I've raised them very publicly. But we have a choice here. We can either not engage with the process at all or we can at least give the process an opportunity and present all the evidence before the process and let's see what happens."
Warsi also believes that Islamophobia receives less attention as other forms of prejudice from media organizations but refuses to give up on highlighting a problem that has dogged her own party for a number of years.
"I just don't think we should ever get into a conversation about a sliding scale of racism," she said. "Ultimately just because black people face anti-black racism and Jewish people face anti-Semitism or Muslim people face anti-Muslim racism or Islamophobia, all of them are serious for the people who are subjected to it. But what this particular poll shows is that the views around Muslims are widespread and deep within the Conservative Party and therefore it's not a question of whether or not they want to take it seriously, it's staring at us in the face that racism towards Muslim communities is real and growing and deep-rooted within the party of government and therefore we have no option but to take it seriously."
The EHRC, an independent body responsible for the promotion and enforcement of equality and non-discrimination laws in England, has so far refused to investigate the Conservative Party over Islamophobia, despite launching an investigation into the opposition Labour Party over anti-Semitism. Warsi believes the EHRC is wrong not to investigate the Conservative Party.
"There are questions about the way the EHRC handled this process and there are question marks around the fact that Professor Singh was a commissioner," she said. "There are issues related to conflict of interest where he was appointed and the EHRC turn around and said 'we'll now leave it to the party to deal with this matter internally'. They haven't done their job properly and it's disappointing that they haven't done their job properly but we have to carry on."
Why does Warsi think the Conservative Party has been so slow to act over alleged Islamophobia, quietly reinstating members who have been suspended for expressing their views about Muslims or in some cases failing to take action against them at all.
"The party leadership knows how deep-rooted the problem is and the reluctance has been because I don't think they're strong enough or brave enough to face up to the reality that we have got people amongst us who've got deeply distasteful and bigoted views," she said. "To acknowledge that means we're going to have to acknowledge what it is we're doing which is attracting those people. At the moment, we're winning elections and we're not prepared to face that because however distasteful and uncomfortable it is, we're prepared to turn a blind eye to it."
The Conservative Party says it does not tolerate discrimination or abuse of any kind. A spokesman said: "Discrimination or abuse of any kind is wrong, and we introduced a Code of Conduct where people can report complaints in confidence. There is currently an independent investigation into our complaints processes. We will consider any recommendations to further strengthen our procedures"
The EHRC said it did not believe it needed to investigate the Conservative party over Islamophobia at this stage.
A spokesperson said: "We have given very careful consideration to complaints raised about discrimination and islamophobia in the Conservative Party. We have concluded, in the light of the decision by the Party to institute an independent investigation, that it would not be proportionate to initiate our own investigation at this stage.
"We are monitoring the review and have required the party to provide regular updates on progress. If we are not satisfied with progress or how the investigation is conducted we will review our decision and do not rule out the use of our legal powers."
Professor Swaran Singh has been contacted for comment.
Updated 16:10 EDT 10/13/20: The story has been updated to include a response from EHRC that was provided after publication.
*Study methodology and notes