Muslims Falsely Blamed for COVID-19 Spread as Hate Crimes Increase
Since the start of the COVID-19 pandemic, conspiracy theorists have advanced a number of falsehoods to explain the virus and what's causing its spread, from 5G towers being responsible to claiming it was planned by Bill Gates.
The far-right has used the virus to sow racial and religious division within society by blaming ethnic minorities, Muslims in particular, for the spread of COVID-19.
In the U.K., this has meant a 40 percent rise in online Islamophobia during the lockdown months compared to the same period last year, according to hate crime monitoring charity TellMAMA.
Examples include blaming the Muslim community for spreading the disease without proof and sharing false material such as pictures and mislabeled videos of Muslims not observing social distancing rules.
In one such example, a video of British Muslims praying well before lockdown measures were introduced was shared online to claim they were flouting social distancing rules.
With much of the country in varying degrees of lockdown, most of these hate crimes have taken place on social media, with the Muslim community facing death threats, verbal abuse and bullying behavior.
The U.K. government now stands accused of failing to adequately protect Muslim communities from a rise in hate crimes and misinformation during the pandemic.
In recent weeks, U.K. Prime Minister Boris Johnson expressed fears that a "second wave" could occur in the U.K., with areas such as Leicester in the east midlands put under a local lockdown as well as towns like Luton in the south east listed as areas of intervention.
It is against this backdrop that British Muslims feel they are being targeted and blamed for a rise in COVID-19 cases, portrayed as a group more likely to break social distancing rules than others.
More recently, Conservative MP Craig Whittaker told LBC radio that there were "sections of the community that are not taking the pandemic seriously".
When asked if he was talking about Muslims, he replied: "Of course."
The Muslim Council of Britain (MCB), Britain's largest umbrella body for Muslims, has said that the government has failed to call out Islamophobia.
Secretary-General Harun Khan told Newsweek: "Islamophobic hate crime is always prevalent in British society, but particularly during the pandemic, we know this has been exacerbated by the far-right peddling conspiracy theories about Muslims spreading Coronavirus.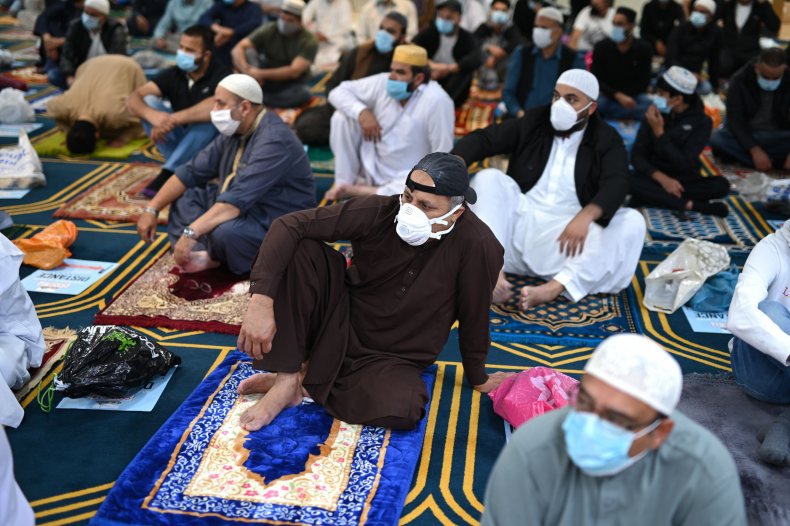 "Just last week, on the day of Eid, we had a Conservative MP claim that Muslims weren't adhering to the rules and had caused the local lockdown. He was not rebuked, nor did he face any criticism or public condemnation from his Conservative colleagues, which clearly shows how widely tolerated hate against Muslims appears to be.
"It is everyone's responsibility to call out and to tackle hate: from our politicians to our social media companies. Muslims are being failed until Islamophobia is taken seriously, condemned when it occurs, and action taken against perpetrators online."
TellMAMA said it had received reports of friction between communities in Northern England since last week, where the government imposed localized lockdowns in a bid to prevent the spread of COVID-19.
Announcement of the lockdown, tweeted by Health Secretary Matt Hancock at 9.16pm the day before Muslim communities celebrated the festival of Eid, led to accusations that the government had done so in order to curtail Eid celebrations.
Muslims drew the comparison between announcing a lockdown at 10pm on Christmas Eve and the outrage it would cause for Christians.
Health Secretary Matt Hancock rejected the allegations and when asked if the measures had been aimed at Eid told the Today programme: "No, my heart goes out to the Muslim communities in these areas because I know how important the Eid celebrations are."
Iman Atta, the director of Tell Mama, said social media companies were not doing enough to clamp down on false stories about Muslims or online hate crimes aimed at the community.
She told Newsweek: "We understand social media companies are under-resourced, we understand that they are dealing with many things during the pandemic, but one major thing that they are missing is having systems in place to address issues of misinformation as well as the promotion of anti-Muslim hatred, racism, anti-Semitism."
Atta also called on Conservative MP Craig Whittaker to apologize and withdraw his remarks about BAME and Muslim groups being more likely than others not to follow government guidance on social distancing rules and called on the Conservative Party to investigate his comments.
"I think the claim that Muslim communities and ethnic minority communities are not taking the pandemic seriously is problematic.
"It's very much disappointing for Muslim communities to see that this is happening and that there are always fingers being pointed when there are issues and concerns arising, especially given that in his area [Craig Whittaker's] and constituency, there's been a few illegal raves that have been shut down by the police and no mention of that."
Atta also said there was no mention in Whittaker's comments about the disproportionate deaths in BAME communities from COVID-19 as a result of socio-economic inequalities.
Twitter said it does not tolerate abuse or harassment on the basis of religion.
A Twitter spokesperson said: "We are committed to protect and serve the public conversation as we navigate this unprecedented global public healthcare crisis.
"We do not tolerate the abuse or harassment of people on the basis of religion. We take down content that is in violation of our Twitter Rules including dehumanizing language and we have expanded our safety rules around COVID-19. We have also increased our use of machine learning and automation to take a wide range of actions on potentially abusive and manipulative content.
Facebook said it had made investments in technology to keep hate speech off its platform.
A spokesperson said: "Nearly 90 percent of all the hate speech we remove, we find before anybody reports it to us, and a recent EU report found Facebook assessed more hate speech reports in 24 hours than Twitter and YouTube. We encourage anyone who sees this content to report it so we can take action."
A spokesperson for the Ministry for Housing, Communities and Local Government said: "This Government has a zero tolerance for the fake news that seeks to blame the British Muslim community for the spread of COVID-19.
"Deliberately spreading false information in order to undermine our respect and tolerance for each other is disgraceful and goes against all we stand for.
"The Government funds organisations who monitor and combat anti-Muslim hatred and we have one of the strongest legal frameworks in the world to report, record and prosecute hate crime."
Craig Whittaker and the Conservative Party have been contacted for comment.