In Islamabad, Clinton Unveils $500 Million Aid Package to Pakistan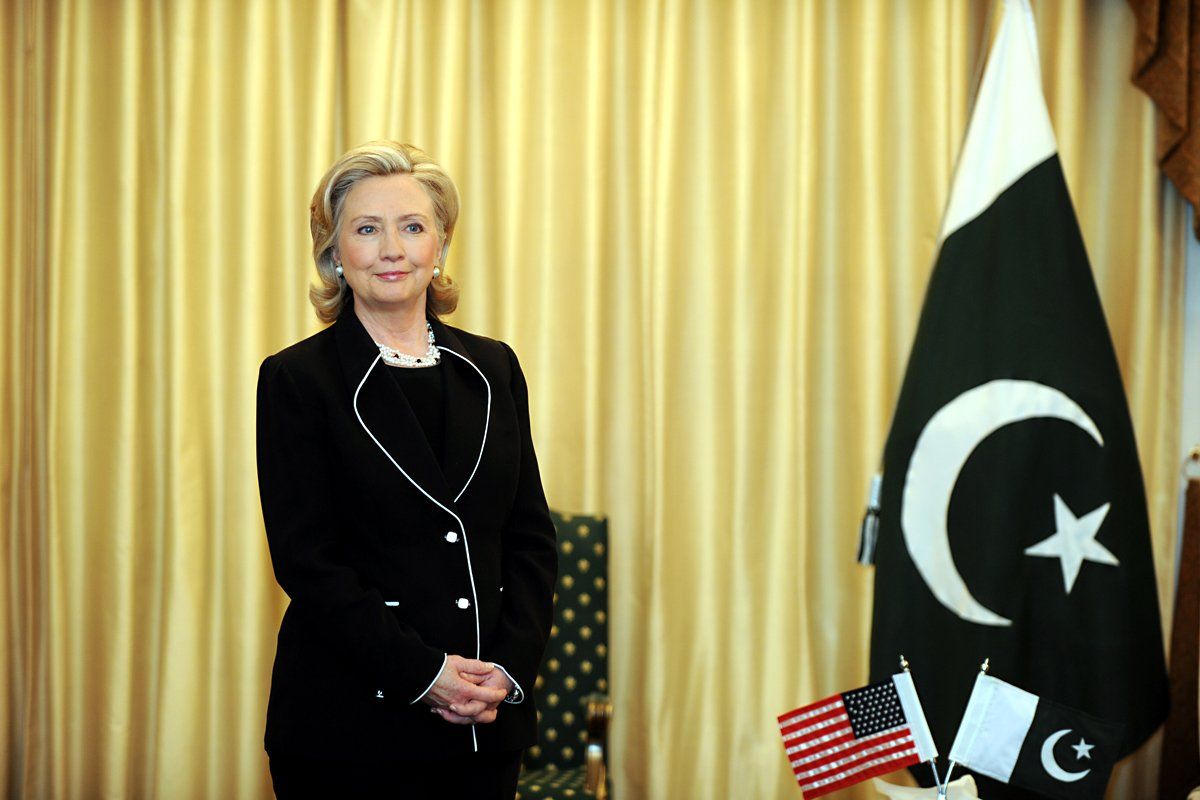 In a bid to shore up flagging relations with a key ally, Secretary of State Hillary Clinton announced more than $500 million in aid projects to Pakistan at a meeting Monday in Islamabad. The projects, meant to bolster Pakistan's infrastructure through agricultural improvements and construction of health facilities and dams, will be funded through the Enhanced Partnership With Pakistan Act (also known as the Kerry-Lugar-Berman bill) that President Obama signed into law last October. The act allots $1.5 billion in nonmilitary aid to Pakistan annually. Clinton's visit with Foreign Minister Shah Mahmood Qureshi was part of a two-day swing through Islamabad and marks the second ministerial-level session of the U.S.-Pakistan Strategic Dialogue, aimed at improving ties and building support for America's fight against the Taliban and Al Qaeda in the region.
"We would like to work more closely together to go after them and either capture or kill them," Clinton reportedly told a roundtable of journalists, referring to Qaeda leaders she said she believes are in Pakistan. In an interview with the BBC in July, Clinton called on Pakistan to deal with the Haqqani network, a branch of the Afghan Taliban operating in Pakistan that Gen. David H. Petraeus recommends be blacklisted as terrorists. Clinton said that if an attack on the U.S. were to originate in Pakistan, U.S.-Pakistan relations could be compromised.
Apart from the stern talk about combating terrorism, Clinton's remarks also focused on the skepticism she says many in Pakistan still harbor about America's intentions. Qureshi echoed her concerns: "The opinion about the United States in Pakistan will change when the people of Pakistan see how, through this partnership, their lives have changed," he said during a press conference with his American counterpart.
Clinton's announcement is "a step in the right direction," says Ashraf Qazi, chairman of the Council of Pakistan Relations, a Washington, D.C., group that lobbies to improve U.S.-Pakistan ties. Qazi described the meeting as "positive" but says he and his organization were hoping for the U.S. to make a greater commitment to larger-scale infrastructure programs—something he says could serve as a metaphorical "made in USA" banner and tangible symbol of U.S. good intentions at a time when only 17 percent of Pakistanis have a favorable opinion of America, according to a recent Pew Research Center poll.
The Wall Street Journal reports that $100 million of the aid will help small and medium-size businesses while another $50 million is earmarked for developing new technologies.
The announcement comes as Pakistan faces a growing economic imbalance at home, where those with the lowest incomes shoulder the heaviest tax burdens. A New York Times story reports that Pakistan's broken tax system, in which the country's wealthiest—often politicians—pay little or no tax, helps feed "a festering inequality in Pakistani society … That is creating conditions that have helped spread an insurgency that is tormenting the country and complicating American policy in the region."
In addition to the aid Clinton unveiled, another sign of positive activity in the region came today when Pakistan signed a trade deal with Afghanistan, which the U.S. Embassy in Kabul lauded as "the most significant bilateral economic treaty ever signed" between the two countries. The agreement means landlocked Afghanistan will now have access to the sea and to markets in India, as well as a healthy upswing in imports that may boost stability in the country. But the world will have to wait to see whether the economic benefits for both Afghanistan and Pakistan will put a dent in economic inequality and militant insurgency in the region.
Clinton arrived in Kabul on Monday for an international conference where leaders will discuss Afghanistan's plan for future development, governance, and stability. President Hamid Karzai and United Nations chief Ban Ki-moon will chair the conference, scheduled to begin Tuesday.