Islamic State Frees 270 of 400 People Kidnapped From Syria's Deir al-Zor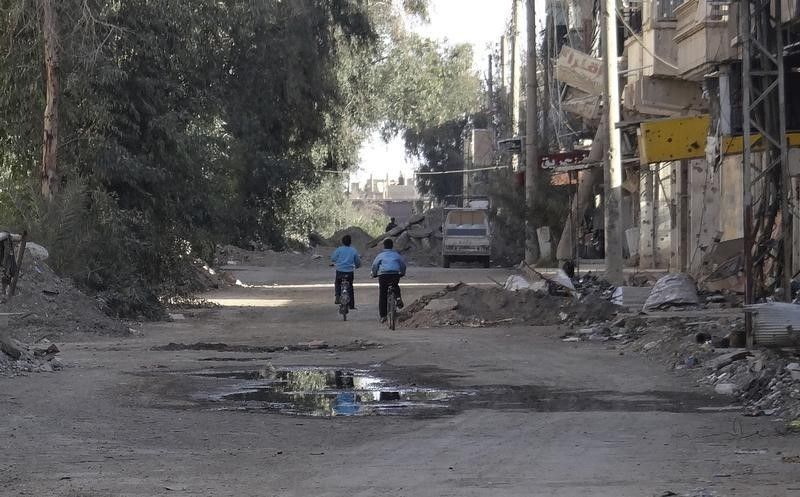 BEIRUT (Reuters) - Islamic State on Tuesday released 270 of an estimated 400 civilians, most of them women and children, kidnapped at the weekend when its fighters attacked Syrian government-held areas in the eastern city of Deir al-Zor, a monitoring group said.
The Syrian Observatory for Human Rights also said, however, that the ultra-hardline group rounded up another 50 men on Tuesday during raids on houses in areas seized during four days of fighting in Deir al-Zor, the provincial capital.
Rami Abdulrahman, the Observatory's head, said that the group has kept male prisoners between the ages of 14 and 55 for more questioning.
"Those who they see have ties with the regime will be punished and those who (do) not must undertake a religious course based on the group's interpretation of Islam," he said.
The United States condemned violence against civilians in Deir al-Zor and said those responsible must be held accountable.
"We demand the immediate and unconditional release of any civilians who were taken captive and of all those held by ISIL," U.S. State Department spokesman Mark Toner said, referring to Islamic State by an acronym.
The civilians released will remain in Islamic State-run villages in the province of Deir al-Zor, which links the group's de facto capital in Raqqa with territory controlled by the militant group in neighboring Iraq.
The group, which controls of most of the province, has laid siege since last March to remaining government-held areas in the city of Deir al-Zor.