Islamic State 'Samurai' Swordsmen Attack Police in Indonesia
A group of men armed with samurai swords targeted a police station in Indonesia on Wednesday. The attack, claimed by the Islamic State militant group (ISIS), follows a series of deadly suicide bombings that have hit the country in the recent days.
The assailants drove a car into the gate of police headquarters in the city of Pekanbaru on the Sumatra Island to stage the attack, AFP reported. Four of the assailants were shot dead at the scene. A fifth tried to escape, running the vehicle over a police officer, who died, and injuring two others.
"The one who escaped has been captured and secured at Pekanbaru police station," a spokesperson told the media, quoted in Reuters.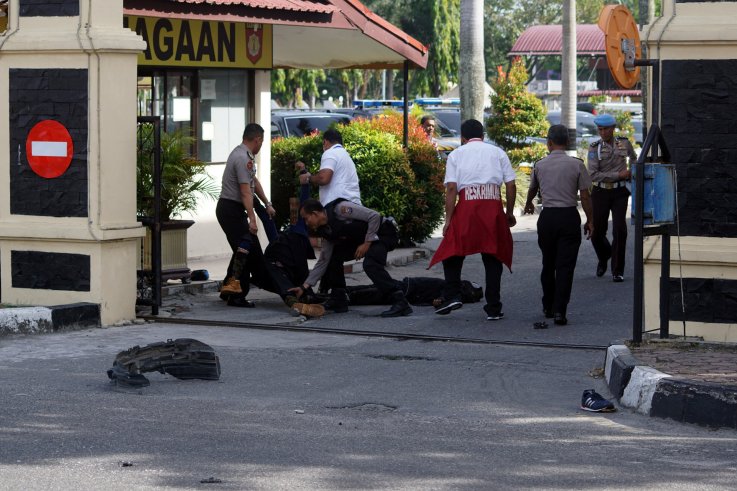 ISIS claimed responsibility for the attack in a statement in published on the group's Amaq news agency without offering evidence of the claim, according to Reuters.
It is unclear whether the latest attack is linked to the deadly suicide bombing against police headquarters in Indonesia's second city of Surabaya on Monday or the suicide attacks at three of the city's churches on Sunday. The suicide attacks were perpetrated by members of two families who knew one another, the Associated Press reported.
Indonesia, the world's largest Muslim-majority country, has recently seen a rise in attacks inspired by Islamic fundamentalists who seek to gain ground in Southeast Asia as they lose territory in the Middle East.
In May last year, two suicide bombers with suspected links to ISIS hit a bus station in the country's capital Jakarta, killing at least three police officers and injuring several other officers and civilians. ISIS-inspired attacks first struck Indonesia in 2016, when a suicide bombing near a Starbucks in Jakarta left two people dead and 24 wounded.
Islamic State 'Samurai' Swordsmen Attack Police in Indonesia | World