Islamic State Supporters Post Photos in Rome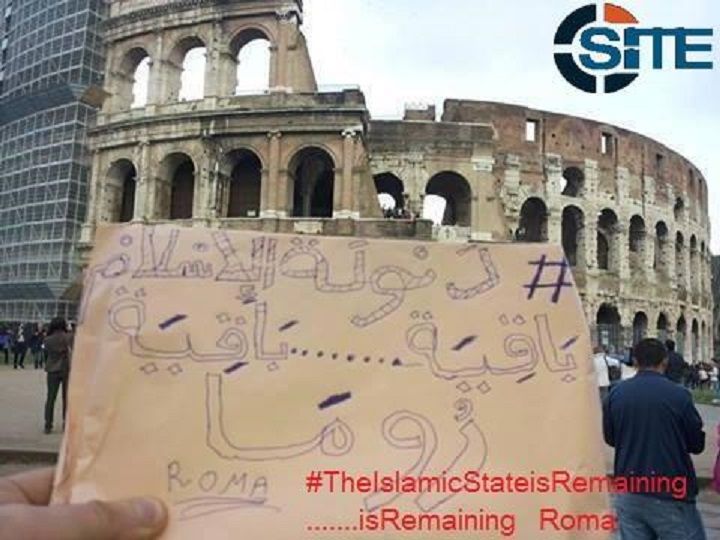 Supporters of Islamic State are allegedly in Rome, according to a series of threatening tweets and photos collected by the intelligence monitoring organisation, SITE Intelligence Group, which monitors jihadist networks.
The tweets shows several photos of iconic monuments in Rome, such as the Colosseum, with threatening signs held up in front of the camera, the Italian website The Local reports. One caption read '#TheIslamic_State in Rome is observing and locating the target, awaiting the zero hour'.
Other similar Twitter posts include photos of one of Rome's train stations, and police vehicles, with a message reading: "#Islamic State in Rome, we are in your state".
The signs, some of them scraps of paper, include the Islamic State logo and words in Arabic translated as "Muhammad is the Messenger of Allah". It is unclear how many such tweets have been posted in total, or by how many people are involved.
Earlier this year, Islamic State issued a warning that the group would "Conquer Rome with Allah's permission", as part of a video that showed the killing of 21 Christians in Libya at the hands of masked militants. IS supporters also begun using the hashtag #We_Are_Coming_O_Rome, although many Italians responded to the threats with ridicule and contempt, making jokes about the Italian weather and traffic.
At the time, Italian Prime Minister Matteo Renzi warned extremists not to provoke Italy and threatened military action, something he later ruled out.
Yet Italian fishermen are also becoming increasingly worried about the threat of Islamic State pirates operating at sea, and have written a letter to Renzi, asking for greater protection.
Last month, Italian authorities arrested two people suspected of being involved in the recruitment of fighters for the Isis extremist group, according to The Local, and a third man suspected of writing Islamic State propaganda.