Isner Over Mahut: So Long, It Hurts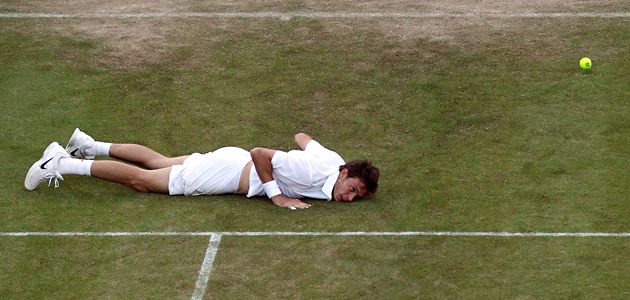 We have a joke in my family that the two scariest words in the English language are "extra innings." My father is a baseball fanatic, and he never missed the Yankees on TV. The problem—other than the fact that he's a Yankee fan—is that when I stayed with him during my college summers, we lived in a one-bedroom apartment, and the television was in the living room: i.e., my bedroom. So it was the Yankees every night, and when they went into the dreaded extra innings, it was the Yankees into the wee hours of the morning, too.
I thought of these sports marathons while I watched John Isner and Nicolas Mahut slog it out for the third day at Wimbledon, before Isner finally vanquished his French opponent. Their stamina and poise are obviously amazing—with a final score of 70–68 in the last set, it goes without saying that this was the longest match in Wimbledon history.
But now that it's all over—and I've had time to go to the bathroom—let's pause to consider the poor fans. Of course, if you're a tennis lover, I suppose its like going to a banquet that never ends (actually, if I'm going to use the lover analogy, I should probably say an orgy that never ends, if that's your thing). The fact is, I am a tennis fan, and I remember fondly watching the legendary, 100-year-war between Björn Borg and John McEnroe at the 1980 Wimbledon final. Or just watching your average, leisurely point between Chris Evert and Tracy Austin. But that was years ago. Who has the patience to sit still for that long anymore?
Anyway, what if you were just casually interested, if your buddy just invited you along for the day(s)? Or what if you're someone who likes to stay on top of what's happening in the world and you find yourself held captive to your television when you should be, say, working. (But not me, boss—really!) Being a real fan is obviously about making a commitment—win, lose, or draw—for your whole life. It's always seemed to me that the whole point of rooting for the Red Sox was to share the agony of perpetual failure; once the Sox finally won the World Series in 2004 after an 86-year drought, what was the point in following them anymore? Well, I guess it beats rooting for the Yankees.
Isner Over Mahut: So Long, It Hurts | Culture