Israel Accuses Bella Hadid of 'Advocating for Throwing Jews Into the Sea'
The official Twitter account of the state of Israel Twitter account has accused Bella Hadid of "advocating for throwing Jews into the sea" after she attended a pro-Palestinian march in New York on Sunday.
"When celebrities like @BellaHadid advocate for throwing Jews into the sea, they are advocating for the elimination of the Jewish State," the tweet read. "This shouldn't be an Israeli-Palestinian issue. This should be a human issue. Shame on you. #IsraelUnderAttack."
The account, which is managed by the Israeli Ministry of Foreign Affairs' digital diplomacy team, also shared an image purporting to show Hadid at the march.
The tweet comes amid rising tensions in the region. According to the Associated Press, at least 188 Palestinians have been killed and eight people have been killed in Israel in the clashes. More than 1,200 people have been injured.
Newsweek has contacted representatives of Bella Hadid and the Israel Ministry of Foreign Affairs for comment.
Fans of the supermodel, whose Jordanian-American father Mohamed Hadid is a real estate developer of Palestinian origin, flocked to her defense on social media.
One user said: "But they are chanting, 'From the river to sea, Palestine will be free.' Nothing whatsoever in their chant saying they will throw Jewish to the sea."
Another highlighted: "They were chanting 'from the river to the sea, Palestine will be free'. It has nothing to do with throwing the Jews into the sea, it means every inch of Palestine will be free."
Hadid has been vocal on social media about her support for Palestine.
She shared a string of images from the march on Instagram, with the caption: "The way my heart feels.. To be around this many beautiful, smart, respectful, loving , kind and generous Palestinians all in one place... it feels whole ! We are a rare breed!! It's free Palestine til Palestine is free!!! P.s. The Palestinian drip is real #FreePalestine."
She also shared an image from four years ago of herself holding a "free Palestine" poster.
In a lengthy caption, she wrote: "4 years ago...it has always been #freepalestine . ALWAYS. I have a lot to say about this but for now, please read and educate yourself. This is not about religion. This is not about spewing hate on one or the other. This is about Israeli colonization, ethnic cleansing, military occupation and apartheid over the Palestinian people that has been going on for YEARS!"
Hadid went on to add that she has been told her "entire life" that being a "Palestinian woman is not real."
"I've been told my father does not have a birth place if he is from Palestine," she wrote. "And I am here to say . Palestine is very much real and the Palestinian people are here to stay and coexist. As they always have. And we will always come together as a family. Always."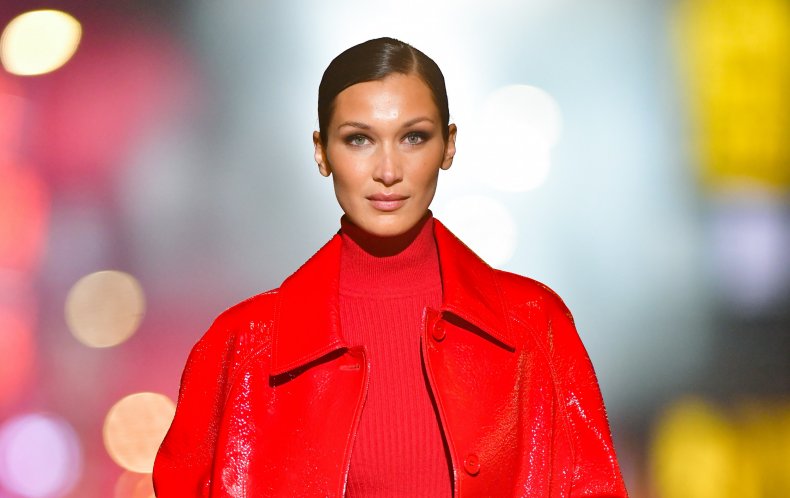 Her older sister Gigi Hadid also vocalized her pro-Palestinian support by sharing some of her sister's posts from the march on Instagram.
She then shared her response to a comment that accused her of being " another anti-Semitic celebrity."
"I condemn anti-semitism. I am not trying to kill you, nor would I ever want that. I do not wish any more deaths upon Israelis, just as I feel about Palestinians," Hadid wrote. "What I do want is equal rights for Palestinians. There are also Jewish Palestinians, Christian Palestinians, as there was, coexisting, with my father's Muslim Palestinian family when he was born in Palestine in 1948. I wish you peace."