Israel Again Rejects an International Call for Possible War Crimes Inquiry
Israel will not cooperate with the United Nations' top human rights body as it faces intensifying scrutiny over alleged abuse of Palestinians.
The nation made this announcement on February 17 in a new letter accusing the U.N. of exhibiting bias, the Associated Press reported. The body created a new committee to investigate these accusations in May, which were recently rejuvenated by an Amnesty International report.
"It is obvious to my country, as it should be to any fair-minded observer, that there is simply no reason to believe that Israel will receive reasonable, equitable and non-discriminatory treatment from the Council, or from this Commission of Inquiry," wrote U.N. ambassador Meirav Eilon Shahar in the letter. "This COI is sure to be yet another sorry chapter in the efforts to demonize the State of Israel."
The Associated Press reports that the sending of the letter "all but ensures" that no other Israeli delegates or representatives will cooperate with the U.N.'s future inquiries. Furthermore, they will likely not have access to any government documents or communications. Without these factors, it is unknown what an investigation into the country's alleged violations will consist of.
The three-person investigative commission was established in May 2021 after the U.N. High Commissioner for Human Rights, Michelle Bachelet, said that attacks prompted by Israel on Palestinian land at that time could potentially be interpreted as war crimes. Over 260 Palestinians died in the 11-day war that broke out at the time, while only 14 died in Israel.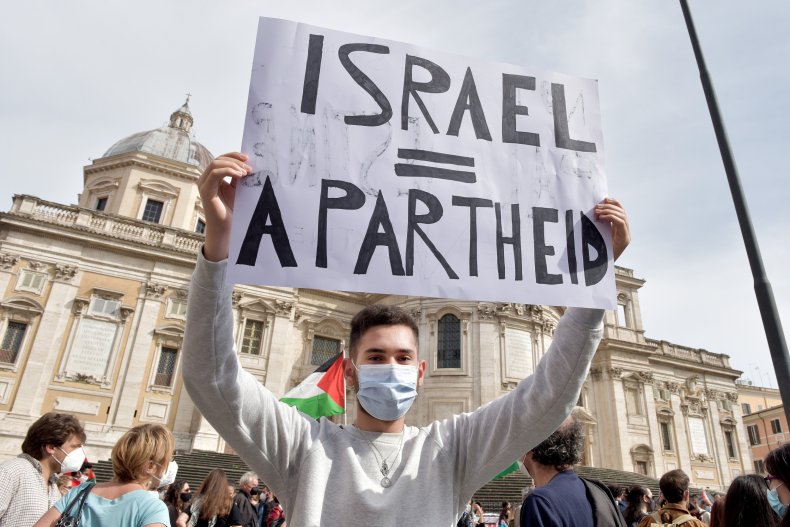 This pushback was not the first time that Israel has fought against potential war crime investigations. In March 2021, the International Criminal Court in the Hague opened a similar investigation into the country's alleged human rights violations, which officials claimed were motivated by antisemitism, the AP reported.
"The ICC, which was established to prevent a repeat of the horrors the Nazis instigated again the Jewish people, now turns against the state of the Jewish people. Of course it doesn't say a word against Iran and Syria, and other tyrannical regimes, frequently committing real war crimes," said former Israeli president Benjamin Netanyahu in a message at the time.
These allegations have recently come back to haunt the country thanks to a new Amnesty International report. It claims that several actions taken by the Israeli government and military could fit the international definition of apartheid. These actions include "massive seizures of Palestinian land and property, unlawful killings, forcible transfer, drastic movement restrictions, and the denial of nationality and citizenship to Palestinians."
The report has divided many, with some calling the accusations a "conspiracy theory," while others referred to the report as "[framing] the issue more accurately" than before.
Update 2/17/2022 at 3:58 p.m. EST: This story has been updated to include more information regarding Israel's allegations of war crimes, as well as background information.